Chennai, in the southern Indian state of Tamil Nadu, is battling its worst rains in a century. Over the last month, the capital city has been transformed from a bustling hub of over 4.5 million people to a partly submerged wreck.
Already 188 people have died in Tamil Nadu due to rain-related incidents, and thousands have been forced to evacuate from their homes. "State police, fire and rescue services, state and national disaster response forces and coast guard are ready to rescue people using boats," Tamil Nadu chief minister, J.Jayalalithaa, said yesterday (Dec. 1). "Adequate precautionary measures are being taken to protect people."
But as the government flounders, ordinary citizens are coming together on social media to either send or seek help. The online effort is similar to what happened in March 2015, when the north Indian state of Jammu and Kashmir was hit by massive floods. People who wanted help, or could help, used #KashmirFloods to connect on Twitter and Facebook.
Since yesterday, #ChennaiRainsHelp and #ChennaiFloods have become among the most used hashtags on Twitter in India, utilised to offer shelter, food, transport, and even mobile recharges.
A crowdsourced effort to map inundated roads in Chennai has been undertaken on social media. Over 2,400 flooded roads have been added to the city's map, which was put together by engineer and information designer, Arun Ganesh.
An online Google spreadsheet is also doing the rounds, in which people are putting information of available options for temporary stay for displaced locals in Chennai.
A similar database has been offered by Klipher, a website for independent filmmakers. It has created a Help Chennai page to find accommodation for those who are stranded in the city.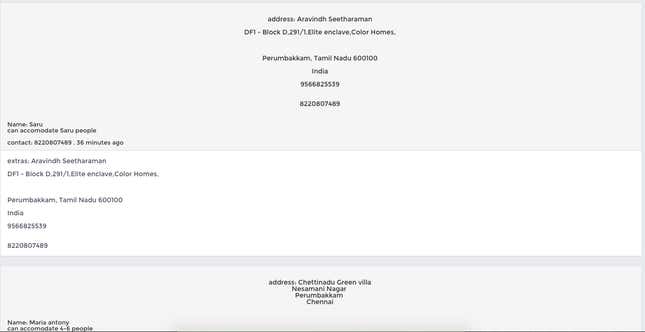 Meanwhile, Chennai Rains, an independent weather blogging community, is providing periodical updates on the weather and rain in Chennai and southern India on Twitter.
A handful of Indian startups have also stepped in—and are using the social media to get the word out.
On Nov. 17, cab-hailing service Ola started a free and temporary boat service to ferry people from waterlogged areas in Chennai.
On Dec. 1, another Indian technology startup, Stayzilla—an online aggregator of budget and home stays—launched a campaign to list homes where people displaced by the rain can seek shelter.
The online rescue and relief action undertaken for the people of Chennai mirrors #PorteOuverte—the "open door" social media campaign in Paris to bring people to safe spaces after the terror attacks in the French capital last month.
Even though the chief minister has blamed the disaster on unprecedented rains, activists say unrestrained construction by city planners and politicians has ruined Chennai's natural resilience to perfectly normal monsoon weather events.
So far, the state government has pegged the losses from the floods at Rs8,481 crore ($1.2 billion)—which is expected to rise significantly. On Nov. 23, the state government asked the Narendra Modi government at the centre to provide more funds. So far, the central government has released Rs940 crore ($141 million) for relief work.