Mumbai and Ahmedabad are both fast-growing cities. Getting between the two by rail? Not especially fast. Covering a little over 500 kilometers (310 miles) on India's western side, the trip currently takes about eight hours and involves rickety trains.
But by 2023, it could take about two hours and involve sleek new bullet trains made with Japanese technology.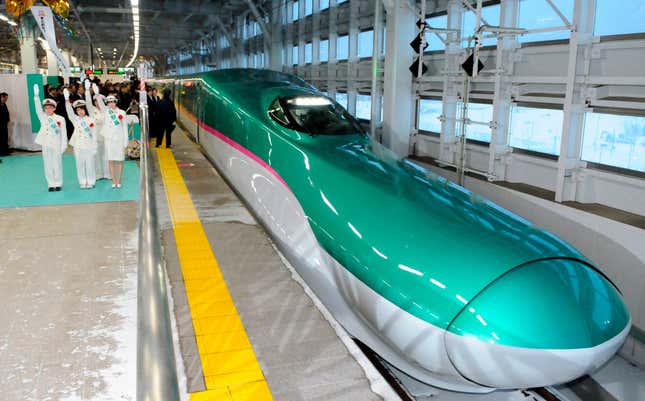 India and Japan will issue a joint statement this upcoming weekend agreeing to a rail project worth about 980 billion rupee ($14.6 billion), according to the Nikkei. The statement will be released during Japanese prime minister Shinzo Abe's three-day visit to India, which begins on Friday (Dec. 11).
In late October Japan offered India an interest rate of less than 1% for the project. The Nikkei says Abe will convey an offer of more than 1 trillion yen ($8.1 billion) in official Japanese lending, dispersed at about 100 billion yen a year over a decade or so. The deal would put India ahead of Indonesia as Japan's largest borrower.
It would also be welcome news for Japan, which lost a high-profile competition with China to build a rail line connecting the Indonesian cities of Jakarta and Bandung. In Taiwan, meanwhile, a bullet train made with Japan's help in 2007 has proven to be an expensive flop—one that, with passenger counts far below projections, is now getting a massive government bailout.
Indian prime minister Narendra Modi, who was elected in May 2014, made the introduction of high-speed links and bullet trains one of his key campaign promises. Before becoming prime minister, Modi was the chief minister of Gujarat—its largest city is Ahmedabad.
Japanese companies won't be the only ones benefiting from Modi's promises. Last month, General Electric and France's Alstom won lucrative contracts to supply India's railways with new locomotives. Modi's government has said that by 2020 it will invest $137 billion in the nation's vast but antiquated railway system, which serves 23 million passengers daily.