The warnings were sounded as soon as Narendra Modi pulled off his Christmas Day diplomatic coup. The Indian prime minister's surprise visit to Pakistan, prudent voices from both sides of the border counselled, would likely attract saboteurs keen on stalling the resuscitation of the Indo-Pak peace process.
Despite the forewarnings, only a week after Modi's trip to Lahore, Indian security forces have been battling with terrorists in Punjab for over 50 hours now.
Here's what we know so far:
Early on Jan. 2, a group of armed militants attacked the Indian Air Force's sprawling Pathankot air base in Punjab. They reportedly drove to the base, some 25 kilometres from the India-Pakistan border, after hijacking the car of a local police official.
The government has claimed that it had prior intelligence about the attack, which it utilised to safeguard vital assets such as the fighter aircrafts stationed there.
Nonetheless, the militants got in and after gun battles throughout the day, home minister Rajnath Singh reported the operations "successful" on the evening of Jan. 2.
But the government realised the next day that two more terrorists were still holed up inside the air base.
So far, seven military personnel, including a Lieutenant Colonel of the National Security Guard (NSG), have been killed and at least 20 injured.
Unsurprisingly, the Modi government is already on the defensive. On Jan. 3, home secretary Rajiv Mehrishi told reporters that he didn't "consider it (the casualties) a lapse at all." But the government's ineptness can hardly be ignored.
Here are three key questions that the government must answer:
What use was the intelligence?
The Modi government, by its own admission, knew that a terror attack was imminent. "If not for intelligence reports, Pathankot attack could have been worse," home minister Singh said on Jan. 3.
Punjab police officer Salwinder Singh, whose car was apparently used by the terrorists to reach the Pathankot air base, had also reportedly told authorities that armed militants wearing army uniforms had abducted him. Subsequently, local law enforcement authorities were on high alert since similar tactics—of impersonating army personnel—had been used by militants to attack a police station in Punjab's Dinanagar last July.
Based on intelligence inputs, national security advisor Ajit Doval took a call to deploy a battery of 50 NSG commandos to secure the Pathankot air base and a nearby army base, the Hindustan Times reported. The India Army's special forces and infantry units were also pressed into action.
Eventually, none of those measures were able to keep the militants out of the 2,000-acre air base, although they were contained outside the technical area where aircrafts and other important assets remain undamaged. Given the massive size of the air base, one possibility could have been to mobilise more infantry troops from nearby military bases to secure the perimeter of the air force facility.
These terrorist tactics aren't entirely unknown. The Pathankot incident bears resemblance to attacks on Pakistan's military establishments—Minhas air base in 2012 and Badaber air base last September—where militants impersonated army personnel to gain access.
What happened, and who's doing the talking?
The Modi government must come clean on what transpired after it launched the operation to flush out the terrorists. At 6.50 pm on Jan. 2, home minister Singh in a tweet (that appears to have been subsequently deleted) appeared to indicate that the operations were successful—and therefore, expectedly complete. "The nation is proud of its brave security forces who have always rose to the occasion," Singh tweeted, "I salute our forces on successful operation in P'kot."
Singh also announced on Twitter that "all the five terrorists" at Pathankot had been killed, which most media outlets—both domestic and international—understood as the end of the operations. This tweet, too, appears to have been deleted.
The next day, however, it emerged that four terrorists—not five, as Singh had tweeted—had been killed by Indian armed forces on Jan. 2, before the area was cordoned off and operations scaled down as darkness fell. At 12.20 pm on Jan. 3, the authorities realised that two more militants were still at large and operations were ongoing, India's home secretary Rajiv Mehrishi later told reporters.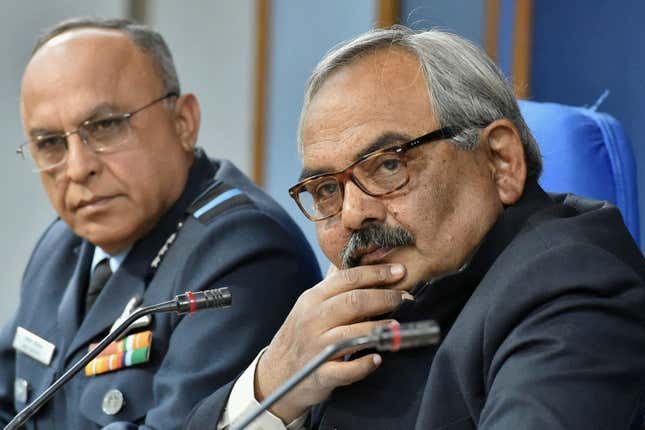 At the press conference in New Delhi on Jan. 3, Mehrishi was also asked about the confusion over operations ending and the number of terrorists killed. This was his reply: "Whatever information I'm giving you is authentic. I can't comment on who else said what." Presumably, that includes the erroneous information India's home minister put out on social media.
In the past, sections of the Indian media have been criticised for their incompetent handling of live terrorist incidents. Subsequently, live coverage of terror events was banned in March 2015 by the Modi government. Instead, television channels were expected to rely on periodic briefings by designated officials. But even that communication strategy now seems suspect. So, who exactly does one listen to the next time terrorists target India?
What happens to the peace process now?
Prime minister Modi put much political capital on the line to fly into Lahore on Dec. 25, bear hug his Pakistani counterpart Nawaz Sharif and breathe new life into the India-Pakistan relationship. But even before the implications of Modi's diplomatic daredevilry were entirely clear, the Pathankot incident now risks jeopardising the carefully choreographed manoeuvre. It may not derail the peace process, but it will surely sap some of its new-found momentum.
Yet, even as his cabinet colleagues have perhaps said too much, Modi himself has said little on Pathankot.
Instead, the prime minister has mostly remained engaged in speaking about yoga and science at events in Karnataka, before he arrived in New Delhi late on Jan. 3 and dove straight into a meeting with Doval and other officials.
Pathankot is clear proof that Christmas is over, and it's time Modi shared his plan for engagement with Pakistan.