An entrepreneur has come to the rescue of unmarried couples in Delhi and Mumbai.
Young couples looking for some privacy in conservative India are often vulnerable to physical attacks by the police and self-appointed guardians of "Indian culture." Vigilante groups have assaulted lovers in parks, beaches, and pubs for engaging in any sort of public display of affection. As a result, consenting adults, if they are unmarried, often struggle to find hotel rooms for some private time.
Enter StayUncle. The New Delhi-based startup has tied up with hotels where unmarried couples can rent rooms for a duration as short as 8-10 hours. The idea is to help them with affordable rooms, without feeling uncomfortable or unsafe.
"There is no law in India that prohibits (unmarried) couples from renting a room," Sanchit Sethi, founder of the year-old startup, told Quartz in a phone interview. "As long as you have a government identity card, you should be given a room. We don't live in the 1950s anymore. What we are trying to do is change the mindset of hoteliers."
"Couples need a room. Not a judgement."
Sethi's initial business plan was to offer hotel rooms for short durations to travellers. Most hotels in India take reservations on a 24-hour basis—a relatively expensive affair. Together with Blaze Arizanov, a digital marketer, the duo launched StayUncle in April 2015. New Delhi's Hotel Shimla Heritage became StayUncle's first tie-up.
The company also received its first angel investment of a "couple of lakhs" from Ajay Naqvi, the country marketing manager for Airbnb, according to Sethi.
"What was surprising was that 99% of the enquiries we were receiving were from unmarried couples looking for rooms," said Sethi, a Birla Institute of Technology and Science (BITS)-Pilani graduate. That's when StayUncle decided to take a relook at its business.
"We started fresh all over again. This time, with the focus on unmarried couples," said Sethi.
Uncle starts scaling up
In December 2015, Ace Residency, a budget hotel in New Delhi's upmarket Greater Kailash neighbourhood, partnered with StayUncle. This was the first hotel to sign up with StayUncle that allowed rooms to be booked for unmarried couples.
Since then, the company has tied up with 34 others in the capital and 10 in Mumbai. Now, even marquee properties such as the Trident and Oberoi have joined them, according to Sethi. Over the next few months, StayUncle will also start helping young people plan surprise parties or travel, with the intention of building an ecosystem around unmarried couples.
"Out of 10 hotels we speak to, only two or three eventually sign up," said Sethi. "This is a new industry and people often see this as going against the culture of the country and there is always the fear of moral policing." However, in the past three months, the company has already catered to some 200 couples.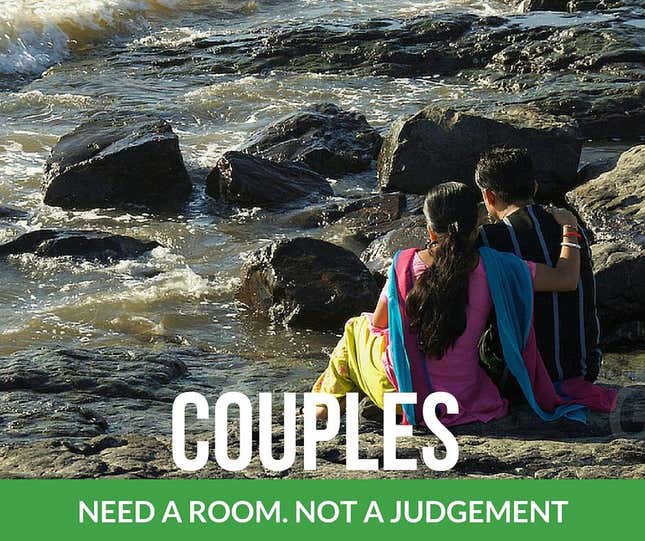 Many hoteliers are reluctant to join, fearing "unnecessary hassles" from cops. The police in India often harass young consenting adults and threaten them with charges of public indecency. Last August, 13 couples were picked up by cops from beaches and hotels in Mumbai for "indecent behaviour."
A hotelier in New Delhi who spoke to Quartz on conditions of anonymity confirmed that StayUncle is bringing a "certain change to the mindset" of the public. "But, hotels don't want to announce that they are open to unmarried couples," the hotelier explained. "Sometimes, we face resistance from staff who question why we are allowing unmarried couples. But the fact is, it is not illegal."
Risky business, but sustainable
Currently, StayUncle works on a commission basis, which varies from hotel to hotel.
"We don't want to scale up massively by offering cheap discounts. That is not a viable and sustainable business model," said the 26-year-old Sethi. "In the long run, it will not work. So we would rather focus on growing slowly."
A large number of India's e-commerce players and budget hotel-booking companies have relied on massive discounts to scale up business. But that model has come in for heavy criticism for bleeding investor wealth.
An eight-hour stay at hotels that are listed on StayUncle costs anywhere between Rs1,400 ($21) and Rs5,000 ($75). The average rates, however, is around Rs2,000 ($30) for an eight-hour stay.
Now, as StayUncle expands, it has another challenge: ensuring privacy.
In a country where hidden cameras have been found in the changing rooms of even upmarket designer stores, Sethi, and his team will have to ensure that his clients are safe.
"If you see, we currently only tie up with hotels that have a reputation and they would not allow something that puts their business at stake," said Sethi. "Of course, I wouldn't say the problem can be completely eliminated, but we know that these hotels we tie up with would never ever do it."