A lot of Indians can't wait for the year 2023. If the Narendra Modi government's promise is anything to go by, that is when they will get to ride on India's first bullet train, touted as a symbol of the country leapfrogging into a new age.
The $14-billion project will cover a little over 500 kilometres, connecting India's financial capital Mumbai to Ahmedabad, the capital of the western Indian state of Gujarat.
But that is still seven years away.
Right now, Mumbai has girded up its loins once again for another season of struggle—because the monsoon rains have arrived in India.
On June 20, the first big showers of 2016 brought parts of Mumbai's famed commuter train system to a screeching halt. During peak-hour rush, passengers were marooned between stations, surrounded by overflowing slush.
Even without rains, travelling on them is maniacal for the close to 7.5 million people commuters who haul themselves on incredibly cramped coaches over reasonably long distances. But this is the city's primary mode of transport, cheap and relatively efficient.
Unless it's raining, of course.
On Monday, the western line—connecting south Mumbai's Churchgate terminus to Dahanu Road, 120km north—saw 90 services cancelled through the day. By Tuesday (June 21), 223 services had been hit across the system.
Protests broke out at Diva station, which falls on the central line that connects south Mumbai to Kasara, 67km to the north. Commuters were out of their wits after having waited for over an hour for trains to arrive.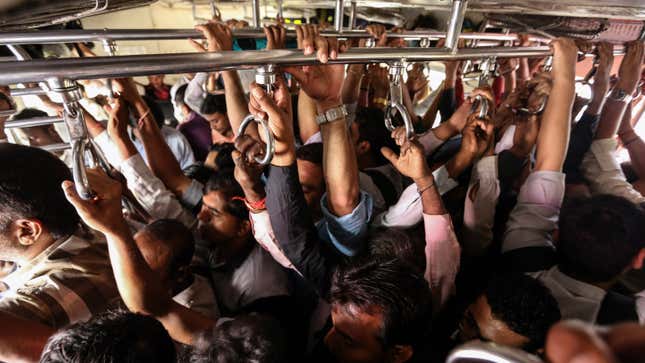 The exasperating part was that all this was completely expected.
Such chaos is, by now, an annual monsoon ritual. Yet, nothing much is usually done about it.
For the regulars, used to the cramming of 5,300 passengers in a train that can hold 3,500, it is just another inconvenience to be dealt with.
For long, they have been promised upgrades such as air-conditioned coaches, improved ergonomics, better sanitation facilities. And for years, these promises have been diligently left unfulfilled.
Finally, a set of air-conditioned rakes did arrive earlier this year. India's railway minister Suresh Prabhu promised they would begin shuttling by May, but there's been no word on it since.
In his annual railway budget in March, when he announced the bullet train project that is projected to serve 13 million people initially, Prabhu virtually abandoned the Mumbaikar. He announced no new trains or solutions to existing problems, including high fatalities—nine deaths a day on the tracks.
In the next few months, Mumbai's 7.5 million suburban train passengers must fight, swim, and protest on their way to work during the day. At night, though, they do have bullet trains to dream of.