Google's free internet at Indian railway stations is turning out to be a big hit.
In September 2015, Google announced a plan to install high-speed wifi at 400 train stations, in support of prime minister Narendra Modi's Digital India campaign. The project went live in January, when the bustling Mumbai Central station in India's financial capital became India's first railway stop to provide free, high-speed public wifi.
Six months in, Google says the service is available at 19 stations—and has already been used by 1.5 million Indians. By the end of this year, Google plans to have wifi installed at 100 of the country's railway stations.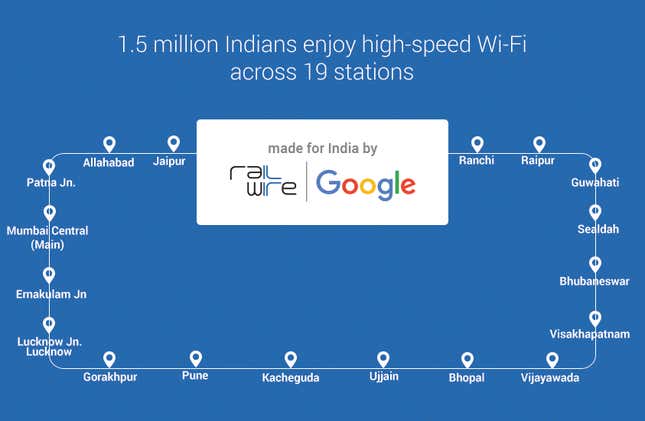 The free public internet is in bigger demand in smaller cities than in larger ones, given the poor connectivity of high-speed broadband outside of the major metropolitan centers. "Per capita consumption of data in tier II cities far exceeds the consumption we are seeing in tier I cities," Google said.
In Mumbai, 100,000 people made use of the public wifi connection within a week of its debut. But it didn't even take a day to attract that many users when the service launched in Bhubaneshwar, the capital city of the eastern Indian state of Odisha. "We're seeing similar usage patterns emerge in tier II cities like Patna, Jaipur, Vishakhapatnam," Google said.
The free internet is much faster than the 3G internet that is most widely used in India. On average, users of the free railway-station internet—despite being in transit, and being limited to one hour of use per person per day—utilize 15 times more data than they would consume on 3G in a day, Google said.
The comments on this Reddit thread validate Google's assessment. Free public WiFi "has a time limit, not a download limit. I believe you get timed out after an hour or so. But with these speeds, you can download a hell of a lot in an hour," one Reddit user noted.
"The train stopped for only five minutes and I could not find anything big for download . When I installed some apps they got installed within around two seconds," said another user on Reddit, where satisfied wifi users were posting screenshots like this one showing off their speedy connections:
The free internet is being used by people checking exam results, downloading software, upgrading phone apps, and seeking information related to educational classes, among other purposes, Google says. Some Reddit users said they also had used the service to download movies and television shows, and even to stream porn.