Three months ago, I delivered a healthy baby boy at a private hospital in Bengaluru. However, I didn't get to hold or feed him until several hours later. And much to my disappointment, and without my consent, he was given infant formula for his first meal.
Turns out, I'm not the only new mother to whom this has happened. Two years ago, 31-year-old photographer Sannika Chawla delivered a child in a reputed private hospital in the city. Although she had had a normal delivery, hours after the birth, hospital staff fed formula to Chawla's baby as the exhausted mother rested a few feet away.
"I didn't have the knowledge at the time that I should immediately breastfeed," said Chawla. "But a few days after taking my baby home, I read up a lot and joined a Facebook breastfeeding group, and realised that the more formula I buy and feed my child, the more problems I was going to have breastfeeding."
Not nature's design?
Many new mothers have repeated this story of having unwittingly allowed their infants' first meals to be formula. Hospitals seem to promote the practice despite the fact that medical research has drawn links between early breastfeeding and better infant health. Lactation experts say that colostrum—the thick yellow liquid produced by the breasts during pregnancy and shortly after childbirth—is loaded with antibodies and immunoglobulins that boost infant immunity. So breastfeeding within one hour of childbirth goes a long way in reducing infant mortality.
A much-cited 2009 study by Alison Steube at the department of obstetrics and gynecology at the University of North Carolina at Chapel Hill found that health outcomes for formula-fed babies were substantially different. The researcher, who reviewed several other studies in her paper, found that risks of formula feeding include a greater incidence of infections of the ear and lower respiratory tract, gastroenteritis, and diarrhoea, besides other long-term consequences such as obesity.
"Infants' intestines are designed to digest human breast milk, and not the milk of other animals like cows or buffalos, which is used in formula," said doctor and lactation consultant Manisha Gogri.
Even the World Health Organisation recommends exclusive breastfeeding for at least six months after childbirth. And yet, the consumption of infant formula is growing across the world with hospitals and nursing homes promoting the practice.
According to a 2015 Nielsen report (pdf) on baby food, the global infant formula market is worth about $35 billion. The report also reveals that declining birth rates in the West, where formula has been used for generations now, have made consumers in countries like India key targets for large corporations. Further, the rise of a "convenience-oriented" lifestyle and the pressure on women to return to work make exclusive breastfeeding for six months difficult for many mothers, and this includes the urban poor.
In the slums of Delhi, women return to work within a few days of delivering a baby, observed Ram Kumar, project manager of Ehsaas, an organisation that counsels pregnant women and new mothers in nutrition. "In the communities where we work, awareness of infant formula is very high," said Kumar. "While there is no active marketing of formula to slum dwellers, representatives of infant formula companies frequent both government and private hospitals, and local chemists in the area. I even have copies of prescriptions where the doctor has recommended infant formula."
"I used to think the culture of formula-feeding was restricted to middle and upper-classes, and I assumed breastfeeding would be the default for poorer women but I was so mistaken," said Gogri, leader of the Mumbai chapter of La Leche League, a global breastfeeding support group.
India's challenges
The risks of formula-feeding are exacerbated in the Indian context. Child Rights & You general manager Jaya Singh, who has commissioned several reports on malnutrition among children, said, "Infant formula is really expensive. A poor household is easily tempted to stretch a box for longer than advisable. And when instructions on the box say 30 ml per scoop, it's practically unaffordable. Besides, many women are not even able to read these instructions."
"In a city like Delhi where there is such a severe water shortage, and particularly a shortage of clean drinking water, infant formula really shouldn't be advocated," said Kumar. Since babies' immune systems are still developing, infant formula needs to be mixed with clean water in sterilised containers.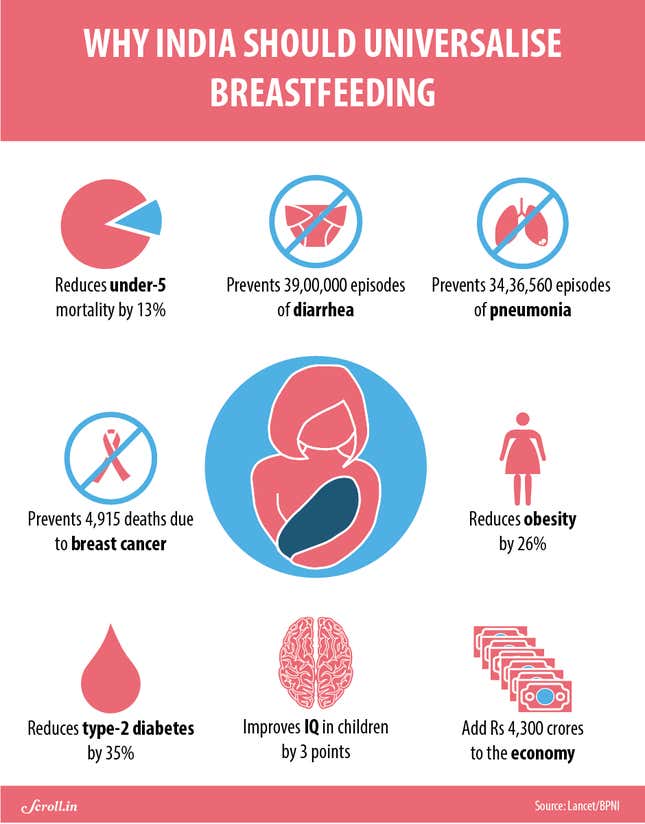 The Infant Milk Substitutes (IMS) Act prohibits the marketing of infant formula, but companies constantly find ways to subvert the restrictions, and often break the law. "While advertising in television and print media is not allowed, we often come across posters in clinics, sponsored by infant food companies, depicting chubby, healthy babies," says Gupta. Many infant food formula companies tout health benefits such as enhanced brain development and stronger immune systems.
"Despite the IMS Act, we still get reports of field trips being organised for doctors and companies using alternative ways to promote their products…" said Gupta.
Yet, the IMS Act may have had a tremendous impact on public health by slowing down the growth of the baby formula industry in the country. In China, where there are far fewer restrictions, formula is viewed as "white gold" by foreign multinationals. According to Gupta, while India's formula consumption grew from 24,480 tonnes to 27,783 tonnes in the last four years, China's grew from 2,94,800 tonnes to 5,60,000 tonnes.
As India will remain an attractive market for big infant formula manufacturers like Nestle, Heinz, and Abbot, there is a greater need for effectively implementing the IMS Act.
Greater good
"Corporates are very efficient in spreading awareness about their products," said CRY's Singh. "The government could learn from them. At present, neither private nor government hospitals condemn formula feeding."
In fact, many hospitals encourage it. "Lactation failure is very rare. When a mother complains of it, formula should only be prescribed after a thorough investigation," said Gogri. "Another problem is that breastfeeding is a grey area that no single department in the hospital feels responsible for. The gynaecologist thinks the paediatrician is responsible and vice versa. Overall, the medical staff in hospitals, including nurses, are not adequately trained in understanding and promoting breastfeeding."
In 1991, UNICEF launched the baby-friendly hospital initiative, where hospitals are declared "baby friendly" on meeting a set of criteria that exclusively encourages breastfeeding. However, 25 years later, only 15,000 facilities in 134 countries have been awarded the baby-friendly status.
"From allergies to obesity to asthma, there are great long-term consequences of formula-feeding on public health," said Gogri. "Many of the lifestyle diseases that we are looking at today have their roots in infancy. We need to give babies the food meant for them, which is breast milk."
This post first appeared on Scroll.in. We welcome your comments at ideas.india@qz.com.