This is the year of Indian women at the Olympics.
From PV Sindhu's smashing win in the badminton semi-finals and Sakshi Malik's bronze medal in wrestling to Dipa Karmakar's death-defying gymnastic feats, the 2016 games in Rio de Janeiro have made icons out of some of the women in India's Olympic contingent.
The sheer grit and spirit they displayed have inspired millions back home. But behind their success lie years of struggle against constraints—physical, financial, systemic, and, most importantly, social.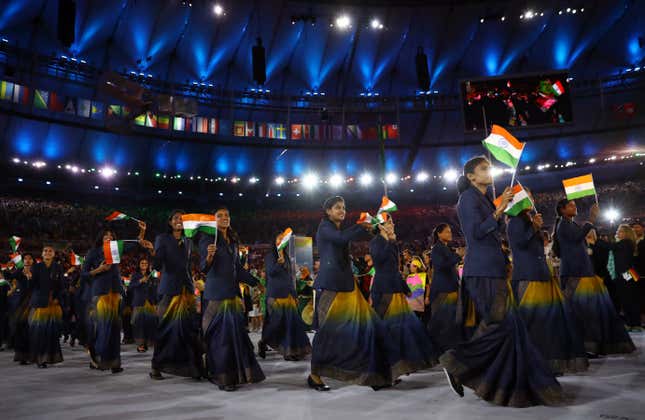 Indeed, their biggest hurdle has been the athlete's lifestyle that doesn't usually square with women's traditional roles in India as dutiful wives and daughters. Even today, despite the successes of tennis star Sania Mirza and boxer Mary Kom, among others, young girls and women in the country have limited exposure to sports.
"Changes are happening and girls continue to outperform and excel in life, but there is still a long way to go when it comes to sports. Women are traditionally not encouraged to indulge in sports," badminton star Saina Nehwal, currently ranked fifth in the world, said last year.
However, the families and coaches of India's newest sporting stars pushed back against such retrograde notions.
Take the case of Sakshi Malik, the winner of India's first medal in this year's Olympics.
The 23-year-old wrestler had to battle social stigma ever since she began training at the age of 10 at the Sir Chotu Ram Stadium Wrestling Academy in Rohtak, Haryana. There, female wrestlers were few and far between initially so Malik and other rising stars, such as Suman Kundu, had to play rough with the boys. That was a big no-no in Haryana's conservative society and Malik's coach, Ishwar Dahiya, was criticised heavily for training girls in a sport deemed inappropriate for them.
Incidentally, Malik's home state, Haryana, has the worst sex ratio among India's 29 states with just 879 women for every 1,000 men, according to the 2011 census data. Malik's own village, Mokhra Khas, has just 822 women for every 1,000 men, the result of India's long-running preference for sons.
The story wasn't much different in eastern India.
Tripura gymnast Dipa Karmakar and her coach Bisweshwar Nandi faced disapproval and snide comments from people who just couldn't understand why a young girl would spend so much time in close quarters with an older man.
"I've had to tolerate a lot of rubbish. There were so many ridiculous rumours, but I knew that if Dipa produced the kind of results I knew she was capable of, that would silence everyone," Nandi said in an interview with Reuters.
Indeed, that is the kind of vision that enabled the 54 women—almost half the Indian contingent at Rio—to create some of the most memorable and historic moments at this year's Olympics.
Here's hoping that the next games draw an even bigger crowd.