This could be the biggest disruption in the Indian telecom industry in a long time.
On Sept. 1, India's richest man, Mukesh Ambani, laid out an ambitious road-map for his firm Reliance Jio, the latest entrant into India's $50-billion telecom sector. The company will launch its service on Sept. 05.
Reliance Jio, Ambani promised, would offer the world's cheapest internet data at Rs50 ($0.7) per gigabyte (GB). "I believe that these are the absolute lowest data rates anywhere in the world," Ambani said during Reliance Industries' (RIL) annual general meeting (AGM) in Mumbai. Currently, one GB of data costs around Rs250.
If that wasn't enough to shake up India's telecom sector, Ambani also said, "Jio will put an end to all call charges in India for domestic calls."
And there's more.
Till Dec. 31, 2016, all services—data, voice calls, and messages—will be free. After that, one of Jio's 10 tariff plans will kick in.
Predictably, India's existing telecom players are jittery. As Ambani unveiled his plans on Thursday, the share price of India's biggest telecom company, Bharti Airtel, tanked over 8.5%, while that of Idea Cellular fell 7%.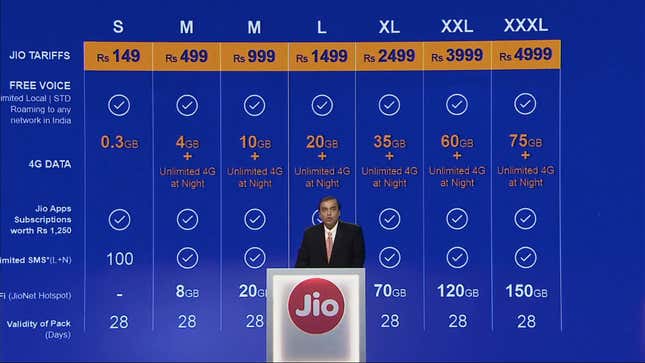 Jio, which Ambani refers to as a startup, has also launched inexpensive smartphones and internet routers. Under its Lyf brand, the company offers phones costing Rs2,999 onwards and routers at Rs1,999 and above.
Jio's reach is already deep, with its 4G network covering 18,000 cities and towns and over 2,00,000 villages. By March 2017, Ambani said, it will cover 90% of India's population.
A six-year wait
In 2010, Ambani began work on Jio and said that his company would spend over $1 billion on the roll-out of 4G services.
Fifty nine-year-old Ambani has some experience in the sector. In 2002, he launched Reliance Communications, which offered cheap voice calls at that time, changing the industry's dynamics. However, following a split with his younger brother Anil, the telecom unit was separated. The elder Ambani headed the oil and gas behemoth RIL, while Anil led Reliance Communications. Ambani was also forced to sign a non-compete clause.
Six years and Rs1.5 lakh crore of investments later, he is now once again transforming the industry.
"The response to this new entrant into India's telecom industry has been positive, with long queues at company stores. We expect Jio to garner 35 million subscribers over the next two years, with data volume growth for incumbents slowing to 50% in the 2017 fiscal year from 70% in 2016," Goldman Sachs said last month.
Telecom wars
For years, India has had painfully slow internet speed, especially on mobile phones.
Jio, though, is widely expected to change all that. For instance, according to a report by Credit Suisse, it had a "peak download speed of 70 mbps" while it hovered between 15 and 30 mbps on the move.
Much of this is because, over the past two years, Reliance has been scaling up its back-end, acquiring large amounts of the 1800 MHz spectrum—globally considered the best for 4G network—across various circles.
Jig's speed, along with its low pricing, has also forced India's large telecom operators Vodafone, Bharti Airtel, and Idea to slash their tariffs in anticipation of the storm. Last week, India's largest wireless provider, Bharti Airtel, cut its tariffs by up to 80% for prepaid services.
"As (the) RJio commercial launch nears, we are seeing tariff cuts from the incumbents with free calling being bundled together with data for some select high-value plans, while there are also data tariff cuts," JP Morgan said in a report last month.
There is also an ongoing tussle between Jio and other operators. The latter, in complaints filed with India's telecom regulator, TRAI, have alleged that Jio is providing full-fledged services under the garb of free trials and is trying to snatch their customers. The Jio service was offered as a trial for some customers starting in April this year.
Ambani has reportedly met TRAI officials to explain his plan. Jio said these allegations are "malicious." At the AGM, Ambani requested competitors to allow a smooth use of number portability: "I appeal to my fellow operators to do their part to create a fair framework of competition that is good for India and Indian customers."