Indians are hurting and angry.
Following last weekend's killing of 18 soldiers at an army base in Jammu and Kashmir's Uri town by alleged Pakistan-backed terrorists, a wave of sadness and fury has swept the country. Images of martyrs' coffins arriving at their homes are poignant. There is hardly anyone unmoved by the photos of little sons and daughters, stunned wives, elderly parents, siblings, and friends receiving the bodies.
However, the collective gloom and rage have also sparked virtual wars against Pakistan.
Indian netizens have turned "warriors," creating and spreading videos and photos of supposed military preparations by their government to attack Pakistan, besides offering "strategies" to cripple the unruly neighbour.
While some of the forwarded messages can be passed off as wishful thinking, others are bizarre and comical.
For instance, there are the re-circulated old photos on WhatsApp of "battle tanks being transported to the border" in preparation for "something big that is coming up," in response to the Uri outrage.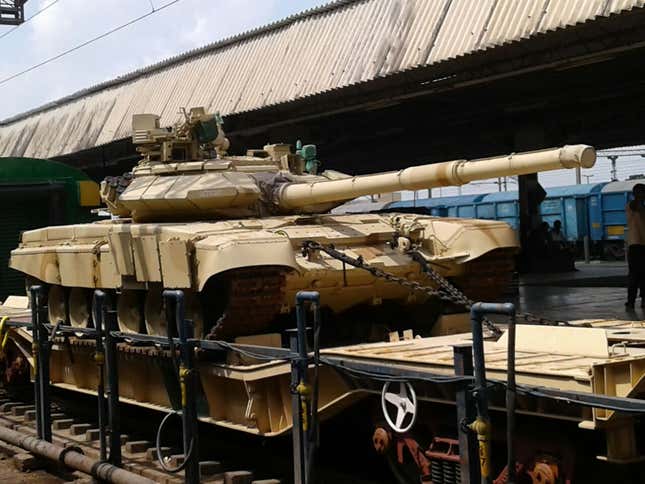 Then there is the video of F-16s on a US aircraft carrier being passed off as Indian Navy jets "just waiting for the order." This video was posted on Facebook on Sept. 22 and shared by over 23,500 people by the next day.
Meanwhile, cyber-soldiers are more than just brawn.
One blogger, for instance, demonstrated a broader "strategic thinking." His write-up, circulated on WhatsApp, is titled "Modi Will Make 'Pakistan Bleed' Without Noise!" and seeks to reassure Indians about Modi's "silent" moves. Along with "strategies," he had the following gem to offer:
"How India will play the game… YES Saudi is supporting India (Now we understand what Modi was doing in Saudi).  These countries are completely against Pakistan and China."
Venting frustration
In a way, these internet warriors are only venting their ire.
No doubt, the Indian government is under pressure to wreak visible and effective retribution against Pakistan. "'Decisive action needed against Pak' and 'Give Pak befitting reply"' seem to be the words on everyone's lips," The Times of India reported.
Yet, it may not be that easy, or simple. There are too many variables restricting the government as far as an armed response to Uri is concerned. Till Sept. 22, that is almost five days after the killings, it was exercising the diplomatic options: summoning the Pakistani envoy to India, verbal duels at the UN, and handing over of evidence of the neighbour's role.
However, this is no different from what previous governments—puportedly less nationalistic—used to do. And this is not how it was meant to be.
This government, headed by none less than Hindutva icon Narendra Modi himself, was not supposed to merely continue what others had done till May 2014 when he took charge as prime minister. It was to chart a new aggressive course, going by Modi's own pre-May 2014 advice that sought to respond to Pakistan "in its own language."
Having painted itself into a corner with such rhetoric, the government is now perceived to be lacking aggression despite a series of brazen attacks at Gurdaspur and Pathankot in Punjab, Chandel in Manipur, and now Uri. This seems to have jarred with even the most ardent of its supporters.
Now, the rage fuelled by garrulous television anchors and melodramatic social media posts seeks retribution. And the time for it was five days ago.
Indians at large expect some kind of punitive response to the Uri attack. A leading film actor from southern India expressed this desire for revenge in his blog. "I am also aware of the consequences of war. But I am not so against war, that I will tolerate the enemy's weapons killing our soldiers. To prevent and retaliate against attacks is part of a country's agenda, one that has a strong military force," Malayalam movie star Mohanlal wrote on Sept. 21.
The tension has only sharpened with reports of a number of infiltrators being eliminated by the army along the Line of Control in Kashmir and "masked intruders" being spotted near Mumbai.
Amid such near-hysteria, the government has rattled the usual sabre and "promised punitive action" against Pakistan. But by now India's netizens are fully loaded—laptops, check. Photo-editing applications, check. Coffee, check. Now, bring 'em Pakistanis on!
While the social media presence of Modi's supporters and, especially, of those backed by his Bharatiya Janata Party is formidable, they have in the past demonstrated their tendency to trade credibility for quick-fire visibility and effect. Back then, they used their special skills for propaganda. Now, it seems, they are desperate to defend their decision to promote their leaders in the first place.
Only, with their aggression and rhetoric, they may be reducing the government's elbow room further.
We welcome your comments at ideas.india@qz.com.