Being an entrepreneur is an all-consuming job. But Indian startup founders are not letting that affect their health.
From running marathons and cycling over 100 kilometres on weekends to practicing Reiki, entrepreneurs in the country take a serious interest in health and fitness despite working 10 to 12 hours a day.
Quartz spoke to several such businesspersons and here's what they told us:
Setting goals
Given their busy schedules, some entrepreneurs say that having a fitness goal helps them stay in shape.
In 2012, Siddharth Suchde decided to give up his career as an international squash player to start his sports venture LiveYourSport.com. Back then, Suchde used to spend nine hours each day working out and practicing his game. But things are different now. "I don't have time to train for long hours now. I work seven days a week," the 31-year-old said. However, over the years, the former sportsman has devised a trick to ensure he still stays in good shape: signing up for squash tournaments.
"Participating in these competitive matches means I have to purposefully train myself because I don't want to be unfit or not ready for a match," Suchde said. "Having a goal helps me because there's something I am training towards."
Weaving work and work-out
Given the shortage of time, several entrepreneurs knit workouts into their busy schedules.
Upasana Taku's days are far busier than most other entrepreneurs. Besides being the co-founder and director of financial technology startup MobiKwik, the 36-year-old Stanford alumna is also a new mother.
But the former marathon and triathlon runner does manage to get some exercise.
At 7:30am on weekdays, Taku goes for a jog on the running track in her Gurugram apartment complex, with her one-year-old baby in a stroller. "I have bought a special stroller that has wheels that can smoothly match my pace of jogging," Taku said. "I keep singing to my baby while jogging so that he doesn't get bored."
After making the rounds for about 45-minutes, Taku lets her baby play on the lawn while she stretches.
Also, on Tuesdays and Thursdays, she practices Zumba in office with around 40 colleagues. "We have a trainer coming… and unless I have to attend a very important strategic meeting, I never miss the session," she said.
Weekend workout
Since weekdays are hectic, many reserve the weekends for fitness.
Till January 2015, when he was president of Mukesh Ambani's Reliance Jio, Sumit Chowdhury cycled to work, using that duration to meditate, plan his schedule, and think about the day ahead.
In January 2015, Chowdhury launched his startup, Gaia Smart Cities, which develops products for smart cities. Since his new office is close to his Mumbai home, cycling isn't an option anymore. Instead, he sacrifices a little sleep over the weekends to go on long-distance cycling trips.
"I feel that if I am not physically fit, I can't think properly. At my startup, I need 150% mental concentration at all times. To ensure I have a sharp and active mind, I need to spend time cycling alone. It helps me increase my focus on my work," Chowdhury said.
The 46-year-old IIT-Kanpur alumnus wakes up at 4:00am on weekends and cycles 100 kilometers. "I start from Nariman Point (in south Mumbai), go till Ghodbunder road (in Thane) and then return. It takes me about five hours," he said.
Keep it simple
Given the constant travel that is part of most entrepreneurs' lives, many choose to indulge in long-distance running as it doesn't require any heavy equipment or gym visits. Marathons are a favourite in the Indian startup community.
Capillary Technologies founder and CEO Aneesh Reddy, for instance, recently participated in the Ladakh marathon. He has also run marathons in Bengaluru, Mumbai, and Hyderabad. "I like running because I can do it even when I am travelling. I just need to pack my shoes when I leave," Reddy said.
Raghav Gupta, the country manager at ride-sharing firm BlaBlaCar India, agrees. "I travel to Paris every other month so my running does not get affected because I continue doing it even there," he said. Gupta is currently training for the New Delhi half-marathon to be held on Nov. 20.
Strict regime
Several Indian entrepreneurs like to follow a set workout regime, which they say has become a part of their lives. And for these entrepreneurs, skipping a few consecutive sessions just isn't an option.
Varun Khaitan, co-founder of online services marketplace UrbanClap, makes it to CrossFit sessions at 6:30am at least four days a week. The high-intensity workout includes movements from gymnastics, weightlifting, running, and rowing.
"I do compromise on my sleep but investing in the workout has great results. It helps me have an active day, work at a faster pace, get more done, and stay more energised," Khaitan said.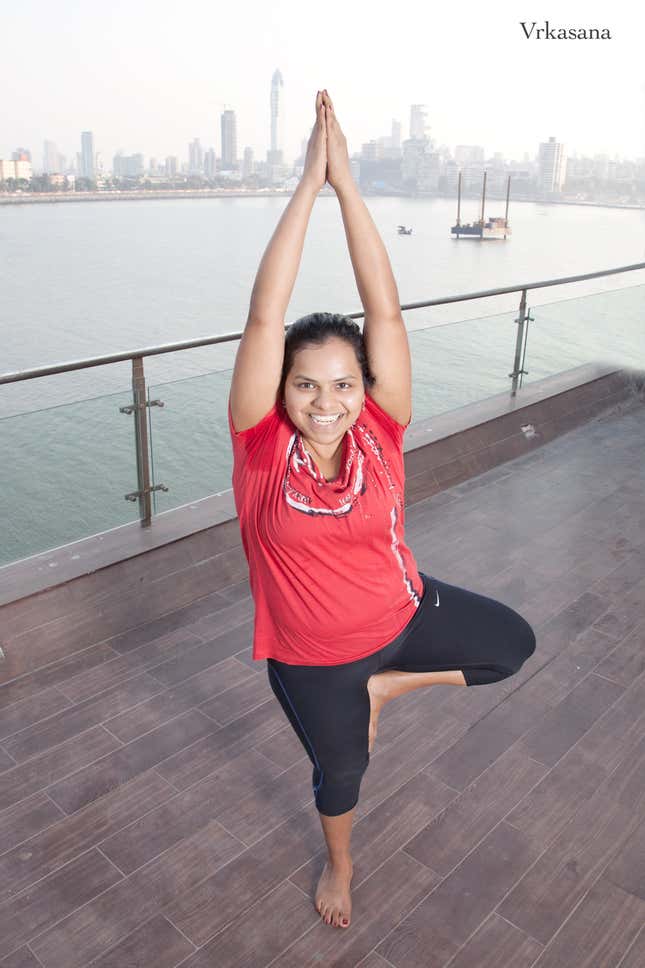 Slow & steady
Yoga has been popular in India for centuries and it has a massive following among Indian entrepreneurs.
Vibha Kagzi, the founder of educational advisory startup ReachIvy, believes practicing yoga keeps the doctor away. And that's important because she doesn't want to miss a single day of work.
"I am constantly juggling time, but I cannot afford to fall sick. The opportunity cost of not turning up to work is too high for me, so yoga helps me stay healthy despite Mumbai's ever-changing weather," the 35-year-old Harvard alumna said.
Kagzi visits her guru's yoga studio at least twice a week, and she has a private teacher who comes over for a one-hour session once a week.
"In the first few years of entrepreneurship, you need to be really composed because there is so much madness around you. Yoga helped me stay balanced and controlled through such times," she said.
Sanjiv Khandelwal, the founder of business-to-business textiles marketplace XSTOK, also practices yoga every morning. As disciples of the Isha Foundation, Khandelwal and his wife spend a few days at the foundation's ashram in Tamil Nadu two-to-three times a year.
"If you start practicing yoga once, you get totally hooked on to it," he said. "The days when I skip yoga, I can feel a slight lack of balance in my thoughts."
Prioritising
Several entrepreneurs believe they need to consciously prioritise health over work if they want to stay fit.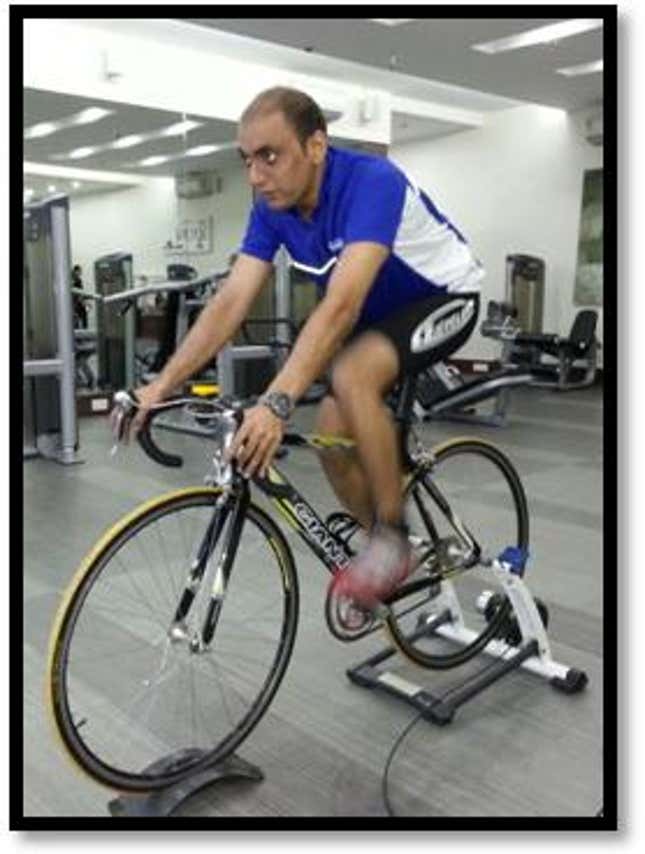 Thirty-seven-year-old Shiraz Siddiqui is a two-time cancer survivor. Last year, he co-founded The Gene Box, a startup that provides healthcare services based on genetic analytics. Even as the startup keeps him very busy, Siddiqui says his health is his top priority.
"I wake up at 4:30am every day because there is no work pressure in the morning, and I can spend time on my workout. I work out till about 7am," he said. "My workout includes running, cycling, and swimming. I make sure I run at least three marathons every year."
Besides being an active long-distance runner, Siddiqui also practices the Chinese martial arts form kung-fu wushu.
These days, Siddiqui is training for the Ooty marathon that will take place in November. He also plans to run the Mumbai and Dubai marathons, both in January.
Team sports
Some believe the best workout is to unwind with their office colleagues while playing a team sport.
It is almost impossible to reach Nikhil Kamath between 9am and 4pm on weekdays as the co-founder of online stock brokerage Zerodha is busy at work during the trading hours of India's stock exchanges. But the 31-year-old entrepreneur balances out all the morning stress in the evening when he hits the field with around 15 colleagues to play football.
Bengaluru-based Kamath—named in Forbes' 30 under 30 list of Indian achievers earlier this year—is not only conscious about keeping his weight in check but says that playing a team sport also keeps him mentally fit.
"Football is relaxing more than being a workout," he said. "Almost every other day, you would find my team and me in the turf ground near our office, sometimes playing until 11 in the night."
One with nature
Gardening and farming are preferred by others as the best workout for both the body and brain.
In 2010, while working as the global marketing head at Manipal Group, Madhusudhan collapsed in his office. Doctors later discovered tumours in his brain, forcing him to quit his job and undergo treatment. But having enjoyed a busy professional life for over three decades, Madhusudhan wanted to keep himself occupied.
So in 2011, the IIM-Bangalore alumnus set up an organic farm in a 30 feet-by-40 feet plot on Bengaluru's outskirts. Next year, he launched an organic foods startup: Back2Basics. The company today cultivates over 180 acres and plans to expand to up to 500 acres by December.
And though he's once again busy, this time as an entrepreneur, Madhusudhan believes he has been given a second chance at life and that he needs to maintain a healthy lifestyle. So, he practices yoga twice a day—30 minutes in the morning and an hour in the evening—and walks for around four hours around his farms.
"I have the option of driving through my farms if I wish to go for inspection, but instead I walk so that I get some exercise," the 55-year-old said.
Divine healing
Sameer Khanna, founder and CEO of carpooling app Orahi, is a Reiki grandmaster. He begins his days at 6am and practices the healing technique for about 30 minutes, following it up with a 20-minute routine of Tibetan Rites—an ancient exercise regime.
"The pressure of running a startup is so high that you have to find something to help you maintain a balance," 35-year-old Khanna said.
"As an entrepreneur, I am constantly thinking of 20 things at the same time, and the pressure is immense," he said. "When I started my venture over four years ago, I thought the first year would be the hardest and things would get easier later. But now I know that it never gets easy. You just need to find ways to stay in control despite all the pressure."
We welcome your comments at ideas.india@qz.com.