A smooth change of guard in Pakistan's leadership is a rarity, particularly in its military circles.
Nonetheless, last month, prime minister Nawaz Sharif appointed general Qamar Javed Bajwa Pakistan's new chief of army staff (COAS). There is optimism in some quarters that the country is on the path to eventual civilian supremacy given that his predecessor, general Raheel Sharif, quietly retired on time. The outgoing general also seemed unable to influence the prime minister's choice.
On the other hand, the army's control over defence, foreign, and internal security policy actually deepened and broadened under the command of Raheel Sharif, Pakistan's most popular COAS in decades. So how do we square these two contradictory facts, and what does it mean for the region?
The short answer is that there is no contradiction. The Pakistan Army's greatest source of power is its popularity, which it has continued to cultivate through a number of means. The first has been avoiding public clashes with institutions that have popular support such as the judiciary or, for that matter, some extremist groups. The other has come from boosting its image and attacking that of its rivals with the help of an increasingly powerful Inter-Services Public Relations (ISPR).
But it's not just clever perception management that has improved the army's position. After a decade-and-a-half of successive crises, the military seems to be showing a much higher degree of realism in its decision-making. The recklessly triumphant mindset that emerged in the late 1980s from the nuclear programme's success and the Soviet retreat in Afghanistan has been replaced by relative sobriety. This is something that neighbouring countries, especially India, need to think about with equal seriousness if regional stability is to improve. Neither confrontation nor engagement will work unless it is shaped by a grasp of the Pakistan Army's far more modest strategic objectives.
Meet the new boss
Many in Pakistan Army's fraternity wanted the new COAS to be someone who had already demonstrated aggressive leadership in the war against the Pakistani Taliban. Of the names shortlisted for the top job, generals Nadeem Ishfaq or Zubair Hayat had been closely associated with major operations in the Federally Administered Tribal Areas (FATA).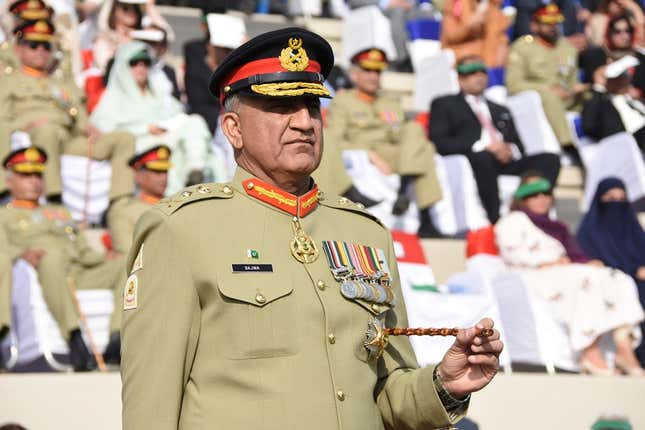 Instead, between 2013 and 2015, Bajwa commanded X Corps, the largest of all Pakistani field formations, which is responsible for the capital and the Line of Control (LoC) separating India and Pakistan in Kashmir. This came on top of multiple previous tours along the LoC in both command and staff positions. However, it shouldn't be assumed that these postings bred an anti-India focus.
Bajwa served as a brigade commander under a former Indian COAS, general Bikram Singh, as part of the UN peacekeeping mission in the Congo between 2007 and 2008, earning the Indian general's high praise for his professional performance in South Kivu. Shortly after his UN stint, Bajwa took charge of Force Command Northern Areas (FCNA) overseeing vast mountainous areas of Gilgit-Baltistan, including the Siachen Glacier, the highest battlefield in the world, and former flashpoints like Kargil and Dras.
This seamless transition from fighting under and alongside the Indian Army to fighting against it says something about the flexibility that the Pakistan Army's senior officers have had to develop. This is because not even those on the LoC can afford to solely focus on the Indian military anymore. Gilgit-Baltistan, for example, has seen an increase in extremist activity among the region's Sunni minority, aimed at tourists, Shi'ites, and the Pakistan Army itself. And protecting the ever-increasing levels of Chinese investment in the area is an absolute top priority for FCNA.
The civil-military tug-of-war
Of course, Bajwa's most important responsibility as X Corps' general officer commanding-in-chief was the Islamabad-Rawalpindi twin city area. In that capacity, he had the power to either end or defend the sitting government at any point. Things were particularly critical in late 2014 when cricketer-turned-politician Imran Khan led an attempt to bring down the Nawaz Sharif government through mass demonstrations. The prime minister, for his part, was said to be deeply impressed by Bajwa's neutral stance in the army brass's debates over whether to help the demonstrators.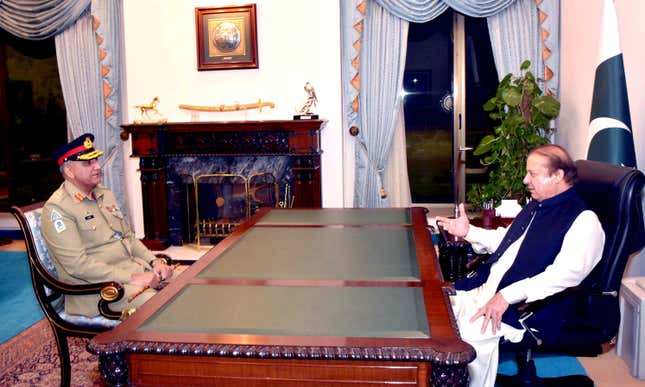 Eventually, Sharif selected Bajwa for much the same reasons he appointed Raheel Sharif to the top job back in November 2013: a lack of overt political ambition, and a reputation for quiet competence rather than either outspokenness or sycophancy. And the prime minister is likely to get more of the same again, i.e. a general unlikely to seize power for himself, but one who also ferociously defends the Pakistan Army's institutionally defined interests.
The extent of the army chief's personal ambition really does matter in Pakistan. There are few states at the moment that have such a concentration of political power in the hands of a single appointed professional military officer. This power does not come from either a constitutionally defined role or pure coercive means at his disposal. It is a product of the army's status as the most trusted institution in the country by far.
The PR factor
The other source of a COAS's authority is his public reputation, something the ISPR closely manages through social media campaigns, commissioned music videos, films, and partnerships with "friendlier" journalists and editors. ISPR's importance in managing national opinion is reflected in the inflation of its director-general rank from brigadier to major-general under Pervez Musharraf, and then to lieutenant-general under Raheel Sharif.
Things have come a long way since the days of the 1999 Kargil operation when ISPR and the army general headquarters were horrified to find Pakistanis hungrily consuming Indian satellite TV news for want of a more compelling alternative. It's not yet quite the status of heading the Inter-Services Intelligence (ISI) or the Strategic Plans Division (the nuclear custodians), but if current trends continue, it is not out of the question that a future ISPR head might one day become COAS.
In Pakistan's political culture, like the rest of the subcontinent, there is a hunger for heroes and a tendency for cults of personality. A name and a face give people something they can attach themselves to. This ability to turn army chiefs into national heroes is a threat that any Pakistani prime minister must take into account.
Last month, for instance, a Leftist union leader (normally an anti-military demographic) committed suicide after failing in a month-long campaign outside the Karachi press club to pressure the government into granting an extension to Raheel Sharif. It is remarkable given that Sharif was unknown to the public four years ago, but ISPR has made sure credit for improvements in security from high-profile operations in unsettled areas like Karachi went to the COAS.
There won't be an overnight transfer of affections to Bajwa, but the infrastructure is in place, the popular demand for saviours remains, and all that's missing is an opportunity to demonstrate leadership. The Narendra Modi government's determination to take a "defensive offensive" position against Pakistan, as Ajit Doval, India's national security advisor, described it, is likely to provide those opportunities sooner rather than later.
The learning curve
For those in New Delhi who want to pile the pressure on Pakistan over Kashmir, the reality they must confront is that Islamabad's civilian government will most likely bear the brunt of it, leaving the army's position stronger than ever.
This is in part because the Pakistan Army seems far less prone to severe overreach. The indications are that the army's regional goals are far less ambitious and more sustainable than they were in the two decades between general Zia-ul-Haq's death in 1988 and Musharraf's ouster in 2008.
The last 15 years of escalating domestic conflict with the Pakistani Taliban has cost the army thousands of casualties, shaken its cohesion with defections and resignations, and tied down a third of its forces. Meanwhile, India's defence budgets and global standing have continued to grow. The Pakistan Army's officer corps survived those pressures to come out stronger than ever, but the experience has naturally knocked out many ideological fantasies in favour of much harder-nosed realpolitik.
The army no longer has the arrogance of the force that by the late 1980s believed it had defeated a superpower with god's help and was convinced it could rule Afghanistan through its equally god-fearing clients. Instead, the generals admit today that a total Taliban victory is unlikely, and would pose risks to Pakistan as far south as Karachi. They also acknowledge that India is not going to dissolve like Yugoslavia or the Soviet Union. There is a recognition that they cannot retard the growth of Indian power through "unconventional warfare," and recognise that Pakistan must catch up economically in order to exercise diplomatic influence.

Most importantly, the army has lost the easy confidence it held until the late 2000s that the ISI could easily manipulate its jihadi "boys" at will. There's also a high level of caution in handling the vast "disposal" problem, burdened by the belated recognition that most extremist organisations' desire for resources, revenge, and above all power make them just as likely to ally with Islamabad's enemies if they are mishandled.
The army's priorities seem to have re-centred on defending its control over national security affairs (at the expense of the civilians), ensuring internal stability, maintaining international alliances, and supporting Pakistan's GDP growth. However, none of this is to suggest that the proxy conflicts between India and Pakistan are anywhere near over. There's far too little trust between the two countries to engage in such wishful thinking.
On the other hand, neither country is satisfied with the status quo, which provides a spark of hope. The Pakistan Army, through painful experience, has finally gained a far more realistic institutional assessment of itself and its situation—perhaps its most realistic view in history. So the increasingly ideological government of India would be well-served by recognising its opponent not as it was, but as it is.
Otherwise, India may find itself in the position the Pakistan Army so often did in the past: overconfident, out of touch and in flagrante delicto.
We welcome your comments at ideas.india@qz.com.