Nature's fury is back to smite the southern Indian state of Tamil Nadu.
On Dec. 12, a "very severe" cyclonic storm hit Tamil Nadu shores, causing death and destruction in its capital city, Chennai, besides other areas.
The cyclone named Vardah made landfall north of Chennai at around 3pm. The weather department had initially forecast that the cyclone would weaken before making landfall but that did not happen and the city was lashed by winds blowing at up to 140 kmph.
Only last year, Chennai had received the heaviest rains in 100 years, flooding it for weeks.
Vardah, which means red rose, was named by Pakistan. Here, in numbers, are the developments in the wake of Cyclone Vardah:
10 dead: At least 10 persons died in rain-related incidents in Chennai on Dec. 12. This includes a three-year-old child and four women.
Nearly 20,000 evacuated: The government undertook massive evacuation in low-lying areas and around the shores of Tamil Nadu and neighbouring Andhra Pradesh where Vardah was initially predicted to make landfall. About 10,000 people have been evacuated from areas near the sea in Tamil Nadu and over 9,400 persons moved to relief camps in Andhra Pradesh.
258 trees: The rain and winds have uprooted at least 258 trees across several places in Chennai, The Times of India newspaper reported.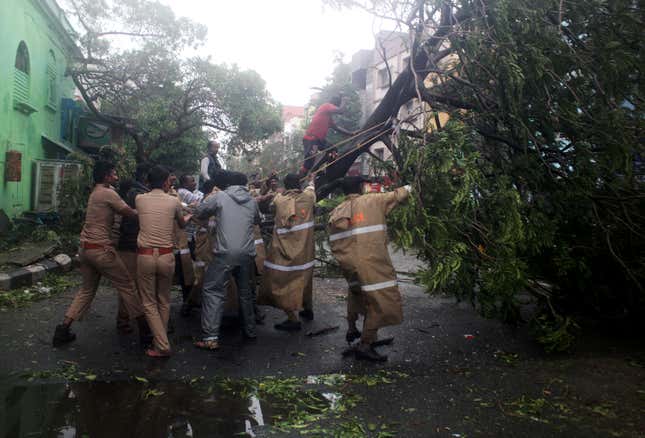 Uprooted trees damaged several vehicles and caused traffic snarls in many parts of the city.
Eight specialised teams: The government has moved eight teams of the National Disaster Response Force (NDRF) to various parts of Tamil Nadu, including Chennai, Tiruvallur, and Kancheepuram, for rescue operations. These teams consist of more than 200 personnel in all.
"We have pre-positioned 15 teams across Tamil Nadu and Andhra Pradesh. There are seven teams in Andhra Pradesh… Eight teams have been put in place in Tamil Nadu," RK Pachnanda, NDRF director general, had said before Vardah made landfall.
25 flights: Chennai airport remained shut for most of Monday due to torrential rains and strong winds. At least 25 direct flights between Chennai and Bengaluru were cancelled. There are 22 arrivals and 31 departures daily between the two cities. By Monday afternoon, at least 16 other flights scheduled to land in Chennai were diverted to Bengaluru. Nine trains scheduled to leave the city, too, were cancelled.
Rs400,000 in compensation: Tamil Nadu chief minister O Panneerselvam has announced that families of each of those who died in Vardah-related incidents will be given Rs4 lakh.