More and more graduates of the Indian Institutes of Technology (IITs) are bidding the American dream goodbye.
In the 1980s and '90s, the trajectory of an IIT graduate was fairly predictable: Get a B-Tech degree from one of India's premier schools, make a beeline for one of the top universities in the US, and settle down abroad with a high-paying job. That's what Google CEO Sundar Pichai did—he got his start at IIT-Kharagpur in West Bengal, went on to study material sciences and engineering at Stanford University, secured an MBA from the University of Pennsylvania's Wharton School, and ended up in Silicon Valley.
The lure of America for India's intelligentsia was understandable back then. India's IT sector was yet to witness the liberalisation and explosive growth of the mid-90s, so private-sector job options for Indian engineers were limited, and the public sector was hardly known for innovation or impressive pay scales. Indian educational institutions were also far less equipped than their American counterparts when it came to scope for research and faculty guidance, making a stop at an American school an important career-development step.
But waves of engineers are no longer migrating to the US. A survey of nearly 20,000 IIT-Bombay alumni reveals that an increasing number of them are choosing to stay in India. As reported in Insight, the school's student-run newspaper, 41% of survey respondents who graduated prior to 2000 have settled abroad, while only 15.8% of students who graduated in 2000 or later reside outside of India.
And while four out of five graduates living in foreign countries reside in America, the US has become less of a magnet for more recent graduates. Among those finishing school in 2000 or after, more who went abroad settled in the growing metropolises of the Middle East, and in east or southeast Asia. Europe also became a more popular destination for more recent IIT-Bombay graduates.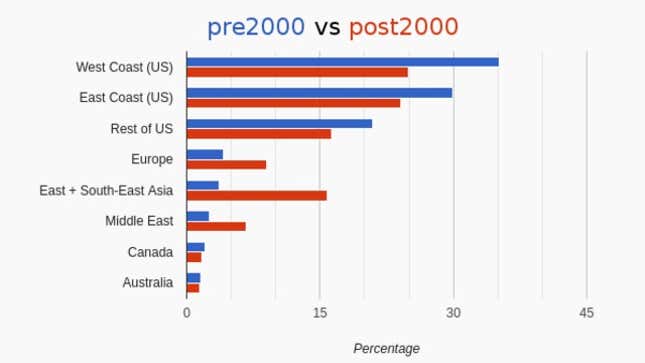 Meanwhile, India itself has become more of a draw for graduates. The same multinational corporations that used to entice engineers to leave India started making their way into the country in the late 1980s. The floodgates were opened by Texas Instruments when it established an Indian outpost in 1988. Since then, companies like British Telecom, Microsoft, Intel, and many others followed suit, offering competitive salaries and enticing job prospects close to home.
More recently, Indian prime minister Narendra Modi's "Make in India" initiative incentivised fresh graduates to look beyond lucrative salaries from foreign IT and consultancy firms. Colleges also did their bit: Traditionally, companies that offer the most attractive pay would open the recruiting efforts at the IITs across the country. But in 2016, IIT-Bombay and IIT-Roorkee in Uttarakhand both gave "core companies," where graduates focus closely on their field of study, early slots for recruitment, as The Economic Times reported. Domestic firms like Bajaj Auto and Godrej made their debut at some of the IIT campuses for the first time ever.
When choosing where to live in India, Mumbai was a clear winner—not unexpected considering that's where IIT-Bombay is. Over 40% of IIT-Bombay graduates indicated that Mumbai was their top choice, beating out the tech hub of Bengaluru by a wide margin.