The story of Natarajan Chandrasekaran's early life and career could well be that of any regular Indian techie: raised in small towns of south India, a degree in computer sciences from a local university, first job at an IT company, and some years onsite abroad.
But this small-town boy has made it big, and how.
After seven years as CEO of Tata Consultancy Services (TCS), India's largest IT company, Chandrasekaran—or just Chandra—will now occupy the corner office at one of South Asia's largest conglomerates.
On Jan. 12, Chandrasekaran was appointed chairman of Tata Sons, the holding company of the $103-billion Tata Group. "This is as per the unanimous recommendation of the selection committee," the group said in a statement. "Chandrasekaran shall take charge from Feb. 21."
This appointment follows months of a high-voltage boardroom drama at the group, sparked by the unceremonious ouster of former chairman Cyrus Mistry.
Chandrasekaran's current position is a far cry from his days as a young boy helping his father grow rice, sugarcane, and bananas at their family farm, some 300 kilometres from Bengaluru, India's Silicon Valley.
The rise and rises
Chandrasekaran was born in Mohanur in the southern Indian state of Tamil Nadu. A lawyer by profession, his father also maintained a family farm.
He is the youngest of three brothers and has three sisters, too. Chandrasekaran's eldest brother Natesan Srinivasan is currently the group finance director at Chennai-based business conglomerate Murugappa Group. His other brother, N Ganapathy Subramaniam, was promoted as the new TCS COO on Thursday.
After passing out of a Tamil-medium government-run school, Chandrasekaran graduated in applied sciences from the Coimbatore Institute of Technology. He then tried his hand at farming for about six months before realising that he wasn't cut out for the job.
So he went on to pursue a master's degree in computer application from the Regional Engineering College in Tiruchirappalli, now one of the 30 odd National Institutes of Technology (NITs).
At 24, straight out of college, Chandrasekaran joined TCS as an intern.
Between 1987 and 2002, he donned many roles at the Mumbai-based company, even working at client locations in the US, UK, and Sweden for 10 years. Here's how Chandrasekharan rose up the ladder at what became India's largest IT firm:
A global business leader
In 2009, when the then CEO Ramadorai was set to retire, several names were rumoured to be in the race to replace him, including Chandrasekaran's. But the inside joke was that TCS stood for "Take Chandra Seriously."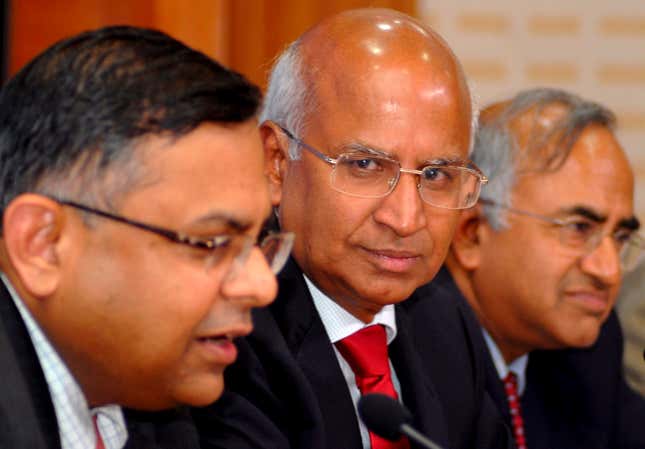 The outgoing leader had chosen his successor over a decade ago. "I spotted him (Chandrasekaran) way back in 1996, and knew that he had the potential," Ramadorai said in 2009 at the time of leaving.
On Oct. 6, 2009, Chandrasekaran took charge.
He had picked up early lessons in leadership from Ramadorai: strong convictions and a can-do attitude, Chandrasekaran told The Economic Times in 2008.
His calm disposition aside, Chandrasekaran told Indian Today in 2014 that his trick to keep TCS on top was to stay anxious. "You got to be paranoid. There is a culture of entitlement versus the culture of performance. We believe in the culture of performance. Nobody takes anything for granted," he said.
A passionate marathoner since 2007, Chandrasekaran's approach to long-distance running rubbed off on TCS as it displayed strong growth even during the tumultuous period post-Lehman Brothers' collapse in 2008 when rivals faltered. From Rs27,812 crore (pdf) in 2009, when Chandrasekaran took charge, TCS's consolidated revenue (pdf) grew almost five-fold by fiscal 2016.
"Running has made me more observant, calmer, and taught me to persevere," he told the Financial Times in 2014. "One thing I've learnt from running marathons is that everything is long-haul. Nothing happens overnight."
After starting as a novice to stave off diabetes, Chandrasekaran now runs on Mumbai's beaches at 5am every day, some days going as far as 16 kilometres.
Such stamina will surely come handy in getting the Tata group in order.