Over the years, in-flight amenity kits have been given a stylish makeover. Airlines around the world have roped in high-end brands, such as Salvatore Ferragamo and Bulgari, to transform what was once a fairly standard, uninspiring freebie into a collector's item.
But 2017 will see an Indian luxury brand joining the fray: New Delhi-based Nappa Dori, founded by National Institute of Fashion Technology (NIFT) graduate Gautam Sinha and named after the materials it uses—leather (nappa) and thread (dori in Hindi).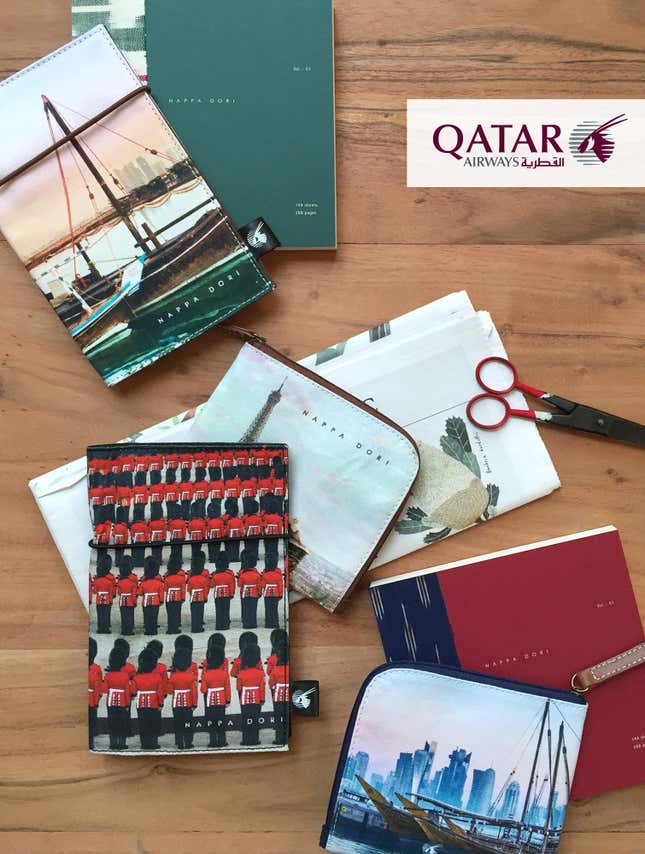 Sinha and his team have applied the brand's minimalist, wanderlust-inspiring design ethos to a collection of pouches for Qatar Airways that features vintage city scenes from London, Paris, and Doha. The kits will be given to business and first class passengers flying on short and medium-haul Qatar Airways flights around the world.
And that's a big global milestone for the nearly seven-year-old brand. Though it now attracts celebrity clients in India and abroad, including Naomi Watts and Eva Longoria, Nappa Dori started out small in a studio in Delhi's Hauz Khas village.
Early days
After studying fashion design at NIFT, Sinha, now 37, spent several years making products for European brands at a Dutch company in Delhi.
His love for leather came about by chance, thanks to a Scandinavian client who asked for a line of belts, prompting Sinha to give the material a shot for the first time. At 24, Sinha launched his first business, Definite Design, producing small leather goods for other brands. But it wasn't until 2010 that he decided craft to designs under his own brand, Nappa Dori.
Sinha invested all his savings in the new business and began producing trunks and bags to sell out of his Hauz Khas studio. He figured he'd give himself a year to see how things would pan out.
"I really didn't have a market and I didn't know who's going to buy (the products). But I did make (them), thinking that if I like it, someone else would like it," Sinha said.
His instincts turned out to be right. Nappa Dori began drawing attention from the expat community and tourists in Delhi who snapped up the brand's colourful trunks and its luxurious leather satchel and messenger bags, all of which seemed fit for nostalgic, Wes Anderson-esque journeys.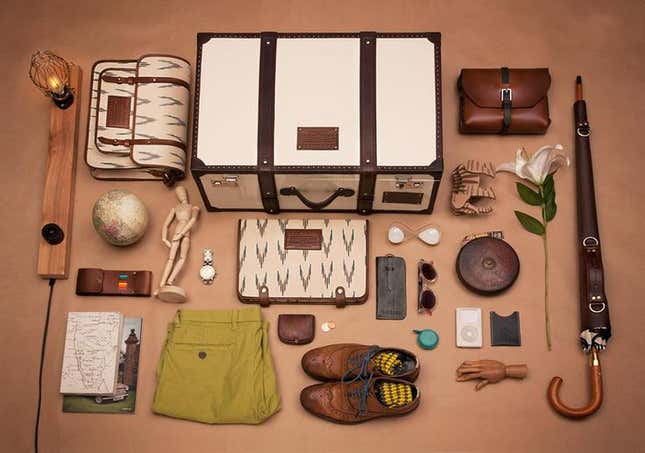 Alongside his retail business, Sinha also worked on bespoke projects, designing everything from blotters and bins to menu covers for international hotels, such as the Burj al Arab in Dubai and Hilton Worldwide, as well as for the iconic Japanese restaurant Nobu, among others.
"That used to be our bread and butter at one point of time," Sinha said.
But the growing demand for its chic travel goods prompted an evolution.
Today, Nappa Dori runs six stores in Delhi, Mumbai, and Bengaluru and has plans to open even more, first in India and then abroad. Around 90% of its business now comes from these retail stores and Sinha says overall sales have been doubling year-on-year, every year.
And that has a lot to do with the evolving Indian customer.
Big spenders
Nappa Dori's products aren't cheap. Canvas bags with leather trimming start at Rs2,200 while the trunks will set you back Rs9,800 at least. The brand also makes accessories, stationery, and small travel goods that are more expensive than those sold by other home-grown brands, including Hidesign, the Pondicherry-based pioneer of the business in India.
But Sinha notes that while expats were the first to embrace his products (and prices), Indians are slowly coming around. The customer base is now 40% local, a big change from the early days that corresponds to the rising tide of younger, more affluent Indians who value good design.
"In the beginning, we did face a lot of questions like, 'Why is your bag so expensive? It's not even a full leather bag,'" Sinha explained, noting that several other brands in India sell bags made entirely of leather which are much cheaper than some of his canvas and leather-based options.
However, he argues that customers are not just paying for the product at Nappa Dori, they're paying for the design as well. "And if they're willing to pay a certain price for an international brand, we are equal to that, and we've always stood by that," Sinha added.
It's that demand for international brands, such as Louis Vuitton and Hermès, that has transformed the luxury leather goods business in India, with the market expected to almost double to Rs2,177 crore in 2017, from Rs1,117.8 crore in 2013, according to estimates from Euromonitor International.
Much of this growth is the result of increased demand for luxury travel goods but India's growing, aspirational middle class, with its preference for leather as a symbol of status, has made affordable luxury an equally important segment. And that's where brands like Nappa Dori come in.
Ankur Bisen, senior vice-president at retail consultancy Technopak, describes the brand as one of India's "bridge-to-luxury" options, catering to shoppers who are keen to invest in leather accessories at a fraction of the cost of high-end foreign products.
"Nappa Dori is a very intelligent take on that evolving space," Bisen said, noting that the brand's designs move beyond the standard blacks and browns that leather is usually known for. And that's a big plus for discerning Indian customers looking to express their style.
Today, Nappa Dori's credentials as a home-grown high-end company, with a founder born and raised in the national capital, also make a difference. And that's something Sinha himself has realised.
"(The younger generation) has changed over the last 5-10 years in terms of being more proud of where they come from," Sinha said. "There's a sense of belonging that is there, and they're proud to carry Indian."
For him, that's the ultimate praise: being endorsed by one's own.