Long before India's burgeoning bar scene spawned celebrity mixologists and cocktails with cult renown, the most refreshing, distinctive drinks were made by village grandmothers and at roadside dhabas: puckeringly sour aam panna, made from green mangos, or the musky, beet-red fermented vegetable juice kanji.
Each region has its own traditional drinks for summer and winter, and many are believed to hold medicinal or health benefits. They offer a dazzling complexity and interplay of sweet and salty, sour, bitter, and floral flavours. But the popularity of these concoctions has waned as young Indians increasingly switched to sugar-laden Coca Colas or Sprites instead.
But now these traditional drinks are making a comeback in the most unexpected places.
Step inside any of India's hottest bars and restaurants and chances are you'll find patrons sipping on cocktails with a twist. But in this case, the twist is the use of a traditional Indian ingredient, like aam panna or kaanji, that transforms a basic Gimlet or Manhattan into something you won't find anywhere else.
Bar menus are as long as books these days, packed with classic cocktails and foreign wines. But it's these local reinterpretations that have customers in India's metropolises hooked, drawn to the nostalgic value of seeing a childhood favourite revived in the form of something new, trendy, and utterly made for Instagram.
Drink up
The roots of the revolution were laid back in 2012 when restaurateurs Manu Chandra, Chetan Rampal, and AD Singh launched Monkey Bar in Bengaluru. The gastropub has gone on to become one of the country's most iconic restaurants, helped in part by its signature cocktail, the Mangaa.
Made with aam panna, vodka, sweet lime, and salt, the bright green and tangy Mangaa quickly became one of the most popular drinks on the menu. And it maintains that position today in Monkey Bar's outposts across India, according to the restaurant's brand head, Nakul Chandra.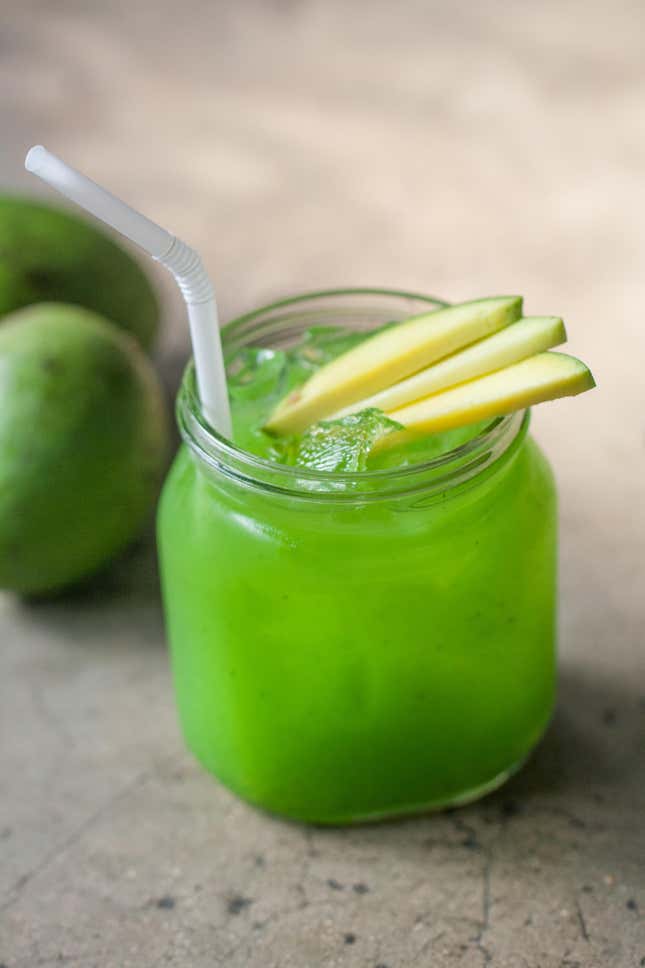 For Chandra, giving cocktails a traditional twist is in line with the overall trend in India of using traditional, sustainable ingredients in new ways, be it in food or beverages. That's brought back familiar and sometimes forgotten ingredients to our plates and glasses.
The success of the Maanga cocktail prompted Chandra's team to experiment with other local ingredients, including kala khatta syrup, used across Delhi and Mumbai to make ice golas (colourful crushed ice lollies that are a popular among the young and old), and a cordial made with gondhoraj lebu (a type of fragrant lime used in Bengali cuisine).
The gola syrup is used to make the "Incredible Sulk," a rum-based drink with a sweet, salty, and spicy flavour that Chandra says is a big hit at the bar's outlets in Delhi and Mumbai; the house-made gondhoraj cordial, meanwhile, was introduced at the launch of the restaurant's Kolkata outpost four months ago. It's used to make a take on the Gimlet called the "Toast to Calcutta," served with gin and basil, that Chandra says is by far the most popular drink at Monkey Bar Kolkata.

"As long as you're selling something with a story that connects back to the drink, people are intrigued by it and they want to try it," Chandra explained.
At the trendy Indian fusion restaurant Farzi Cafe, run by Massive Restaurants, head mixologist Aman Dua says customers are flocking to try out unconventional creations. These include a sour and spicy kanji cocktail, which incorporates a traditional fermented beverage from north India that is made with red carrots, beetroots and mustard seeds, as well as the Santa Bunta, an alcoholic reinterpretation of bunta, the popular lemon-flavoured carbonated soft drink that is usually served in a glass bottle topped with a marble. There's also the Chai Pani, a vodka cocktail infused with what is widely considered to be India's national beverage.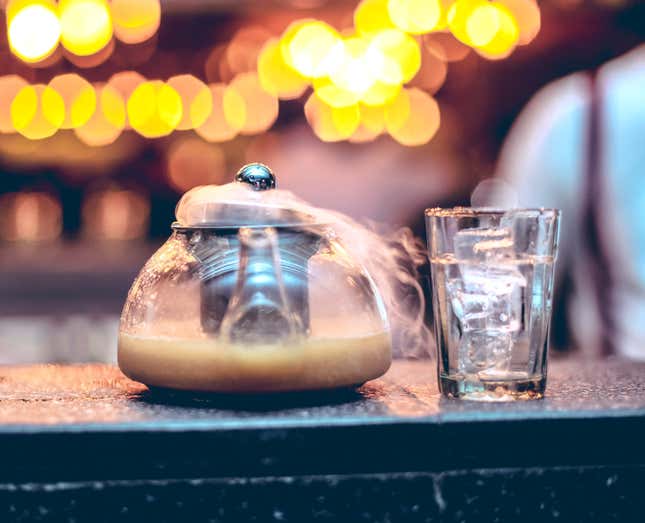 For Dua, these drinks work because they take advantage of India's wide range of traditional flavours, which can feel fresher to the new generation than the standard Western cocktails on offer at bars.
"The people who are going to come to your restaurant are well-travelled," Dua said. "They know how to have a Manhattan."
But interestingly, what's new in India today is a play on the old, which experts say is working because nostalgia sells.
"There is a coolness factor attached to placing these drinks on your menu," said Nachiket Shetye, who runs culinary consultancy Cellar Door Hospitality. He noted that there are two core age-groups of customers who are buying into this trend.
"Firstly, the 35-year-olds who have grown up drinking such home-made drinks and want to taste them again for the nostalgia. Secondly, the 18-25 year-olds who perhaps are not familiar with these drinks or the ingredients and are trying them out for the coolness factor," added Shetye, who is also the founder of Restaurant Week India.
But it isn't only bars that are taking inspiration from the golden olden days. Food and beverage companies have been doing the same, reviving ingredients such as sattu (powdered and roasted gram flour) and pre-prepared haldi doodh (turmeric milk) in the modern Indian home.
Supermarket nostalgia
One of the first few companies to participate in the resurgence of traditional drinks was Bengaluru-based Hector Beverages, which sells packaged drinks under the Paper Boat brand, including aam panna and kokum, a Malabar tamarind beverage infused with cardamom, cumin, and lemon that is common in Maharashtra. The six-year-old company has built a brand that registered a turnover of Rs72 crore ($10.8 million) in 2015-16 by reviving traditional recipes from various parts of India. In the process, it is also giving the hitherto cola-drinking generation more options.
These drinks bring alive recipes that are often hard to make at home, appealing to India's younger, time-strapped consumers who find it easier to buy these products off the shelf or drink them at a bar, unlike their parents or grandparents.
"…Preparing dahi, paneer, lassi etc at home is a science and not many households have passed that skill down the generations," said Srikumar Misra, founder and chief executive of Milk Mantra Dairy, a company that is reviving turmeric milk in India.
Hector Beverages plans to expand its product line, reaching beyond India's northern markets with other regional drinks, including panakam, a south Indian specialty made of jaggery and infused with ginger, cardamom, and lemon.
And that's only the beginning for Indian consumers. According to Cellar Door's Shetye, regions across India have even more traditional drinks and ingredients to offer, meaning that there's lots to look forward to at your neighborhood supermarket and your favorite watering hole.
"There are so many varieties of local liquors that are found across India," he said. "Bars could bring them back."