Hinjawadi, India
On Jan. 29, Rasila Raju OP was found dead at the Pune campus of Infosys, India's second-largest information technology (IT) services firm. The 25-year-old software engineer, who hailed from Kozhikode in Kerala, had been strangled with a computer cable inside one of the boardrooms.
A day after the murder, the police arrested 27-year-old Bhaben Saikia, a security guard at the Infosys campus in Hinjawadi on Pune's outskirts, in connection with the crime. The protector had allegedly turned perpetrator, although the motive behind this murder is still unclear.
India's IT industry was rattled by the incident. Many from this usually reticent and cloistered community were even provoked into holding public vigils in Pune and Bengaluru.
For decades, India's $150-billion IT industry has operated out of large facilities built on the edges of the country's metropolitan cities. Be it Electronic City in Bengaluru or OMR in Chennai, which were later swallowed by the expanding metropolises. One such island is in Hinjawadi.
From these quarantined spaces, a legion of white-collar workers serve clients from around the world, operate across international time zones, negotiate projects, and create copious software codes. A small army of service staff—cooks, cleaners, drivers, electricians—ensures everything runs like clockwork within the bubble.
Outside is the grim reality of mofussil India that has little in common with these silicon oases. In these rural settlements that manically transformed into tech hubs, there is little urban planning and scarce infrastructure. The result: suburban chaos. There's also the unmissable consternation that the meeting of two vastly different demographies brings. Local communities often find it challenging to adapt to the changes around them, leading to social tensions and, sometimes, triggering misconduct.
On most days, an uneasy equilibrium holds. Sometimes, it snaps—and the risks of working in India's IT sector become all too real.
In the once dusty village-turned-outsourcing outpost, 20 kilometres northwest of Pune, it happens more often than it should.
Anatomy of a boom town
Hinjawadi is western India's main tech hub.
Almost every software company worth its salt—Wipro, Tata Consultancy Services, Cognizant, IBM and, of course, Infosys—has facilities here. All of these are located inside the Rajiv Gandhi Infotech Park (RGIP), an IT special economic zone (SEZ) set up (pdf) in 1998 by the Maharashtra Industrial Development Corporation. An SEZ is an area dedicated to businesses and trade, with special regulations and laws that include tax benefits, fast-track government approvals, and duty exemptions.
The RGIP SEZ currently houses over 1,500 companies spread across 2,000 acres. It is divided into three phases, with more possibly coming up in future. A main road connecting the area with Pune cuts through these phases. The first phase, near the old Hinjawadi village square, is most developed, with a smattering of restaurants and commercial establishments. The second and the third phases, though, have nothing much but open spaces beyond the campuses of tech companies. Beyond the boundary wall of the Infosys campus in phase 2, for instance, there are only small hills.
Along the roads leading to the SEZ, two-floored apartment buildings are plastered with signboards advertising rooms for techies and office spaces for startups. Services, from tiffin delivery to transport, are also on offer for the 300,000-odd professionals working in Hinjawadi.
From the outside, the Infosys campus, which contributes over 10% to the company's annual revenue of more than Rs62,000 crore, resembles a luxury resort: lush foliage, manicured lawns, tall glass-&-steel structures. Inside, there's a cricket stadium, amphitheater, meditation centre, swimming pool, gym, recreational area, bowling alley, food courts, guest house for 1,000 persons, and a 10-storey car park. And, of course, offices. This cost the company Rs1,800 crore.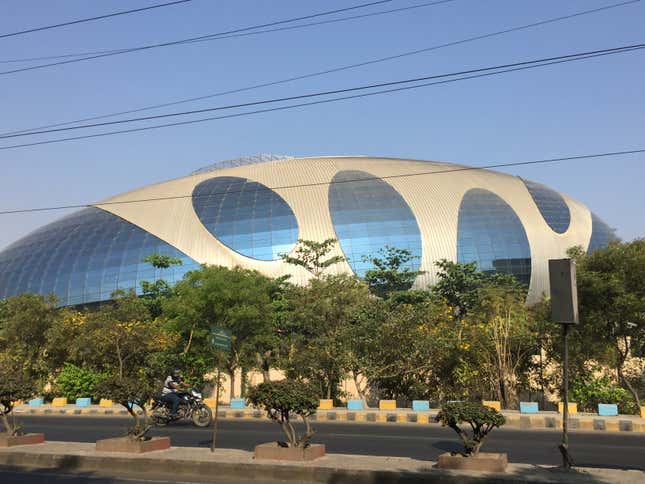 The 110-acre premise is also a tourist destination of sorts in Pune because of a popular spaceship-like structure.
When Quartz visited Hinjawadi on a Friday, young denim-clad employees could be seen sauntering in and out of Gate 1; roadside shops did brisk business selling juice, tea, and cigarettes. Armed Central Industrial Security Force (CISF) personnel stroll outside. Gatekeepers diligently check ID cards.
While employees get several visitors, they must stand on the road outside. Delivery persons, including those from Amazon and Flipkart, arrange their parcels on a sidewalk a short walk away from the gate. Employees can collect their stuff between 12pm to 2pm every day.
With such measures, naturally, those inside thought they were safe.
From the trenches
"Till now we used to feel safe with CISF vans patrolling the campus. But after what happened last week, I don't feel the same," said a 23-year-old female techie, a native of Rajasthan. "Of course there are CCTV cameras inside the buildings, but maybe they aren't being monitored properly."
Quartz spoke to five such employees outside the Infosys campus, all agreeing to be interviewed only on the condition of anonymity since they aren't authorised to speak to the media. Most said that they felt secure inside the campus, till Raju's murder.
A 27-year-old from Chennai, who's been working at Hinjawadi for three years, said it was the company's responsibility to ensure that every small thing is taken care of when it comes to their safety.
Her colleague disagreed, though. "It is not correct to put the entire blame on the company (Infosys)," she argued. "They have taken enough precautions. It can happen anywhere." And while she doesn't feel particularly unsafe outside the campus, hanging around in Hinjawadi after work is not an option.
"The thing is that Hinjawadi is outside the main city, and there is a lot of vacant land between Pune city and the IT park. Those areas are risky as they are mostly isolated and there's not much patrolling there," explained a 42-year-old male employee of a US-headquartered IT company that has an office in Hinjawadi. Public transport isn't very efficient—local buses don't follow a specific schedule—and roads get deserted in the night, he added. "Also, Hinjawadi is right next to the highway, so it's easy for criminals to get in and get out of the area. That leads to incidents like chain snatching or looting."
The annual crime statistics for Hinjawadi, obtained through a source at the Pune police department, mirror his assertion.
Although the crime rate has come down after companies and authorities stepped up security, police sources explained, it is still quite high for a small suburban area.
Invariably, many such incidents occur inside or just outside the premises of these big tech companies and involve their employees, the source said. In December 2016, for instance, a 23-year-old female employee of Capgemini was stabbed to death by a Bengaluru resident barely 500 metres outside her office at Talawade, 15 kilometres from Hinjawadi.
On rare occasions, employees themselves are the perpetrators. In January, for example, a 25-year-old techie reportedly assaulted and almost choked his former girlfriend to death in an office cab.
Security protocol
Infosys insists employee security has always been its top priority.
"We are focused and committed to the safety of our employees. Sunday's unfortunate incident (Raju's murder) is a reminder, however, that nothing can be taken for granted," the company said in a statement. Infosys did not allow Quartz to visit the campus.
Among other things, the Infosys statement said, the company maintains a 24X7 safety helpline across its offices, an emergency mobile app, extensive CCTV surveillance, and a safety committee at each campus to review measures periodically. It also encourages employees to leave the campuses before 8pm and makes travel arrangement if women employees are working late hours. Besides, all its cabs and buses have panic buttons.
Employees whom Quartz spoke to acknowledged that such systems are in place.
"Entry onto campuses is strictly monitored by security and there is a security presence at each of our buildings..," the statement added. "We have mandatory background checks for vendor employees, housekeeping staff, and rotating vendor staffs." Most of these employees belong to third-party vendors and can be either locals or outsiders.
Yet, these systems didn't save Raju. And it isn't the first time that Infosys's security set-up at Hinjawadi has come under the scanner.
On Dec. 27, 2015, a female contractual staff, who worked in the canteen on the premises, was raped. Two persons, reportedly part of the housekeeping staff, were arrested in connection with the case. While one of them was accused of raping the woman in a toilet, the other allegedly filmed the act on a mobile phone. However, a court ruled that the rape-accused and the woman had consensual sex and that the charges were framed only after the two were caught in a compromising position.
At KPIT Technologies, another Hinjawadi-based IT services firm, there's a strict protocol for these workers.
"We have a lot of third-party vendors, like the cleaning staff, the cafeteria, and security staff. So an essential part of our due diligence is to ensure the agency is reliable, if all licenses are in place, and we are pretty strong on all our checks," said Vaishali Vaid, vice-president and head of global HR at KPIT. The company was among the first to shift its campus from Pune city to Hinjawadi in the early 2000s.
Apart from background checks, Vaid added, there is physical frisking every time such workers enter the campus.
Onions to IT
Some 3.5 kilometres from Infosys's campus is the Hinjawadi town square—a chowk as locals call it.
The semi-urban locality adjoins phase 1 of the RGIP SEZ, where Infosys first set up an office. Past a small police outpost, a two-storied building houses the Hinjawadi gram panchayat office. These village self-government bodies are responsible for civic facilities like education, sanitation, drinking water, and health.
The Hinjawadi gram panchayat is particularly high-tech. The four-room office has digitised everything and employees use flat-screen desktops. "We are one of the few technologically advanced gram panchayats in the country," declared Dattatreya Bhojane, the village development officer, with some pride.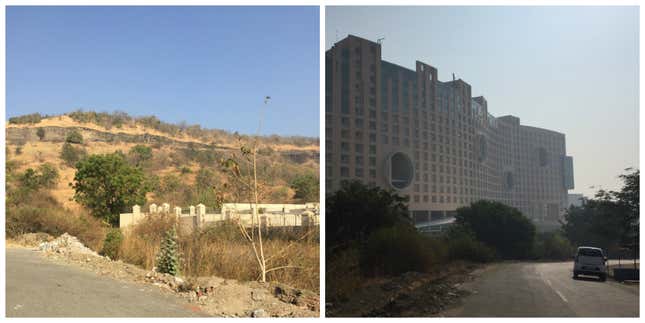 Before the IT industry arrived, the area was largely agricultural, growing onions, sugarcane, and rice. Eventually, many farmers sold their land to real estate developers and made small fortunes. Of the about 1,000 acres of farmland during the 1990s, Bhojane estimates, only about 150 acres remain.
Since then, many locals have set up businesses like restaurants, tiffin services, or transport, catering to the white-collar working class. In turn, the standard of living has improved, even as the population burgeoned from 5,500 in 2001 to over 45,000 now.
"The influx of professionals has created ample opportunity to residents," Bhojane explained. "We have built better school and health facilities with our increase in revenues." The gram panchayat earns about Rs10 crore every year from taxes on land, houses, transport facilities, and trade.
But there are persistent problems, including security.
The villagers weren't accustomed to the "modern" ways ushered in by Hinjawadi's IT boom, claimed Bhojane. "So instances of eve-teasing suddenly went up, as did cases of molestation," he said. "Not only locals but those from outside the city or even the state were at times caught in such acts."
The link between rapid urbanisation and crime-rate spike is hardly tenuous. "It is a widely accepted that the social churn that comes with rising urbanisation, modernisation, and inequality, contributes to crime," Reetika Khera, an economist and social scientist, explained.
Back to basics
Many of India's suburban clusters suffer a common ailment: an utter lack of planning.
"In modern town-planning, we need to develop commercial, residential and entertainment (restaurants, movie theatres) spaces in an area," said Harshad Abhyankar, coordinator of policy advocacy at the Institute of Transportation and Development Policy, a global non-profit. "This ensures that if you venture out even after 9 pm, the streets aren't deserted."
Hinjawadi's islands of commercial development are examples of how not to plan and design a settlement. It is a "planning mistake," Pune-based Abhyankar said, that will take at least a decade to correct by developing adjoining areas.
For employers, though, waiting that long is not an option.
The Hinjawadi Industries Association (HIA), a group of 75 firms in the SEZ, formed in 2008 to improve infrastructure and safety in RGIP, has started a bus service for employees called MetroZip. Some 100 MetroZip buses ply in the morning and evening, ferrying over 5,000 employees, HIA president Anil Patwardhan said. The HIA has also provided patrol vans. Half of the industry body's corpus is used for security and safety related issues, he said.
The Pune police, too, is trying to help. It is working on a plan called "Police Friend" that will involve assigning a constable or officer to a group of between 15 and 50 women working at Hinjawadi's IT firms. These employees will be provided with the contact details of the designated person whom they can approach during emergencies or even share concerns about harassment and other safety issues.
Hinjawadi isn't the first—and certainly won't be the last—technology hub of its kind to be established on the outskirts of a major Indian city. But, despite so much effort, the repeated failure of companies to protect their workers in this Pune suburb is illustrative of the challenge that many IT facilities face nationwide. It simply cannot be ignored, or written off as an exception.
The least that professionals deserve is security at work. That's something that Rasila Raju OP missed. Fatally.
Image by Ruben Alexander on Flickr, licensed under CC BY-SA 2.0.
We welcome your comments at ideas.india@qz.com.