Set on the premises of Dubai Parks and Resorts, the world's first Bollywood theme park is 1.7 million square feet, bigger than the size of three football fields. It opened Nov. 17, 2016 with virtual reality shootouts and Broadway-style stage shows in a park meant to look like small-town India. It cost $3 billion and expects 6 million visitors this year, each who pay $80 entry.
Spearheaded by Thomas Jellum, the Danish general manager of Dubai Parks and Resorts, the idea for Bollywood Parks Dubai came about in a series of staff meetings with senior management back in 2012. "We have a Hollywood park, so why not a Bollywood park?" asks Jellum. "I am sure we are not the first who had the idea to do this, but nobody did it before we did."
They have built attractions around the most iconic, blockbuster films in Hindi cinema and their most adventurous aspects. Among the 16 major attractions on site are Don: The Chase Begins a virtual reality chase following the main criminal character from a film about cops combating drug lords; and Sholay: The Hunt for Gabbar Singh, which lets groups shoot the film's villain with toy guns and VR headsets.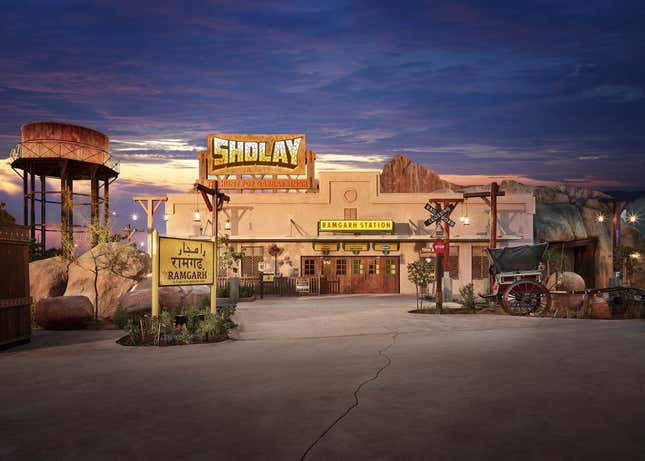 Rather than creating a museum or a walk of fame, Jellum says they opted for a theme park because it's more family friendly. The goal, he says, was to create a park that combines the showy stage presence of Bollywood cinema combined with themed park rides.
Some of the non-digital experiences include song-and-dance performances celebrating the glory years of Bollywood from the 1960s to the 1980s, and the Mumbai Express, featuring stage performances atop a train rooftop that has been converted into a stage.
There's also the rural-themed Rustic Ravine, based on the many Bollywood films set in India's farming heartland. For example, Lagaan, a sports drama set in 19th century where an Indian farmer gambles his taxes owed in a game of cricket, inspired a "motion simulator based ride that gives you the best point of view of a moving cricket ball." Nearby restaurants serve homemade style curries, tandoori cuisine, and vegetarian dishes, "it's unusual for a theme park," said Jellum.
The main attraction is the Rajmahal Theatre, which looks like the Taj Mahal, and hosts nightly musical theater in an 850-seat theatre. Cinemagic is a mock studio offering a behind-the-scenes look at how the Bollywood film Zindagi Na Milegi Dobara was made, equipped with green screens and movie sets that visitors can use to act out famous scenes from Bollywood films.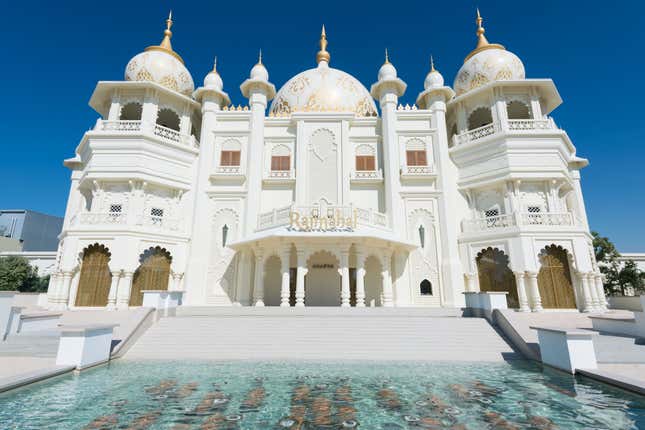 Roughly 2.2 million Indians live in the Emirates, making the latter home to the former's largest expat community. Jellum thinks that their biggest clientele could be the Indians living in Dubai.
Baradwaj Rangan, the film critic of The Hindu newspaper in Chennai, isn't so sure. Anything attached to the Bollywood megahits—Don, Lagaan, Sholay, and Dabang, for example—and to Bollywood's superstars will draw some Indians. And in fact, some of the Bollywood stars the park celebrates have already visited in person, including Shah Rukh Khan, who visited to promote his latest film Raees, and Hrithik Roshan, who came with his family privately, "but when visitors saw him, they all gathered around," said Jellum.
But it seems the park wasn't really designed with Indians in mind. "The Krrish ride says 'soar the sky and panoramic views at India landmarks,'" says Rangan. "It's targeted towards non-Indians because I don't know if the Indians living in Dubai are going to want to see Indian landmarks." There's a reason that back in India, there are countless amusement parks, like Adlabs Imagica, just outside of Mumbai, and Wonderla Bangalore, which has 50 rides and a waterpark—but no Bollywood-themed parks.
So will Bollywood Parks Dubai be able to draw non-Indian clientele? Jellum says many Emirati natives grew up with Bollywood—though the films are in Hindi, he says, they're either dubbed or subtitled with Arabic, but also "a lot of Arabs understand Hindi, it's close to Arabic," said Jellum. In fact, 35 TV channels in the Emirates feature Bollywood soaps and films. Dubai has even been called the "second Bollywood capital" after Mumbai; several Bollywood filmmakers shoot their films here because it's close to India and its notoriously easy to get film permits. It's also one of the biggest overseas markets, as more and more Bollywood directors are premiering their features to sell out crowds at the Dubai International Film Festival.
Which means Emiratis might be even more drawn to a park celebrating Bollywood as the people whose culture it celebrates.