One woman's comfort is most of India's scorn, and a photo series proves it.
In a handful of still images, 19-year-old Priyanka Shah from Bengaluru has captured the side glances and snarky remarks women—especially ones not clad in conservative clothing—face all the time. As part of a class titled "Photography as a 2D message" at the Srishti Institute of Art and Design Technology, Shah photographed her friend Aishwarya Suresh, also 19, in the outfit she feels most comfortable in: a t-shirt and shorts.
The two students went to public spaces like roads, parks and markets, where Shah covertly shot people's reactions to Suresh's presence.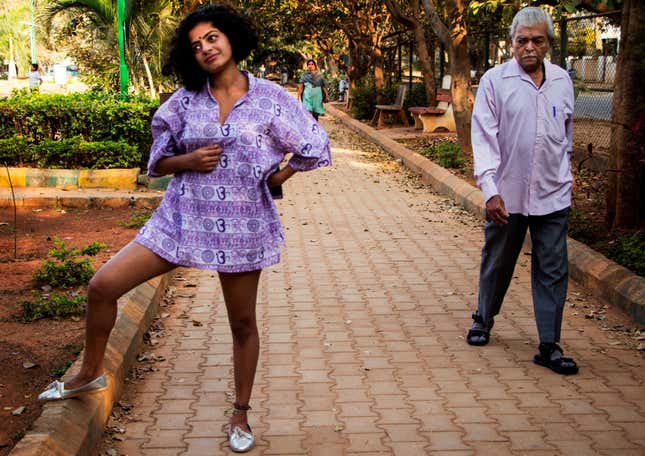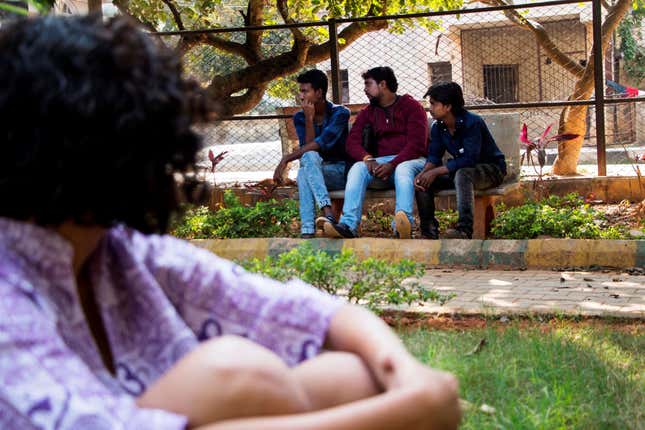 The pictures revealed how Indian women aren't just battling lecherous stares and catcalls from men. They're also spending their days surviving judgmental glares from the women around them. The two felt a lot of fear during their shoot and, Shah wrote, even danger at times.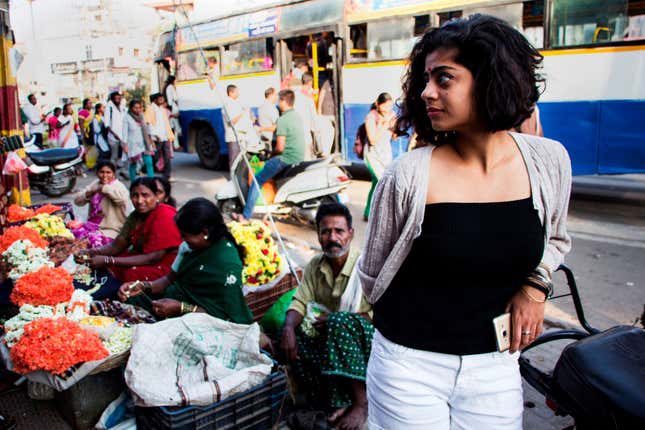 "I was quite conscious when we started off but as I got comfortable, the stares became worse. At (one) point, I myself was feeling disgusted about what I was wearing solely because of the offensive looks and comments I got," Suresh said. "But the happiness and the liberation after the shoot was unexplainable."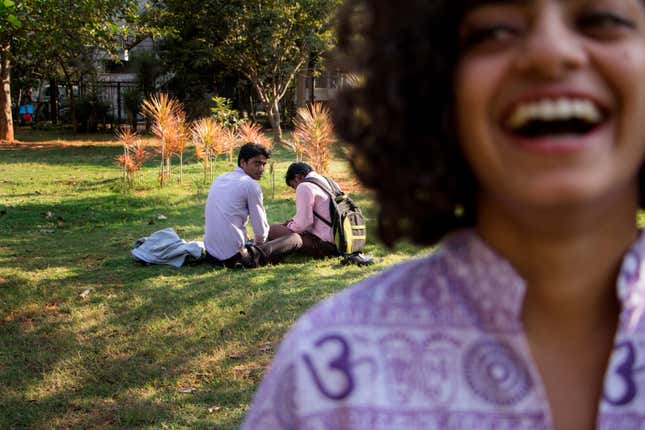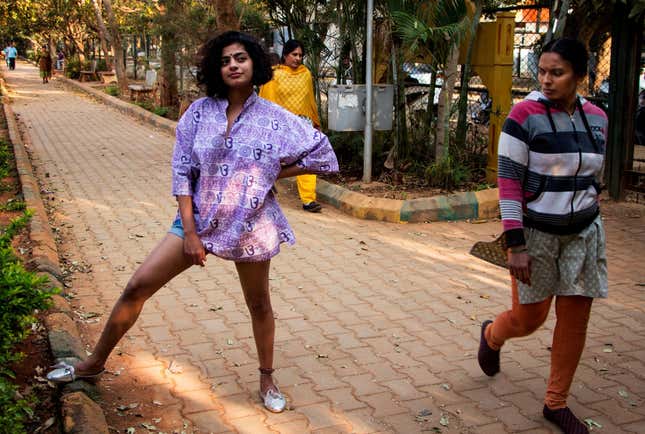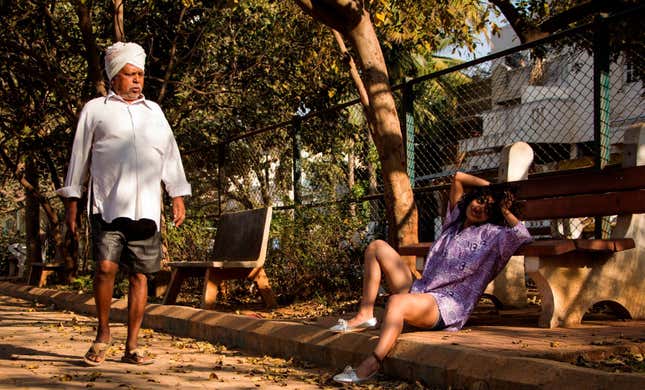 "It was quite a challenging project and the flower market was the toughest. The crowd got rowdy and we were forced to leave within 30 minutes," Shah told Quartz. People made rude comments like "yeh kaise insaan hai shee" ("what sort of people are these, yuck") and some even repeatedly came back to Suresh just to look at her and make fun of her again, Shah recalls. "There was a point when I went up the stairs where it was pitch black, no one could see me but they were all in my frame, and then suddenly a few men started laughing and taking selfies with my friend."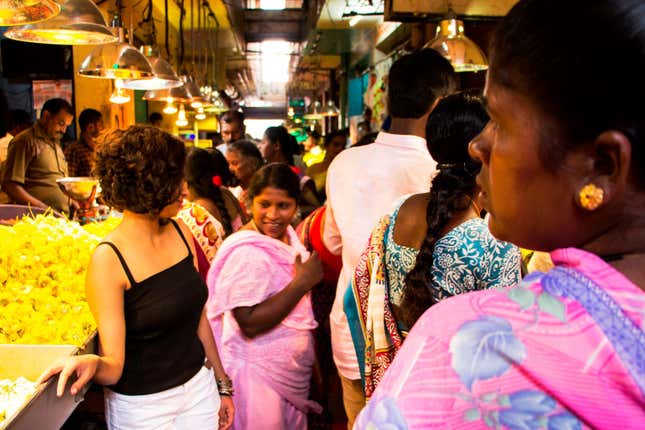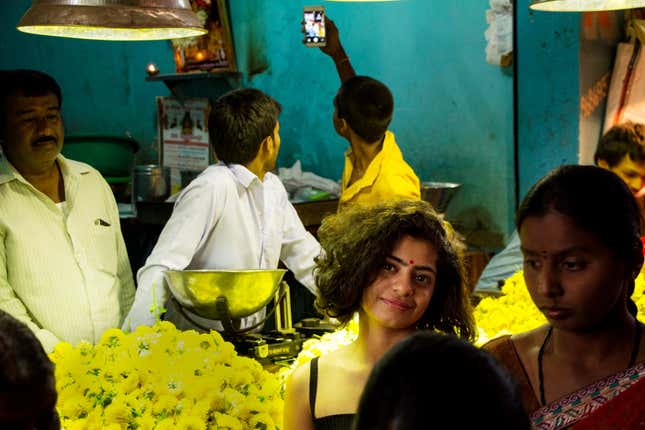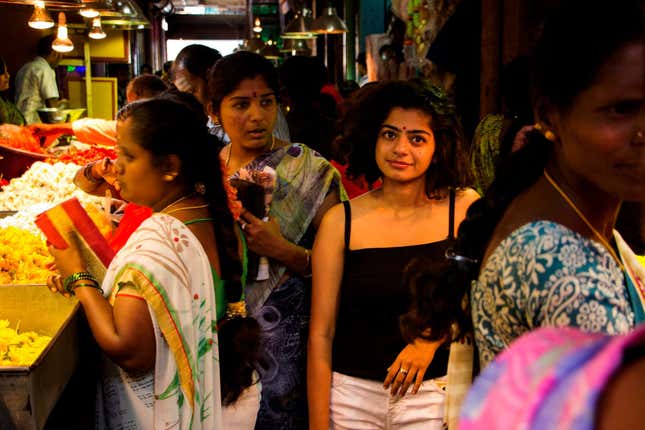 Aptly titled "Perspectives," Shah's photo album has drawn both applause and ire. While many people found the series a relatable and hard-hitting reality check, others were not as convinced. Critics disputed Shah's interpretations of the passers-by as lecherous, mocking or disapproving—some might have just been caught at the wrong moment, they believed. One commentator argued that Shah's portrayals were mired in an "over-flowing classist gaze of the camera" and that most people photographed belonged to the lower strata of society. In response to that, Shah said, "I do not think the labeling of 'lower' and 'upper' caste is justifiable…these are the same people and the community that I live with."
"Please look at their expressions. For me, that's what spoke a lot, but I completely understand that many people don't feel the same," Shah said. "Nobody is looking at the camera, nobody knew I was there till I left. I was hidden in bushes, behind trees and poles, so that I get the most natural reaction possible."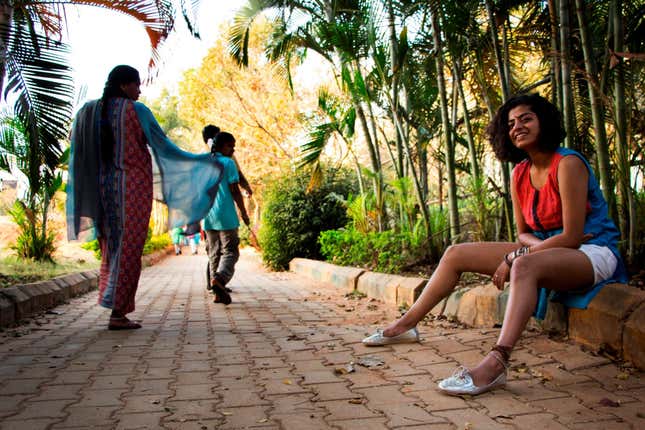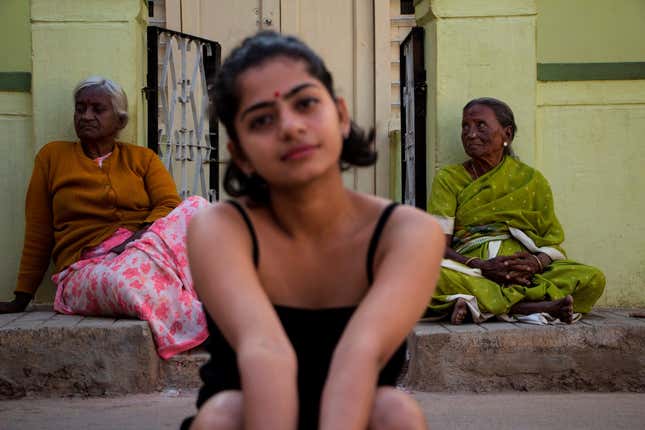 Even though the model may look different to the crowd around her, Shah says, that doesn't give people the authority to take selfies, make offensive comments, or stare. "It happens every day, whether we are wearing dresses or full chudidars [leggings]. I wanted to make people understand how uncomfortable one feels on a daily basis."