India has a deep historical connection to the world of fine fragrances.
For centuries, the town of Kannauj in the northern state of Uttar Pradesh, has been known as the country's perfume capital, producing the traditional attar. And a number of ingredients from India, including jasmine oils, sandalwood, and rose water, are used by luxury perfumeries around the world.
But for all this rich history, there's never been an Indian perfume brand to compete with the likes of France's Frédéric Malle or Britain's Jo Malone, or even the fashionable favourites such as Chanel N°5. For many years, well-travelled Indians used the foreign fragrances found at airport duty-free stores, often selecting those designed by fashion houses or endorsed by celebrities, while others stuck to deodorants and body sprays instead.
But the situation is slowly changing, thanks to a handful of home-grown perfumeries that are blending India's best ingredients with techniques from the masters of fine fragrances in France. And behind this blossoming movement are locals passionate about convincing fellow citizens that India can be known for its perfumes, too.
Make in India
Rajiv Sheth's family has been in the perfume business in Ahmedabad, Gujarat, for generations, exporting ingredients around the world. Sheth himself moved to Paris in 1993 to study perfumery and, after graduating, went on to spend 16 years creating fragrances for companies in the French capital. But he soon began to think of bringing his expertise back home.
"Every time I used to come back to India I used to wonder why we don't have a (perfume) brand in India, though (the country) has such a rich heritage and culture of fragrances," Sheth told Quartz.
He eventually moved back to India in 2009 and spent several years observing the complexities of the market before striking out with his own brand: All Good Scents. Envisioned as a way to introduce Indians to high-quality fragrances at an affordable price, the company was launched in August 2014 with a range of 14 fragrances produced in Grasse, France, bottled locally, and available online. The eventual goal, Sheth says, is to make the fragrances in India as much as possible.
"Our aim is not only to bring the same quality of fragrances that are available in the West to India," Sheth explained. "At the same time we wanted to adapt it, try to have Indian ingredients in it."
The range features jasmine, rose and sandalwood, among other local scents, and is priced between Rs1,000 and Rs2,000 for a 100ml bottle of eau de parfum, much lower than foreign brands. And that was a very conscious decision, made in order to convince locals to use perfume on a daily basis, instead of saving it for special occasions or relying solely on deodorants to smell good.
Many Indian consumers have taken note; Sheth says the company recorded month-on-month average sales growth of 40% in 2016. And that echoes the overall growth in demand for fragrances in India.
Local luxury
With growing disposable incomes and greater exposure to foreign trends, Indians are investing in good grooming, and the market for perfumes and other fragrances has boomed as a result. Between 2010 and 2015, fragrance sales in India, a category that also includes deodorants and aftershaves, tripled to around Rs1,800 crore, according to a 2016 report by Euromonitor International. The market is expected to hit Rs3,300 crore by 2020.
Much of this growth is being driven by the increasing popularity of premium fragrances, notably from brands such as Bulgari, Hugo Boss, and Calvin Klein. But as urban Indians develop more discerning tastes, they're also becoming more receptive to the idea of local luxury.
"I think in general now the trend in India is people are more than confident to support home-grown brands, to experiment with brands which are made in India or which pay homage to Indian culture and Indian traditions," Manan Gandhi, founder of Bombay Perfumery, told Quartz.
Gandhi, whose family has been supplying ingredients to foreign fragrance houses for 40 years, worked in Grasse and spent the last five years travelling around the world looking for rare ingredients. In that time, he witnessed the growing popularity of independent perfumeries in the West and thought the time was right to do something similar in India.
"What has happened in the last few years is people understand that just because you're a good fashion brand or you have a runway show in Paris, that doesn't make you a perfumer," Gandhi explained, adding that his goal was to introduce Indians to more "progressive" and cutting-edge fragrances.
So, in October, 2016, Gandhi launched Bombay Perfumery with a range of eight luxurious fragrances produced with India as inspiration. The perfumes feature a number of unconventional scents, including notes of pepper and chai, that are designed to celebrate India's heritage.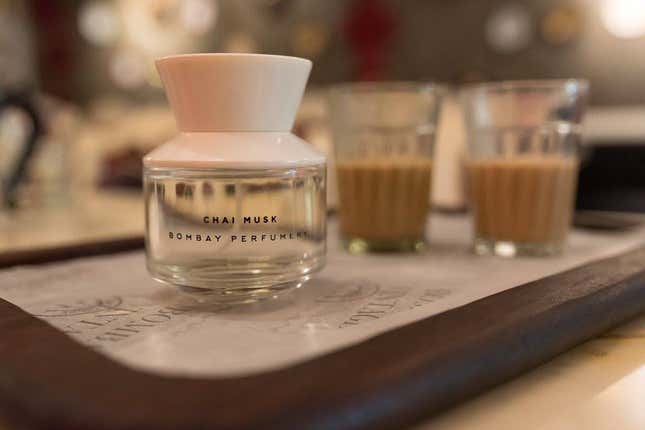 Priced at around Rs4,000 for 100ml, the perfumes are sold online and at a handful of high-end stores in Mumbai, Delhi and Bengaluru, as well as Jaipur, Chennai, and Kochi.
Similarly, The Perfume Library, founded by Jahnvi Dameron Nandan, also takes an artistic approach to designing fragrances, inspired by everything from a Ladakhi proverb to Turkish literature. Though originally trained as an architect, Nandan went on to study perfumery in Paris and Versailles, and began selling her own fragrances in India in 2014, shuttling between the two countries ever since.
"For me, perfumery is art, first and foremost. The creative process is very artistic," Nandan told Quartz. "It's not so much about the brand, it is about getting the best smells, the best ingredients, and the best compositions to the public."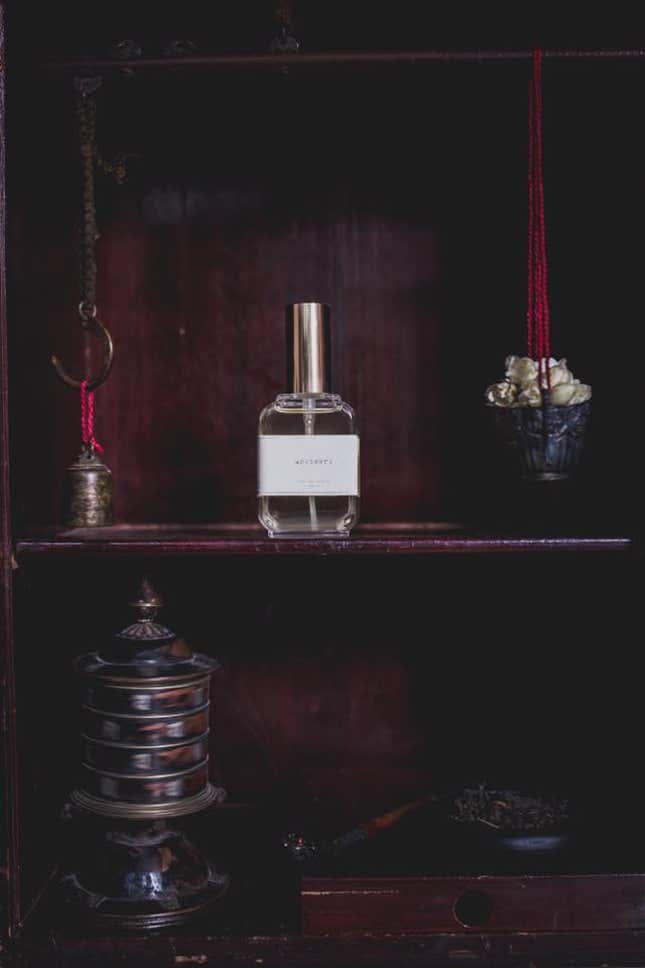 The Perfume Library offers five fragrances that are made with foreign and local ingredients, including Jasmine sambac, a variety from Tamil Nadu, and a scented oil designed to pay homage to the rituals of using attar. Sold at Good Earth in Mumbai and Delhi, the fragrances are priced at around Rs9,000 for 50 ml.
But while both Gandhi and Nandan say their products have received a strong response from Indian customers, it's clear that there's still a long way to go.
"Bombay Perfumery and The Perfume Library represent a minuscule niche," Geeta Rao, creative director of beauty blog Geeta's List and former beauty editor of Vogue India, said in an email. "But they understand the need to tell a story, and to answer the new millennial consumer's search for authenticity."
And in that sense, they're marking the beginnings of India's own luxury fragrance industry.