"WE ARE NOT A RACIST COUNTRY!" a charged-up Abhay Deol wrote on his Facebook page. "I will prove it to you."
The 41-year-old Bollywood actor, known for his offbeat movies, made an unconventional choice: In an industry many say is saturated with nepotism, he had the nerve to take down his contemporaries. But this was no bitter battle over cinema. His beef was with the stereotype that light skin—fairness—means beauty.  His enemy: India's biggest celebrities, endorsing skin-lightening and skin-whitening creams on billboards, TV, and in magazines.
In a series of Facebook posts on April 12, Deol called out a slew of actors like John Abraham, Ileana D'Cruz, Vidya Balan, Shahid Kapoor, Deepika Padukone, Siddharth Malhotra, Sonam Kapoor and even the Badshah (King) of Bollywood, Shah Rukh Khan.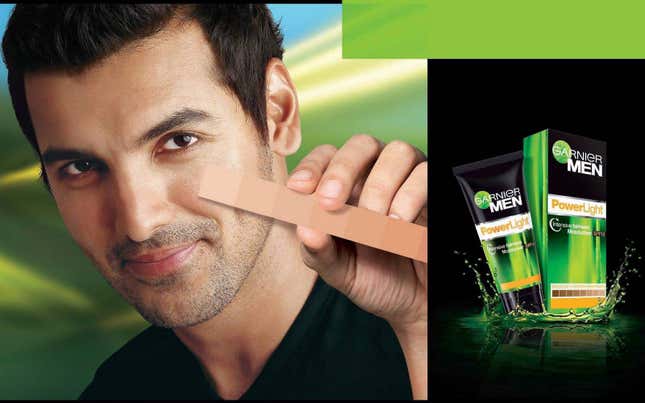 To start off, Deol shares an ad for Garnier Men PowerLight where Abraham holds a shade card up to his face, to prove his skin color matches the lightest tone on the strip. "Hey! You can see the promise of darker skin too if you read the card from left to right! He's not telling you to go from right to left! Duh!" Deol writes sarcastically. "Even if the writing on the tube reads 'Intensive FAIRNESS moisturiser.'"
Then there's Shahid Kapoor's Vaseline ad, which shows one side of his face in the dark while the other glows white. Deol suggests ironically that they must be showing how time in the sun can improve a person's complexion.  "They are clearly not trying to show a dark shade going on to light," he writes. "Shame on you to think our celebs would be so irresponsible, there's a good explanation for everything!"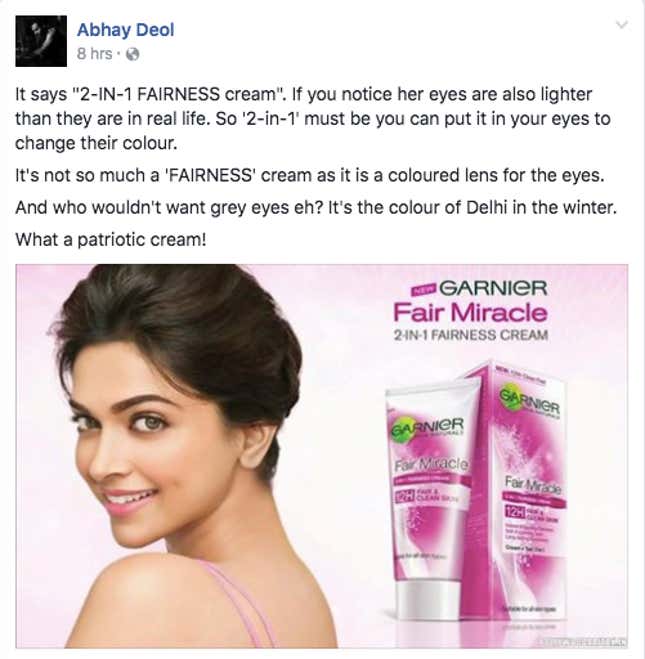 Deol goes on to mock Padukone's Garnier Fair Miracle poster, which he says appears intensely photoshopped. "If you notice, her eyes are also lighter than they are in real life," he writes. "So '2-in-1′ must be you can put it in your eyes to change their colour." He also calls out Ileana D'Cruz Ponds' White Beauty ad for resorting to obvious photoshopping of her face to make her look more white.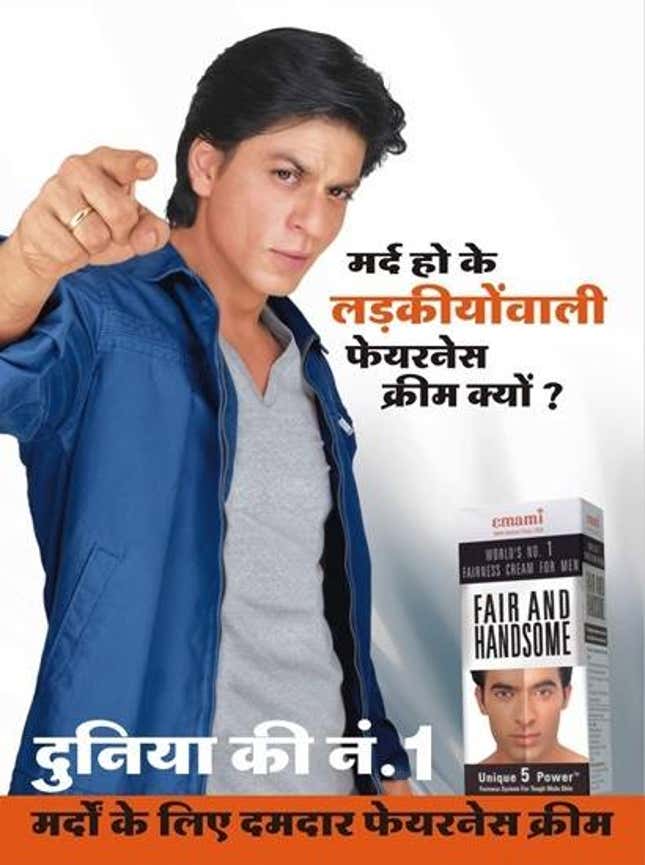 Next he scrutinizes an ad starring Shah Rukh Khan, arguably the world's biggest movie star, which suggests that men should not use women's fairness cream. Why do that when you can have your own damdar (powerful) cream called "Fair And Handsome?" "He's clearly trying to make you a man, becoming whiter in the process is just a side effect," Deol writes sardonically.
Deol also put international cosmetics brand L'Oreal on notice. Their ad for their "White Perfect" cream in India said, "Indian women agree, skin looks visibly fairer: 88%." Deol dug up a foreign L'Oreal commercial showing two women, one Latina and one black girl, with the tagline: "Finally a way for everyone to make their OWN SKIN ideal!" The point Deol made by juxtaposing the two ads was that the company appear to be pandering to skin-color discrimination in India while preaching diversity abroad. Deol didn't even want to jokingly defend this one.
Finally, Deol called actress Nandita Das—a crusader against the glorification of fairness and the face of the Dark Is Beautiful campaign—"silly" for trying to convince India's millions that being dark-skinned doesn't make you any less beautiful.  "Doesn't she know that we already know that? Why else would we be so accepting of people from the south?" he says. It was a dig at Tarun Vijay, the former member of parliament who recently said, "If we were racist, why would we have the entire South, which is complete…you know…Tamils…. you know Kerala, you know Karnataka, Andhra? Why do we live with them? We have black people all around us."
Which came first?
Celebrity endorsements of fairness products present a classic chicken-and-egg problem. Some would argue that the celebrities are just the faces of India's deep-seated racism. These products sell because there is actually an outsize demand for them.
The country's fairness-cream industry—whose value is already pegged at over $450 million and growing—is a testament to the fanatical desire for whiter skin. Sales of fairness creams in India trump sales of moisturizing, anti-aging, and sunscreen products by a wide margin, despite research repeatedly rejecting claims that these whitening tactics actually work.
Instances of discrimination against people with dark complexion have long pervaded Indian society: Marriage advertisements in newspapers and matrimonial websites blatantly privilege fairness in potential brides. The darker women are often charged higher dowries. African students in the country say they often find themselves subject to racial harassment and are denied accommodation because of their dark skin.
"There are two factors driving this absurd mania," Urvashi Butalia, co-founder of India's first feminist publisher Kali for Women, told the Guardian. "Firstly there's the invasions, with the idea that the Aryans are superior to the Dravidians." Legend has it that dark-skinned south Indians are descendants of Dravidians—the original inhabitants of India—while fair-skinned north Indians' ancestors are Aryans, who invaded India and ruled over the Dravidians. (The north-south split in the lineage is likely not true.) "Secondly," said Butalia, "the caste system, the upper castes supposedly being fairer skinned than their lowlier fellows. India's rulers have often been white, from the Aryans to British colonialists. A pale skin is associated with the exercise of power."
Despite the long history of discrimination, film stars don't get a pass for perpetuating it, especially given the power they yield over their fans. Some Bollywood stars, like Kangana Ranaut, Ranbir Kapoor and Randeep Hooda, have acknowledged their responsibility toward dismantling this age-old fascination and declined offers to endorse fairness products, no matter the money. Yet, the Bollywood-crazed nation has more idols perpetuating the notion than those who do not. "No one at the top of their game in any field is going to tell you that it is demeaning, false, and racist," says Deol. But they should.