It's not looking good for India's information technology (IT) industry—and it's not just because of Donald Trump.
The US president's crackdown on H-1B visas will do it no favours, but there are stronger headwinds for the $150 billion-a-year sector. In the last quarter of the previous fiscal, India's two largest IT firms, TCS and Infosys, couldn't quite deliver on expectations, posting tepid numbers; Wipro did a tad better. All three of India's biggest IT companies failed to keep pace with the average industry growth.
The current financial year may not be any better.
For one, America is looking anaemic. The US is the single-largest market for India's IT industry, accounting for around 60% of total revenue. But it is now stalling, having decelerated to its slowest year-on-year growth in the past four years, according to Japanese brokerage Nomura. Combine that with the H-1B visa row and you've a mess to deal with.
Then, there's the issue of key service lines slackening. Two of the largest revenue generators for top-tier Indian IT firms—application development and maintenance (ADM), and enterprise solutions—are continuing to slow down, according to Nomura.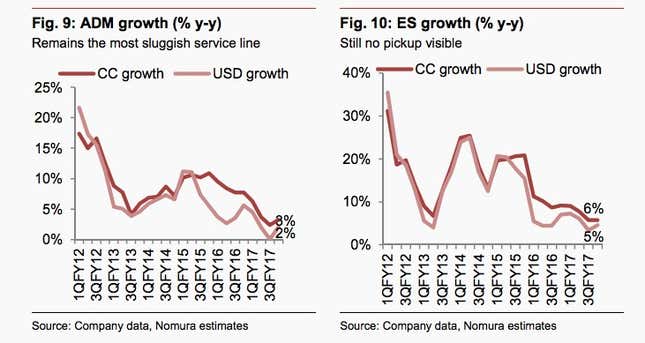 ADM growth is down to 3% year-on-year, while enterprise solution has dropped to 6%, with no signs of revival. "The aggregate contribution of these segments is (approx) 57% for top-three Indian IT names and sluggishness here remains a key drag on overall growth," Nomura research analysts Ashwin Mehta and Rishit Parikh wrote.
In particular, the banking, financial services, and insurance (BFSI) vertical is a big deal for Indian IT, given that it generates anything between 25% and 40% of the revenue. That's precisely why it is a headache when the vertical starts misfiring. Nomura estimates that BFSI delivered a five-year-low on sequential growth in the final quarter of the last fiscal, with year-on-year growth falling to 6%—a long way off from the 24% it clocked as recently as 2012.
Other verticals, including retail and healthcare, aren't firing on all cylinders either. While retail has nosedived to around 1% year-on-year growth from the nearly double-digit rate at the beginning of the calendar year, healthcare, too, is "showing clear signs of a slowdown."
Vertical-wise quarterly revenue growth for top 3 IT firms 
There's a silver lining, however. A few verticals—telecom, media, and manufacturing—are showing some signs of revival, alongside a feeble recovery in Europe. "We have been more positive on Europe demand led by traditional outsourcing and market share gains still remain a big factor in this less penetrated geography," Mehta and Parikh wrote.
Nonetheless, in the rest of the world—and especially in the US—it's going to be a tough start to the year for India's IT juggernaut.