India's $150-billion information technology (IT) industry has been pushed into a corner lately. Between the pressure to transition in the age of automation, US president Donald Trump's crackdown on immigration and rumours of mass layoffs, the sector is currently engulfed in a wave of negativity.
On May 18, Nasscom, the IT industry's trade association, decided to clear the air and set the record straight. Indian IT faces significant headwinds, industry leaders conceded, but insisted that the sector will still remain a major net hirer, adding some 150,000 to its workforce in 2018 financial year. Last fiscal, according to Nasscom, the industry hired around 170,000 new workers.
The big challenge for IT companies, however, will be to re-engineer its 3.9 million-strong human resource base to meet the demands of a fast-transforming marketplace. Not only is technology changing rapidly, with automation and big data making deep inroads, the demands of industry's global clientele have also evolved.
Hence, Indian IT's new mantra: re-skill or perish.
"The emphasis…is shifting from scale, which was the primary goal earlier, to skills," said Nasscom president R Chandrashekhar, outlining a renewed push within the IT sector to re-skill workers across the board. Since late last year, Nasscom has been working with the Boston Consulting Group to identify key skills (like analytics, cloud and cyber security services, and robotics) and figure out ways to retrain its workforce at scale.
"Half the current workforce has already been covered by re-skilling. Either they have been re-skilled, or they are in the process of being re-skilled," said Chandrashekhar. And over the next five years, Nasscom, together with 20 member companies, is looking to train up to 2 million existing and new workers to help bridge the skills gap.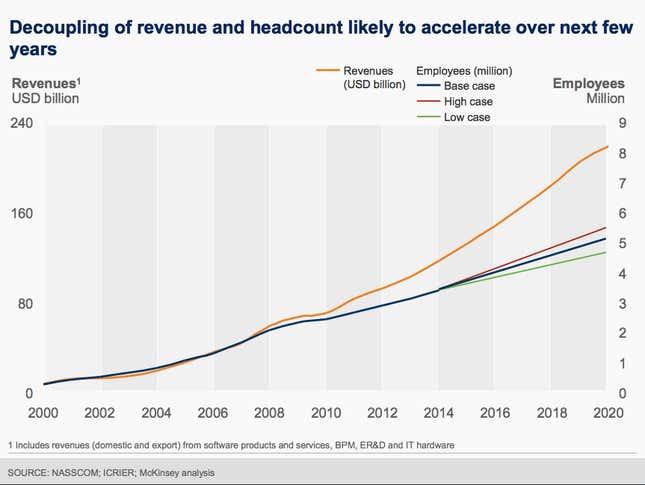 For about a decade now, there has been a steady decoupling between the revenue of IT companies and the size of their workforce, implying that simply adding more heads won't help generate more income. As the industry now pivots towards delivering high-end services, the focus for IT companies will also shift from adding scale to building a smaller, more specialised talent pool with specific domain expertise.
In all, Nasscom reckons that layoffs at individual companies, as part of annual performance appraisal process, will be in the range of between 0.5% to 3% of the overall workforce.
And despite persistent talk of mass firings, industry leaders assert that they aren't overtly enthusiastic about letting go of trained staff, especially as projects become more complex. "I promise you, the industry doesn't want to lose people who are experienced," said CP Gurnani, CEO of Tech Mahindra, India's fifth largest IT services company.
India's IT companies must also contend with lack of quality within the country's engineering talent pool. Back in 2011, Nasscom estimated that only about 25% of India's engineering graduates were readily employable, and things haven't got much better since.
On an average, the industry currently spends between nine and 12 months to train new recruits and bring them up to par, explained Nasscom's chairman Raman Roy, also the CEO of outsourcing services firm, Quatrro. As the need for newer skills increase, ensuring that Indian IT companies have a big enough talent pool to tap into for entry-level engineers will be a challenge.
"Right now, we are able to meet the needs of the customer. At $154 billion (in revenues), we are able to meet the needs," said Roy. "As we go to $350 billion (by 2025), will we have enough people? I think that is a very serious concern."