China's designs to build a massive network of land and sea links connecting four continents have revived popular interest in the old Silk Route, whose success was in small part owed to Zoroastrian merchants carrying goods from China across Central Asia and, often, all the way to Europe.
A recent article in the Hong Kong newspaper South China Morning Post talked about how Zoroastrian merchants had been trading with China in the 12th century—and possibly even earlier. Records of fire temples in Chinese cities along the Silk Route have apparently been found in official records dating back to the 12th century and, from these, historians have pieced together the fact that Chinese emperors had encouraged Zoroastrian merchants to come and trade in the country and, in order to attract them, they allowed them to build their own fire temples to worship in. The ancient Chinese even had their own special name for the Zoroastrian religion: Ao Jiao.
This is fascinating because the history of enterprising Parsi merchants in the China Seas from the 18th century onwards is well known, but the idea that the Zoroastrian-Chinese connection goes back at least six centuries earlier is less recognised. Unfortunately, the South China Morning Post story doesn't give much more detail on the subject, so we have to turn to other sources.
Chinese historical texts tell us that the first official contact between China and Po-ssu—the ancient Chinese name for Persia—was as far back as the 2nd century BCE when the Qin ruler sent an envoy to seek an alliance. But it was during the 5th century CE that regular diplomatic relations were formed between the Sassanid emperors, who led the Zoroastrian revival in Persia, and the Six Dynasties of China. Embassies were exchanged, and this led to a flourishing of trade, overland along the Silk Route.
The most important Chinese commodity was, of course, silk, and Zoroastrian merchants were the middlemen who carried it along the Silk Route across Central Asia. In addition, this westward flow of trade included paper, rice wine, camphor, perfumes and drugs. The eastward flow, meanwhile, comprised Persian carpets, textiles, furniture, leather, pearls and gourmet delicacies, as well as Persian music and dance forms. The exchange of trade thus, as always, led ultimately, to an exchange of ideas.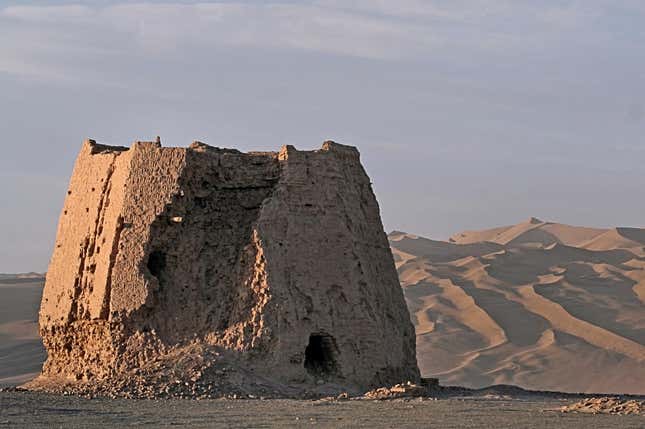 Branded Sassanid products
It was a sophisticated system: Both the Sassanid and Chinese empires realised that they benefited from the trade and cooperated in policing the trade routes to protect caravans from bandits. Private entrepreneurs were organised into merchant companies, and archaeological evidence shows that the Sassanid merchants pioneered an ingenious system of branding their products to indicate their quality.
Large quantities of Sassanid Persian coins have been discovered in China—not only along the Silk Route but in central Chinese cities, thus indicating the extent of Zoroastrian contact. These coins date from the rule of Shapur II (4th century CE) to the last Sassanid emperor, Yazdegerd III (7th century CE). In time, the overland Silk Route was supplemented by a sea route via Ceylon, and Persian ships carried cargoes to China and back. There are reports of Persian merchants having settled in ports like Caton and Hanoi, which are supported by discoveries of more Sassanid coins along the southern coast.
In 651 CE, however, Yazdegerd III was defeated by the Arabs, and his family sought refuge with the T'ang emperor of China. A community of Zoroastrians accompanied them, and flourished for a century or so. But then in the 9th century, CE Emperor Wuzong began his purge of Buddhism and, as a result of his bigotry, Zoroastrianism in China, too, went into decline, until all mention of it in Chinese texts finally disappeared.
However, Zoroastrians from Persia continued to trade with China until at least the 12th century CE, as we can tell from the Chinese records of their fire temples. They may have continued even after that, though it is not certain.
Flash forward to the 1750s
From here we must flash forward six hundred years to the 1750s. By then, of course, a community of Zoroastrians—the Parsis—had settled in India. And when the city of Bombay was founded in the 1680s, the Parsis, with their business acumen and their open worldview, played an important part, becoming brokers and supply agents to the British. Shortly after, in the 18th century, India emerged as the hub of a triangular trade with China and Britain—shipping opium to China, and shipping tea back to Britain—and the Parsis, quite naturally, became a key piece of this trading network.
In 1756, Hirji Jivanji Readymoney was the first Parsi merchant to set sail for China, and he was also the first to set up a trading firm in Canton. He was followed by other pioneering Parsi trading families like the Banajis, Wadias, Camas, Vikajis and Parakhs— but the most remarkable story of them all was, perhaps, that of Jamsetjee Jeejeebhoy. As a young trader, Jeejeebhoy was once captured by the French, along with a young Scottish ship's doctor named William Jardine. The two of them became friends and business partners.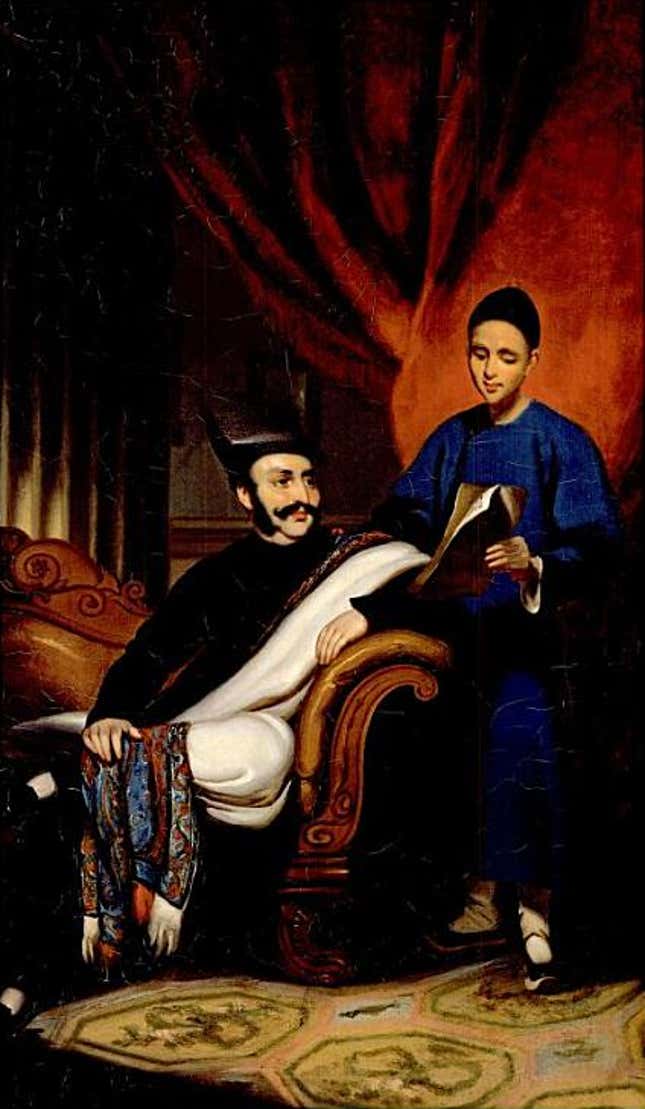 Later, Jeejeebhoy set up Sir JJ & Co, and Jardine set up Jardine Matheson, one of Hong Kong's original hongs (and became the model for Dirk Struan in James Clavell's novel, Tai Pan). But the association between the two men was lifelong: Jeejeebhoy was appointed as the only Asian director of Jardine Matheson, and his portrait still hangs at the company's headquarters. Later, when the Hongkong and Shanghai Bank was set up in 1864, two of its founding directors, Pallonjee Framjee and Rustomjee Dhunjeeshaw, were Parsis, and the only reason Jamsetjee Jeejeebhoy II was not invited to be a director was probably because he was considered too closely linked with Jardine Matherson.
From Kotewall Road to Ruttonjee Hospital
When the Treaty of Nanking was signed in 1842, ceding Hong Kong to the British, it was significant that it was signed on a ship named the Cornwallis, which was built by Parsi shipbuilders in Bombay. The Parsi community went on to play an important role in the history of Hong Kong. HN Mody, for example, helped set up the Hong Kong Stock Exchange as well as Hong Kong University. Dorabjee Mithaiwala set up the iconic Star Ferry Company between Hong Kong and Kowloon. Other Parsi families like the Ruttonjees, Shroffs, Parekhs and Powrees contributed to the building of Hong Kong in other ways.
Meanwhile, through the 19th century, an entire community of enterprising Parsi traders, clerks and bookkeepers settled in other trading centres across South East Asian, such as Canton, Penang, Singapore, Batavia, Macao and Amoy (some of them taking the name Chinai—or the more anglicised Chinoy—to indicate their China connection). The spirit of this age has been wonderfully captured by Amitav Ghosh in his Ibis Trilogy, which tells the saga of the Parsi merchant Bahram Modi and, after him, his intrepid widow, Shireen.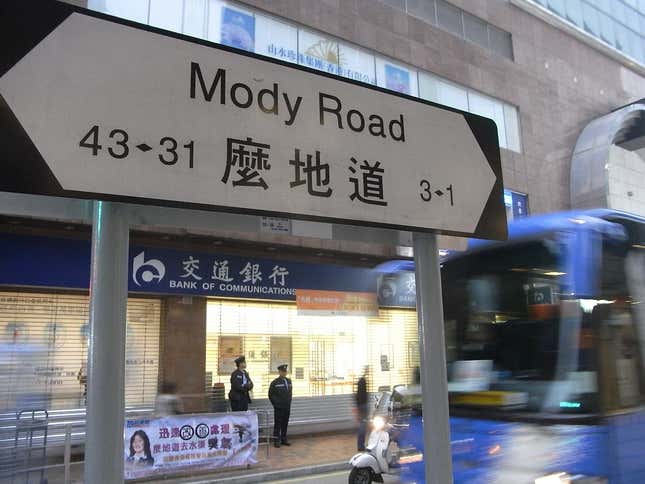 In Hong Kong today, one can see reminders of this rich Parsi history everywhere: there's a Mody Road, Kotewall Road, Bisney Road, Parekh House and even an impressive Ruttonjee Hospital. The fact that the latter is called Leuht-deun-jih Hospital, in the Chinese manner, shows how much a part of Hong Kong life the Parsis have become. The ancient Persian Emperor Shapur II, in whose time trade with China first began, would, no doubt, have been suitably impressed.
This post first appeared on Scroll.in. We welcome your comments at ideas.india@qz.com.