Staying afloat in India's food-tech storm is no easy feat.
The last few years have resembled a battleground for startups in the sector. They've been falling like dominoes. Food-tech funding has dipped drastically from $500 million in 2015 to $80 million a year later. Companies have been laying off workers by the hundreds. Food-delivery platform Zomato logged a Rs492 crore loss between 2015 and 2016. Meanwhile, Foodpanda India's loss ballooned fourfold to Rs142.6 crore the same year, the Economic Times reported.
But two-year-old Mumbai-based Scootsy is on track to break even by December and is looking to become a self-sustained profitable venture soon thereafter, CEO Sandeep Das told Quartz.
Scootsy has 2,000 sellers across different categories ranging from boutique owners to booksellers to bakers, yet at least half of the listings are restaurants and kitchens. Of these 1,000-odd food providers, more than 60% exclusively deliver via Scootsy's platform, Das says. (At the outset, Scootsy was meant to be a food-delivery service. It acquired the Meals on Wheels service so that it could learn from its mistakes. It changed to a multi-category model just before the launch, VCCircle reported.)
Scootsy isn't just another yellow pages-like listing for every single local dhaba (roadside restaurant) and Chinese restaurant. The team curates offerings based on popularity, a premium reputation or—if the restaurant is not well-established—through tastings. And unlike other services that operate within a radius of three to four kilometers, Scootsy delivers food from up to 15 kms away. The company's most impressive feat, perhaps, is its 60-minute delivery promise, no matter the distance. Das claims that orders have been delivered within the window more than 98% of time.
By selling premium products to high-end customers with deep pockets, Scootsy has a shot at creating a unique brand that could garner enough loyalists. However, its exclusivity will likely restrict its reach. For instance, Scootsy claims that its average order size is Rs900($13.94). In India, where the average daily wage was Rs272 ($4.21) in 2014, that far exceeds what the masses can afford to pay. Whether Scootsy has a future beyond moneyed Mumbaikars is up for debate.
A growing food fiesta
The culture of ordering food online is picking up in India.
The 30% growth in its online food delivery sector between 2015 and 2016 far outpaced the restaurant industry's 11% growth, according to a 2017 RedSeer report. Online delivery grew, as measured by gross merchandise value, from a $120-million industry in India to $300 million over the same period, the consulting firm said. (GMV is often considered a window-dressing metric that exaggerates success, but the big increase is still notable.)
Earlier, Indians who would order over the phone would send helpers and drivers to pick up. That required sparing change for an auto-rickshaw ride or burning fuel in the car. With other delivery services, there is often a surcharge for home delivery. With Scootsy, the customer does not have to foot any of the delivery cost, so technically, they save money.
"Our margins are on the bill value," says Das. On average, Scootsy takes a 20% commission from the restaurant.
Restaurants don't mind forking out a percentage of their earnings because delivery mitigates a lot of overheads that exist when you consume a meal in the restaurant. In some cases, they may have had to hire and pay delivery personnel anyway but lack the bandwidth to train them well. From a customer acquisition point of view, with Scootsy's wide coverage, they can also have more people tasting their food who would otherwise not come to or order from the restaurant.
Flavored with experience
India is a price-sensitive market and nothing matters more than than a big discount—at least that's the attitude in the startup sector thus far.
However, this mentality has made homegrown e-commerce startups bleed. Although a low price tag can indeed lure customers, a lower price on your competitor's site can make them switch just as fast."If your whole formula is discounting, someday it will stop," says Das. "You don't build loyalty on discounts."
But then how do you build it? Have the best supply, the best service, and even better price—not by discounting—by combining a few items into a bundle or offering exclusives, says Das. For instance, Scootsy sometimes sells exclusive bento boxes, sandwiches, and shakes from different outlets.
The strategy seems to be working. While its domestic competitors aim to ape and beat deep-pocketed giants like Google's Areo and UberEATS, Scootsy is acquiring more than 10,000 customers per month and retaining 80% month over month, Das told Quartz. He says the platform may clock fewer orders than competitors like Zomato, but its huge order sizes make it a market leader in terms of GMV.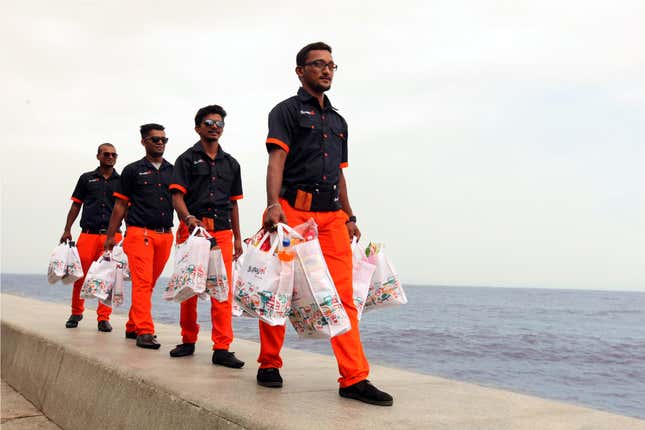 Another differentiating factor: For Scootsy, the doorstep experience is as important as the online—on its app, its website—and eating ones. "Earlier, the guy who had nothing better to do was given a brown color paper bag wrapped around a 50-day-old newspaper in a dirty plastic white bag. He would show up in bathroom slippers and looked like he hadn't showered in the last three months," Das says. "If you're ordering food from the kind of restaurant we deliver from, food worth Rs5,000, this guy needs to be presentable."
Collectively, the scooter-riding delivery boys are labeled "a squad of knights in shining helmets available to your rescue" in the company's Twitter bio. They are groomed through a training program at the start and monthly refreshers thereafter. They all don uniforms and are well-spoken. These things matter to elite, urban dwellers—Scootsy's primary audience.
The premium market is limited
The food-tech scene is mostly thriving in major metros so far. The five Indian cities with the most online ordering accounted for more than 80% of total orders in the country. Basically, these are the places where people have enough disposable income to splurge.
Even as Mumbai starts to lose its mojo as one of India's most dynamic startup hubs, Scootsy is doubling down on the city, continuing to add on new users. The platform says it has over 201,000 users, counting celebrity clientele like Alia Bhatt among them.
Scootsy adds "a new twist into this game where everybody else is chasing a huge customer base—they're chasing a huge ticket size," according to Deepak Menaria, chief idea farmer at the Lemon School of Entrepreneurship in Nagpur, Maharashtra. "There are always going to be few people who wouldn't mind paying if they're getting specific food from a specific brand," he told Quartz, adding that delivery also helps people avoid the hassle of navigating congested routes, traveling for hours, and finding parking.
However, the premium audience is miniscule. "If they have to look at a sustainable model, it would more or less get restricted to ten to fifteen cities in India," said Menaria. That could work initially. But over time, he believes the brand will have to "change or pivot" and stop riding on just the high-ticket size if it wants to tap into the market of 833 million rural Indians.
Menaria understands that having multiple verticals reflects a "risk mitigation plan" but he also believes that if food is the future for Scootsy, it should ditch its other products. And it's something Scootsy maybe thinking of already as it pumps new money into food-related ventures.
What's cooking on funding
Last month, Scootsy raised its first-ever funding round, worth $3.6 million.
With that, Scootsy is launching two new frameworks: one is Scootsy Express and the other—still unnamed—is a cloud kitchen of sorts. The former is essentially a digitized version of Mumbai's dabbawalas (lunchbox carriers) with offerings from elite restaurants that will allow companies to pre-order corporate lunches. The latter follows a kitchen-based model of sorts, taking control of the cooking, packaging, and delivering of food—a winning model as per Sandeep Murthy, co-founder of Mumbai-based Lightbox VC.
Basically, experts think that the food delivery services that just aggregate and deliver, instead of controlling the quality of food and being selective, are among the first to shutter. Scootsy doesn't fully adopt that model and puts in checks and balances in place. Here's how: Scootsy will pick a revered Delhi restaurant. Next, it will bring a chef from that eatery to cook in Mumbai for a limited period of time—say, a month. During this time, customers will get an out-of-city experience, getting a taste of something they would've never experinced unless they flew or took the train to Delhi. All in the same 60-minute delivery frame.
In the near term, the urban eater is Scootsy's audience and Scootsy is looking to "work only in cities where we can generate certain order sizes," says Das. In the coming months, Scootsy is looking to raise another round of funding. This time, the hyperlocal startup will expand its horizons to big cities beyond the borders of Mumbai. Next stop? Delhi NCR.