This week, Priyanka Chopra was in Germany to promote her latest release, Baywatch. (The movie may be tanking, but she's soaring.)
In what she called a "lovely coincidence," Indian prime minister Narendra Modi's state visit to Deutschland overlapped with the actor's work trip, and the two met in the capital. All was well until Chopra decided to make a tourist stop at the Holocaust Memorial.
During her visit to the memorial, the former Miss World made the tone-deaf decision of snapping selfies at the historical site and posting it to her Instagram account.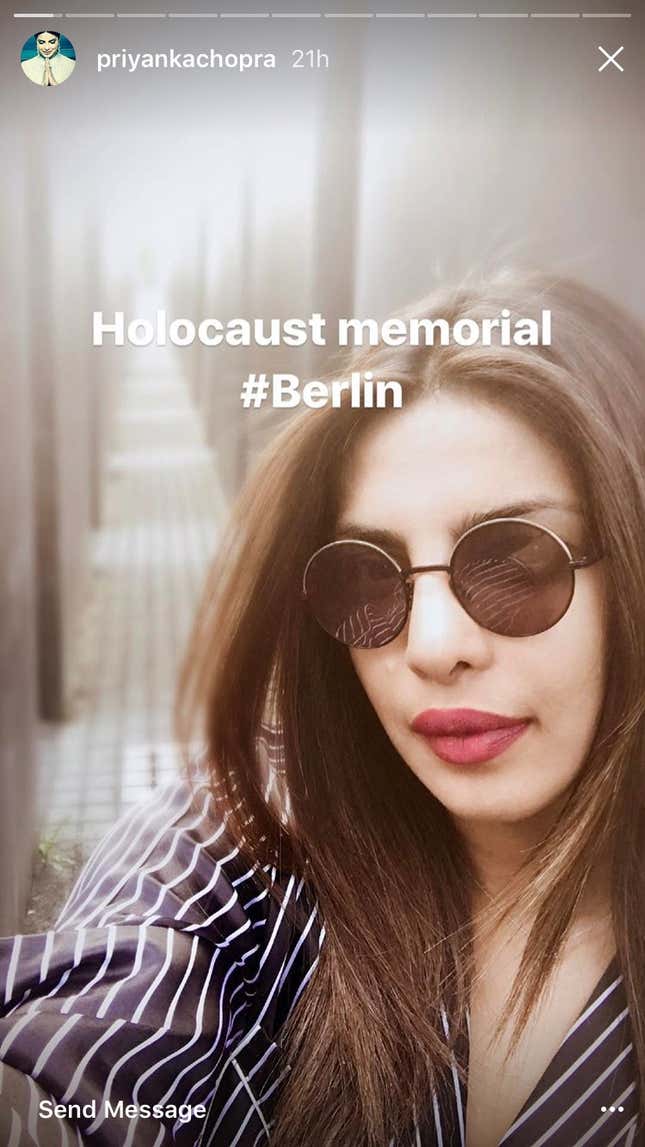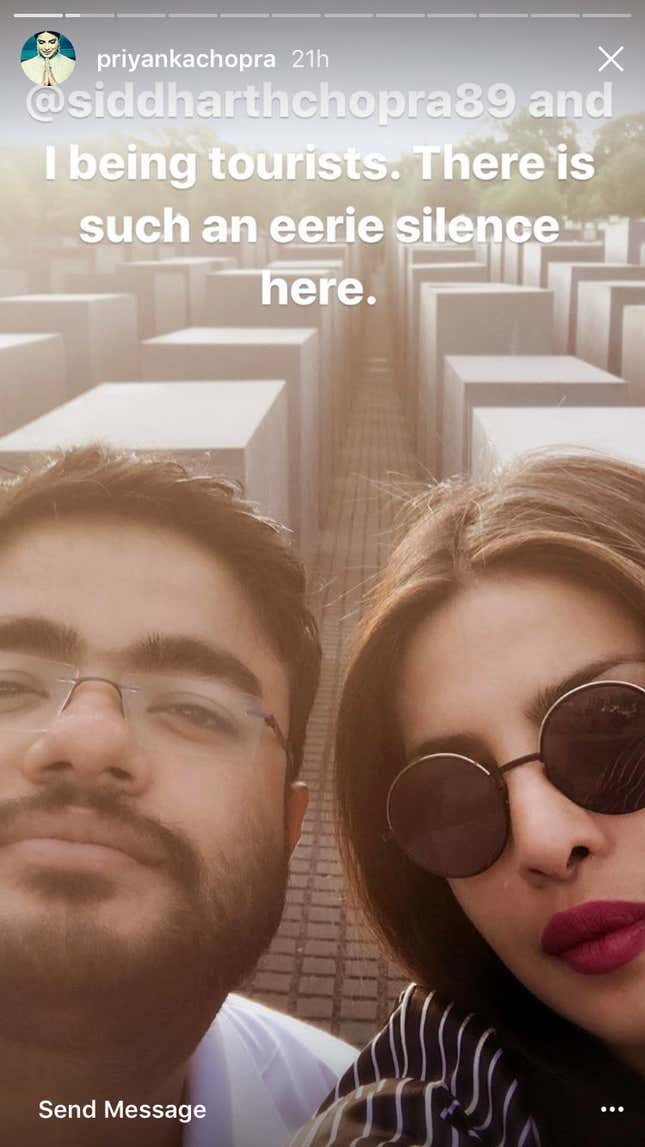 It is considered disrespectful to pose amid the expanse of 2,711 stone slabs, representative of the gravestones of 6 million Jews murdered and buried in mass graves during Adolf Hitler's reign.
The Bollywood star is by no means the first person to make this blunder. Berlin-based Israeli satirist Shahak Shapira shamed a slew of similar posers in his interactive project "YOLOcaust," a collection of ostentatious photos taken at the memorial shared to social media juxtaposed over haunting images of Nazi concentration camps. The use of the acronym "you only live once" in his project title was as unsettling as some of the frivolous photos—people laughing, doing yoga poses, and even juggling—that people snapped there.
Although Chopra's clicks were not as outrageous as some others, the show of flippancy from Chopra still rattled the Twitterverse.
This isn't the first time the Quantico lead has been mired in a cultural controversy. Last year, the actor came under fire for wearing a distasteful t-shirt on the Indian edition of Condé Nast Traveler's sixth anniversary cover. The shirt struck out the words "refugee," "immigrant," and "outsider," while the word "traveler" stood out. Many felt the cover was insensitive, since being a refugee is generally not a choice for people.
She later apologized on New Delhi Television. "I'm really, really apologetic about the fact that so many sentiments were hurt," the 34-year-old said in an interview with Barkha Dutt in the aftermath of the backlash. "I was very affected and I felt really, really horrible and that was never the intention."
As for the Holocaust Memorial selfie apology? That's still pending.