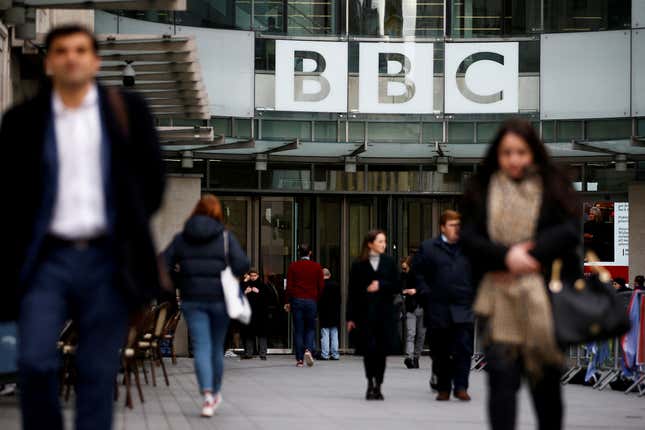 Indian income tax officials today (Feb. 14) visited BBC offices in Delhi and Mumbai to reportedly probe allegations of tax evasion. This came less than a month after the UK's national broadcaster released a two-part documentary that looked into prime minister Narendra Modi's alleged involvement in the 2002 Gujarat riots.

Should you keep investing in Big Tech?
A team of 20 officials searched the BBC's office in Delhi and its production arm, BBC Studios, in Mumbai, PTI reported.
"Documents were seized and phones and laptops of journalists were taken away...The offices will be sealed for the duration of the survey and employees have been asked not to share details with anyone," the news agency reported citing unnamed sources.

The income tax department of India's finance ministry has called the move a "survey." Unnamed tax officials told PTI that they were seeking "some clarifications and for that our team is visiting BBC office and we are carrying out a survey...Our officers have gone to check account books, these are not searches."
The controversy around the BBC
Last month, the Modi government took down the documentary from public platforms using its emergency powers under the Information Technology Rules, 2021. It also directed the blocking of multiple YouTube videos and Twitter posts sharing links to the series.
BBC released the first part of India: The Modi Question on Jan. 17, and it was made available across the world, including India. However, its second episode, released on Jan. 24, was made available only in the UK through its online streaming service BBC iPlayer.
The documentary revealed that a UK government report had viewed the 2002 Gujarat riots as having "all the hallmarks of an ethnic cleansing". It also concluded that Modi was "directly responsible for a climate of impunity" that led to extreme events.
The official death toll in the 2002 riots was 1,125. Of which 863 were Muslims. Modi has often dismissed allegations of failing to stop the riots. In June 2022, the Supreme Court of India acquitted Modi of all charges in connection with the violence.
Following the release of the documentary, some organizations supporting the government have approached the courts seeking a ban on the BBC.