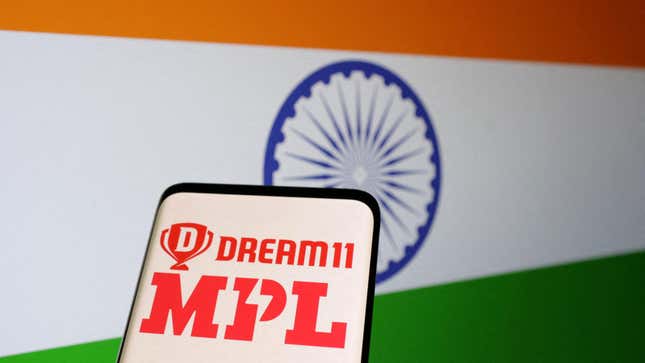 India is introducing a 28% indirect tax on the funds that online gaming firms collect from consumers. The decision to club taxation rules for revenue from online gaming—"games of skill"—with earnings from "games of chance," such as horse racing and casinos, was announced by finance minister Nirmala Sitharaman on July 11.
Why a tightening of credit conditions could lead to a weak economy
The new tax has received significant pushback over the past year from industry players who worried that it would hurt revenues and stifle innovation in a fledgling industry.
"These regressive measure disregards years of established legal precedents and unjustly associates online gaming with gambling activities and will have a negative impact on the growth of the real-money gaming segment, which accounted for 77% of India's gaming sector revenues in 2022," Kick Games Studios told Quartz in an email statement.
So far, companies had been paying an 18% tax on platform fees. The new tax isn't just nominally higher, but it also targets a wider portion of gaming companies' revenues. There'll be a "significant increase in tax incidence" because the 28% will be "levied on the entire face value of bets," Kartik Solanki, partner, indirect tax, at BDO India, explained in an email. "This will also lead to further uncertainty about the liability for the past periods."
Quotable: Legal gaming platforms will suffer
"The decision ignores over 60 years of settled legal jurisprudence and lumps online gaming with gambling activities. This decision will wipe out the entire Indian gaming industry and lead to lakhs [tens of thousands] of job losses and the only people benefitting from this will be anti-national illegal offshore platforms," —Roland Landers, All India Gaming Federation (AIGF) CEO, who called the GST Council's decision "unconstitutional, irrational, and egregious" in a statement on July 11
A brief timeline of India's attempt to impose 28% tax on online gaming
May 18, 2022: India's finance ministry proposes levying a 28% tax on all online gaming earnings.
June 29, 2022: Following outrage, officials decide to keep the move in abeyance.
Sept. 5, 2022: Direct tax officials scrutinise the data for up to 58,000 crore rupees ($7.2 billion) won over the past three years on an online gaming platform, urging taxpayers to file taxes on such undeclared winnings for the past two assessment years.
Sept. 26, 2022: Bengaluru-based Gameskraft Technology (GTPL) is accused of tax evasion worth $2.6 billion for unpaid dues between 2017 and mid-2022. The government's calculation levied 28% tax for games of chance, but the company contested it only owed the 18% for skill gaming activities
May 11, 2023: The Karnataka high court rules in GTPL's favor. AIGF's Landers cheers the decision for "clearly distinguishing constitutionally protected games of skill from gambling and betting activities."
July 6, 2023: A consensus eludes the group of ministers as the western coastal state of Goa, which earns a big chunk of revenue from casinos, refuses to relent to the 28%.
Charted: Indian gaming company shares fall
Delta Corp
Delta Corp, which claims to be the only listed company in India engaged in casino gaming, recorded its largest single-day plunge ever of about 28%.
Nazara Tech
Nazara Technologies, which also saw shares drop about 14% before partially recovering, clarified that it expects minimal impact. The tax will apply only to the skill-based real money gaming segment of its business, which contributes about 5% to revenues.
India's burgeoning online gaming industry, by the digits
$1.5 billion: The size of India's online gaming industry

1,069: Gaming startups in India, including some big names like fantasy sports platform Dream11, which counts marquee investors like Tiger Global and Peak XV (formerly Sequoia India) among its backers. The two investing giants also back another gaming company Mobile Premier League
1,000%: How much charging 28% tax on full face value will increase taxation by, "and prove catastrophic for the industry," according to Malay Kumar Shukla, secretary of E-Gaming Federation
$342 million: Fantasy gaming platforms revenue during the popular Indian Premier League cricket matches, a 24% increase from a year earlier
Rs930 crore ($113 million): Net profit in 2022 for Gameskraft
Related stories
🤔 Should India tax games of skill and games of chance the same 28%?
💰 India is planning to tax winners in online gaming
🏏 A fantasy sports startup has entered the unicorn club thanks to India's IPL fever