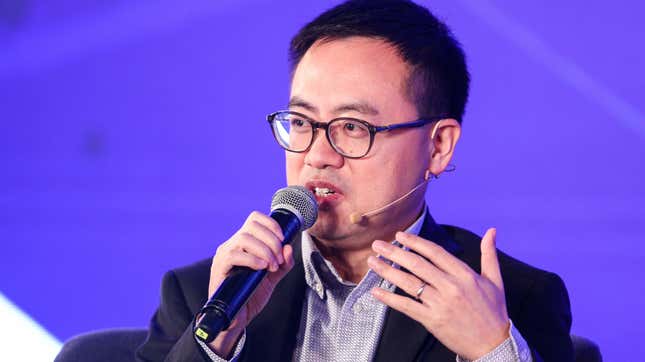 Sequoia Capital is no longer in charge of the China venture capital business it has built over nearly two decades.
The US venture capital behemoth has decided to split off its Chinese and Indian/southeast Asian businesses into two independent firms, it said yesterday (June 6). The US and European business will continue to be known as Sequoia Capital.
The non-US units have largely been quasi-independent in their decision-making, but the territorial reach of their portfolio companies have often overlapped, and revenue has been shared. The arm investing in Indian and southeast Asian companies has contributed much less than the Chinese entity, so forgoing the latter's income will hurt Sequoia more.
The tensions between the US and China have hurt Sequoia

Still, Sequoia felt the need to hive these units off. In recent years, covid-19 lockdowns, heightened governmental scrutiny of tech startups, and rising geopolitical frictions between the US and China have clouded the environment for fundraising and investment.
"It has become increasingly complex to run a decentralized global investment business," Sequoia's June 6 statement said. Using centralized back-office functions is "more of a hindrance than an advantage," each entity's portfolio of investments has expanded, and the firm has witnessed "growing market confusion due to the shared Sequoia brand as well as portfolio conflicts across entities."
Sequoia is perhaps the first major US firm to admit the impact of these geopolitical complications. Chinese companies, though, have been resisting them for quite a while now—so much so that they're trying to paint themselves as less Chinese and more global.

Around 500 Chinese companies, including the fast fashion retailer Shein and the electric carmaker Nio, "redomiciled" or registered in the neutral island nation of Singapore last year, in a bid to shield themselves from the fallout from worsening relations between Washington and Beijing, according to a Financial Times report. The trend even has a name: "Singapore-washing."

Sequoia's breakup will be complete by March 31 next year, the company said in a statement signed by Roelof Botha, the managing partner; Neil Shen, the China head; and Shailendra Singh, the India and Southeast Asia head.

The company maintains that the split is not a knee-jerk reaction but "a gradual discussion that intensified over the last several months," according to a Forbes interview with all three executives. Each separately denied that any particular geopolitical tensions were a specific catalyst for the move, chalking the change up to conflicting interests in growing portfolios instead.
Quotable: Sequoia birthed three independent businesses
"Things seemed to be going in a direction where it gets harder, not easier. This isn't a retreat saying, 'white flag, we failed.' It's more of a victory in the sense that we have these fully independent businesses that can go even further."
By the digits: Sequoia's China and India businesses
18: The number of years since Sequoia's China business was launched, in 2005. Neil Shen has been in charge pretty much throughout. After the split, it will retain its Chinese name 红杉, meaning redwood, and adopt HongShan as its English name.
1,200+: The number of companies Sequoia China has invested in
$56 billion: The value of assets under Sequoia China's management

$9 billion: The total sum that Sequoia China raised in four funds in 2022
62: The number of deals that Sequoia China did between the third quarter of 2022 and and the second quarter of 2023, compared to 177 deals between the same 2021-2022 period, suggesting a slowdown
17: The number of years that Sequoia India, now Peak XV—after the original name of Mount Everest—has been in business

400: The number of startups in Sequoia India-southeast Asia's portfolio, of which 50 have become unicorns and 19 have gone public

$9.2 billion: The total sum that Sequoia India-southeast Asia has raised across 13 funds, making it India's biggest VC firm
$2.5 billion: The India and southeast Asia fund that Shailendra Singh and his team raised last year, their biggest yet
12 years: The average tenure of the 11 managing directors in the investment team of what is now Peak XV
A dozen: The number of startups with funding and board representation from Sequoia who said last year that the company did not disclose governance-related issues plaguing its portfolio companies, which could reflect poorly upon them as well.
Company of interest: TikTok's parent, ByteDance
Sequoia's US and Chinese businesses hold lucrative stakes in ByteDance, TikTok's parent company. Sequoia China has been the largest shareholder with a 10% position, potentially worth tens of billions of dollars, as per a Forbes report in May. That stake must have started to feel uncomfortable after TikTok began facing mounting scrutiny from US regulators and lawmakers.
Shen, Sequoia's China chief, will remain on the board of Bytedance following the separation.
Sequoia's Indian and southeast Asian business gets an online makeover
Sequoia India's website has already been rebranded. The Twitter profiles for both the Indian and southeast Asian businesses have been made redundant to make way for the new one.
Shailendra Singh, who heads Sequoia's India and southeast Asia business, goes by @singh_sequoia on Twitter. After the announcement, Singh tweeted asking Twitter to help him change his ID.
Sequoia China is retaining its Chinese name, so its website is largely unaltered. And the entity doesn't have a Twitter presence—likely because the microblogging site is blocked in China.
Related stories
🇮🇳 How Sequoia Capital India became Asia's most prolific venture capital firm
🦄 The venture capital firms that are best at spotting unicorns
🐯 Xi Jinping's reelection has made Tiger Global more nervous about doing business in China