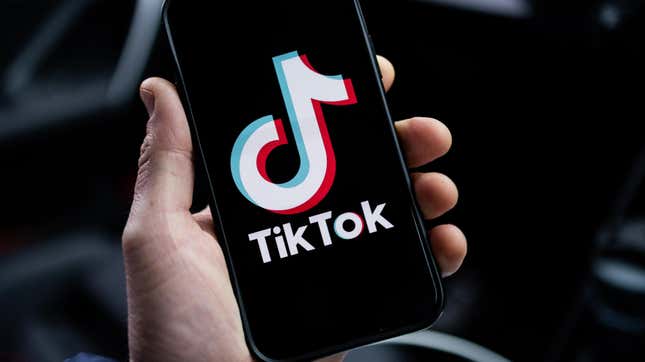 TikTok said the Biden administration was threatening to ban the app unless it sheds its Chinese ownership.
The US has long been raising concerns about the video-sharing app, worrying Beijing might use it as an espionage tool, as well as for political influence—former president Donald Trump attempted to ban it before a court struck the order down. Under Biden, Republicans have criticized Democrats for going easy on the ByteDance-owned app. But now, the White House is taking a tougher stance.
The Committee on Foreign Investment in the US, or CFIUS—a multiagency federal task force that oversees national-security risks in cross-border investments—made the Chinese ownership stake sale demand recently, according to the Wall Street Journal.

The US isn't the only country suspicious of TikTok. The app is also facing scrutiny in Canada, in the UK, and in the European Union.
Quotable: TikTok says weeding out Chinese owners has no bearing on national security
"If protecting national security is the objective, divestment doesn't solve the problem: a change in ownership would not impose any new restrictions on data flows or access. The best way to address concerns about national security is with the transparent, US-based protection of US user data and systems." -TikTok spokeswoman Brooke Oberwetter in a statement to Reuters
A brief timeline of the US's crackdown on TikTok
July 2020: The Donald Trump administration moves to ban TikTok
Aug. 2020: Trump on Aug. 6 signs an executive order barring any transactions between U.S. citizens and TikTok starting in 45 days. A week on, he signs another executive order instructing TikTok to sell all US assets within 90 days. Around this time, Microsoft weighs the potential purchase of TikTok, Oracle emerges as a suitor, and Walmart throws its hat in the ring, too. By the end of the month, though, the Chinese government throws a curveball: It issues new export rules that complicate the exportation of TikTok's "For You" algorithm to any foreign buyer.
Oct. 2020: A federal judge blocks the ban after influencers Cosette Rinab, Douglas Marland and Alec Chambers, who have millions of followers on the app and make thousands of dollars per video, file a lawsuit.
Dec. 2020: A second federal judge issues a preliminary injunction against restrictive steps that would've effectively banned the app in response to a lawsuit filed by TikTok and ByteDance, which called the administration's move "arbitrary and capricious."
June 2022: A BuzzFeed report reveals US TikTok user data was repeatedly accessed by ByteDance employees in China. Simultaneously, TikTok announces it migrated all US user traffic to servers operated by American software giant Oracle. Days later, Federal Communications Commissioner Brendan Carr writes to Apple and Google asking to remove TikTok from their respective app stores due to "its pattern of surreptitious data practices."
July 2022: Leaders of the US Senate Intelligence Committee ask the Federal Trade Commission to investigate whether TikTok deceived the public about Chinese employees' access to American user data. Later, Bloomberg reports the Chinese government requested TikTok host stealth propaganda accounts.
Aug. 2022: A Forbes analysis of TikTok and ByteDance employees' LinkedIn profiles reveals that 300 current ones previously worked for Chinese state media publications. Fifteen employees apparently were employed by both at the same time.
Sept. 2022: TikTok chief operating officer Vanessa Pappas appears before the Senate Homeland Security Committee to allay national security concerns, but the company doesn't fully commit to stopping all US data flow to China.
Oct. 2022: A Forbes report says that ByteDance intended to surveil American citizens' locations via TikTok. The company denies these claims.
Dec. 2022: Congress votes to bar federal employees from using TikTok on government-owned devices. It gives the Biden administration 60 days to issue agency directives. Meanwhile, TikTok makes more of its trust and safety team US-based.
Feb. 2023: The White House gives government agencies 30 days to purge TikTok from all federal devices
March 2023: New legislation from a dozen senators, which will empower the secretary of Commerce to take restrictive action against tech firms based in six foreign adversary nations—Russia, Iran, North Korea, Venezuela, Cuba, and of course, China—is endorsed by the White House.
TikTok, by the digits
60%: ByteDance shares owned by global investors
20%: ByteDance shares owned by employees
20%: ByteDance shares owned by employees by its founders. The shares of Zhang Yiming, ByteDance CEO Liang Rubo, and others who founded the company in Beijing in 2012, carry outsize voting rights.
100 million: Users TikTok has in the US
30+: US states that have banned TikTok from being downloaded on state devices
$1.5 billion: How much TikTok has pledged to spend on a program to safeguard US user data and content from Chinese government access or influence. The plan would wall off US operations, storing all data within US borders. It would also arm American tech giant Oracle with the ability to access the company's algorithmic code and flag issues for government inspectors.
Up next: Shou Zi Chew's hearing
TikTok's chief executive, Shou Zi Chew, is scheduled to testify on security-related issues before the House Energy and Commerce Committee next Thursday (Mar. 23).
Relates stories
👀 TikTok's updated data privacy policy does little to settle nerves
🏛️ US lawmakers have renewed their efforts to ban TikTok
🇺🇸 Biden is taking Trump's argument against TikTok seriously