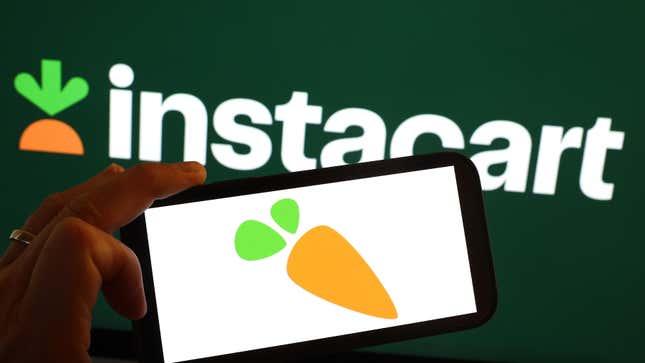 Instacart debuted on the Nasdaq stock exchange this morning (Sep. 19), listing at $30 a share under the ticker symbol CART, and rising to $42 in early trading. The IPO valued Instacart at $10 billion, down dramatically from $39 billion in 2019. But unlike its gig-economy peers Uber and DoorDash, Instacart did go public as a profitable company.
Should you keep investing in Big Tech?
In fact, Instacart has recorded successive quarters of profits since the three months ended in June 2022, although profit growth has slowed in recent months, according to the company's S-1 filing.
How did Instacart become profitable?
To diversify its revenue streams, the grocery-delivery company moved into the advertising business in 2017. That strategy paid off. Last year, its advertising revenue grew nearly 30%, while revenue from grocery orders rose 18%, according to the filing.
The other big contributor in its push toward profitability has involved slashing labor costs. But Instacart warned in its S-1 filing that its precarious relationship with gig workers may threaten profitable growth in the future.

How does Instacart pay delivery workers?
Instacart depends on about 600,000 "shoppers" who put together their customers' orders. Most are "full-service" shoppers, independent contractors—or gig workers—who pick and deliver orders. The remaining are "in-store" shoppers, who are part-time employees of Instacart. Their duties are limited to assembling orders, and do not include any delivery services.
Full-service shoppers are paid by the batch. A batch might include shopping at more than one store for a single customer, or shopping at one store and then delivering items to one or more customers. Shoppers can also choose to do delivery only or pick-up only.
In February 2019, the company increased the minimum batch payment for its shoppers, from $3 to a range of $7 to $10 for full-service batches, and $5 for delivery-only batches. For full-service batches, the size of the order didn't matter; so even for a small batch of a couple of items, such as a bottle of water and a pint of ice cream, delivery workers would receive at least $7. (Instacart noted in a blog post in July that shopper habits have changed to include placing "much smaller convenience or specialty item orders between weekly shops.")
But now that $7 minimum pay for small batches has been cut to $4. Meanwhile, more complex batches—large business deliveries, for example—pay $10 or more, in addition to tips. For "heavy-item" batches, another $2 will be added on top of the batch minimum.
Instacart provides its shoppers with some details upfront about the batches, such as the items being delivered, the distance they have to drive, potential earnings, and an estimated customer tip. Shoppers can accept any batch they want and are not penalized for refusing a batch.
Instacart's fee structure for shoppers also factors in other potential line items such as gas money, which are paid out if, for instance, high fuel prices are keeping too many delivery drivers off the road. Total pay for shoppers also depends on the distance they must drive to deliver an order, and whether they are doing the work during peak earning times (Instacart pays shoppers more during hours when there is higher customer demand).
The risk of having bad relations with gig workers
Instacart knows that some workers are unhappy with its pay structure. In the risk factors section of its S-1, the company warned that failing to attract or retain gig workers could hurt its business.
"The number of shoppers on Instacart could decline or fluctuate as a result of a number of factors, including shoppers choosing not to provide their services through Instacart as a result of being dissatisfied with their earnings potential, our pay model or changes to our pay model, changes to the terms of our independent contractor agreement, shopper incentives, our retail partners, having a poor experience on Instacart, or deciding to pursue other work opportunities."
Instacart and other gig-work companies are particularly sensitive to labor costs because they operate in a thin-margin business. In 2019, Instacart, along with Uber and DoorDash, successfully spent millions of dollars to lobby against a California law that would reclassify gig workers as employees—a move that would compel the companies to pay minimum wages and benefits.

In a win for workers this year, though, New York City passed a minimum wage for delivery app workers, which could influence regulation in other regions.
Instacart's ongoing labor challenges

In response to the pay cuts, some Instacart shoppers have expressed dissatisfaction with their work via protests and coordinated strikes on multiple occasions.
When we reached back out this week to delivery workers Quartz interviewed in 2020, to research articles about workers' experiences in the pandemic, we found that they no longer gigged for Instacart because of the pay. One of them, who led a Facebook group for gig workers, had started her own business. Another said, over a Facebook message: "I haven't shopped for Instacart in over a year. The pay was not worth it after all the cuts. No heavy pay. It became a joke. A crazy amount of items with cases of water for $7. No thanks 🤪"
Gig work is precarious for employees, but it is also precarious for companies because workers can turn off their apps and walk away when they're fed up, leaving a labor shortage in their wake.