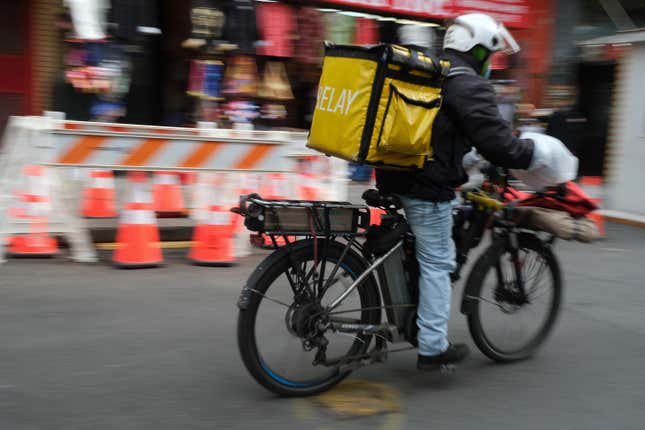 Food delivery workers in the Big Apple will be the first in the country to get a minimum pay rate.
On Sunday (June 11), New York City mayor Eric Adams announced new regulations that will set the minimum wage for delivery workers at $17.96 per hour beginning July 12, which will be increased to $19.96 in April 2025.
There are about 60,000 delivery workers in the city, according to a government press release, making an average of $7.09 per hour. The new pay floor, which does not include tips, will nearly triple workers' average pay.
"Our delivery workers have consistently delivered for us — now, we are delivering for them," said mayor Adams in a statement. "This new minimum pay rate, up by almost $13.00/hour, will guarantee these workers and their families can earn a living, access greater economic stability, and help keep our city's legendary restaurant industry thriving."
DoorDash may take legal action against the new policy, which it called "extreme," in a statement emailed to Quartz. A spokesperson from Grubhub said the decision would have "serious adverse consequences" for delivery workers, while an Uber Eats representative said the move is "telling apps: eliminate jobs, discourage tipping, force couriers to go faster and accept more trips."
The new rates for food delivery workers, by the digits
$0.30: Mandated pay per minute for NYC delivery food workers using apps that compensate while both waiting for trips and delivering food
$0.50: Mandated pay per minute for NYC delivery food workers using apps that only compensate while making a food delivery
60%: Approximate time workers spend on delivery trips, according to the NYC Department of Consumer and Worker Protection (DCWP), with the other 40% of the time on standby
Los Deliveristas Unidos and the campaign for better pay
During the pandemic, delivery workers played a critical role in New York City, bringing meals, groceries, and other essentials to peoples' doors. But covid also revealed the extent to which app-based delivery employees lack basic labor protections.
It was during this time that Worker's Justice Project (WJP), a Brooklyn-based worker center, began organizing delivery workers to fight for better pay and conditions. That effort gave rise to a group called Los Deliveristas Unidos.
The WJP, Deliveristas, and other activist groups campaigned throughout the pandemic, an effort that led to the passage of landmark legislation in New York City in October 2021, which mandated the creation of minimum wage protections.
The Deliveristas staged a rally in November, calling for a $30 per hour wage. The municipal government, meanwhile, initially proposed a $24 per hour rate, which in March was pared back to the current $17.96 per hour level. Still, the WJP, Deliveristas, and other activists are celebrating the win.
"This rule will set the pay floor for all the essential deliveristas who work tirelessly—whether through a pandemic, a snowstorm or wildfire smoke—and who have been denied a living wage for far too long," said Ligia Guallpa, executive director of WJP, in a statement. "Now, these workers who keep millions of New Yorkers fed will know they can keep their own families fed, too."
Related stories
🧢 Food delivery price caps are starting to unravel
🤑 Uber and DoorDash found a way to make food-delivery profitable
🚙 A California court voted to uphold Proposition 22 in a win for Uber and Lyft
This story was updated with comments from DoorDash, Grubhub, and Uber Eats.