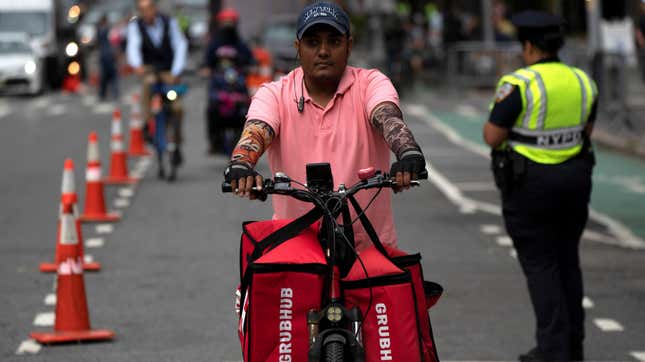 At the height of the pandemic, numerous US cities from New York to Las Vegas cracked down on the commission fees food delivery companies charged restaurants. Uber Eats, DoorDash, and Grubhub charged as much as 30% per order. Restaurants saw food-delivery apps as a lifeline when their dining rooms were closed, but they also complained about the high fees, leading to some cities capping the fees at 15%.

But now cities are starting to allow the fee caps to lapse.
On Jan. 31, San Francisco, the first city to reportedly pass such fee cap legislation, dropped the 15% commission cap that went into effect in 2022, reported SFGate. In San Francisco, food delivery companies Uber and Doordash can now charge restaurants the commission fee tiers charged in other cities. Restaurants can choose tiers ranging from 15% to 30%, with higher rates including more marketing and other services.
San Francisco is not the only city to end the limit on commission fees. Denver's temporary commission cap ended at the end of last year, and the city has not renewed the cap. Las Vegas's Clark County dropped its 15% commission fee cap last May. San Jose, just south of San Francisco, capped delivery fees in December 2020, but a spokesperson from the city's Economic Development office told the San Jose Spotlight in 2021 the "city has no immediate plans to reinstate a fee cap."
These changes will benefit the food-delivery companies that have long told investors they are on a path to profitability. The cost of food delivery isn't cheap, as the money made on each transaction is split among three parties—restaurant, food-delivery company, and worker. Cities are lifting the fee caps as restaurants' sales have returned to pre-pandemic levels now that pandemic-related lockdown orders have faded away.
The battle between restaurants and food-delivery companies over commission fees
The fee caps have been a contentious topic between restaurants and food delivery companies. Pressured to show profits, the companies have argued that capping fees charged to restaurants to 15% would force them to hike the service fee they charge end customers. Grubhub previously told Quartz it lost more than $100 million to fee caps in the US in 2020. In New York City, the biggest market for food-delivery companies in the US, DoorDash and other food-delivery companies in 2021 sued the city over permanent price controls, saying the fee cap was "unconstitutional, harmful, and unnecessary." Most recently in November, Grubhub backed an amendment to allow delivery companies to charge more for their services than the current 15% cap in New York.
But food-delivery companies have also had to make concessions to appease restaurateurs, particularly given the latter's big lobbying power, including rolling out a tiered commission pricing model and adding alcohol delivery on their apps.
In the battle between restaurants and food delivery apps, the latter is regaining the upper hand.
Editor's note: Updated on Feb. 14 with information about the expired cap in Clark County.