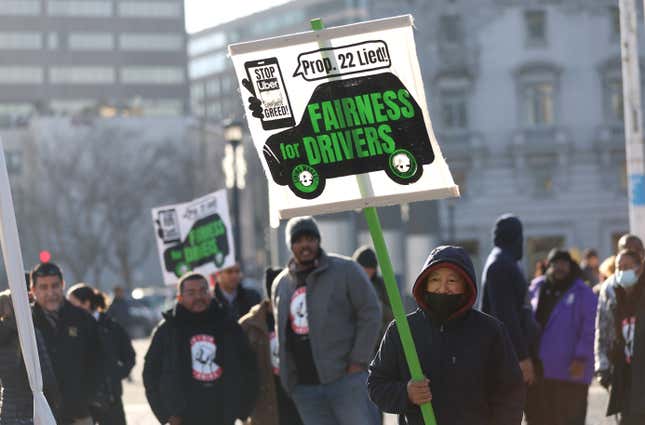 A California appeals court ruled on Monday (March 13) that companies like Uber, Lyft, and Doordash can classify their gig workers as independent contractors under Proposition 22, a ballot initiative state voters passed in 2020.

The upholding of Proposition 22 is a major victory for gig companies, who poured millions into promoting the law as a way to boost worker flexibility and lower prices for consumers, making it the priciest ballot measure in California's history at the time.
The most recent ruling overturns a 2021 lower California court decision that found Proposition 22 to be both unenforceable and unconstitutional.
App-based workers and labor groups have opposed the ballot measure, arguing that it strips gig workers of rights and benefits, such as health insurance coverage and sick pay, which California workers classified as employees are entitled to under a state law known as AB5.
Though the current ruling has upheld Proposition 22 as mostly constitutional, the court removed a clause that it found restricted the California state legislature's powers to authorize collective bargaining.
Service Employees International Union, which was part of the original suit to strike down Proposition 22, has said it may appeal the decision, which would then go to the California Supreme Court.
Quotable
"Today's ruling is a victory for app-based workers and millions of Californians who voted for Prop 22." –A statement from Tony West, chief legal officer at Uber
By the digits
59%: Percentage of the vote that supported the passage of Proposition 22
1.3 million: The number of California workers in the gig economy during the pandemic, according to the Protect App-Based Drivers & Services Coalition
$224 million: Money that gig companies spent to promote Proposition 22
Related stories
🚗 Uber's age of special treatment isn't over
🚌 Uber and Lyft are not the public-transit partners they hoped to be
🚙 Ride-hailing apps make first foray into Senegal
Correction: A previous version of this story said that Proposition 22 was the priciest ballot measure in California's history. However, Propositions 26 and 27, related to sports betting, now hold the record, having cost upwards of $400 million.