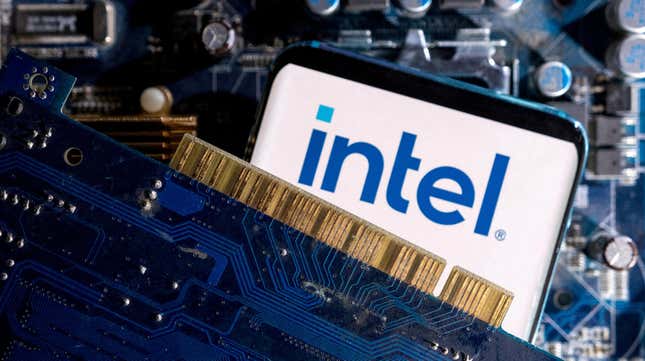 Intel has secured almost $11 billion in subsidies from the German government.

Last year, Deutschland offered the US-based chipmaker around $7 billion to build a semiconductor manufacturing facility in the eastern city of Magdeburg. The foundational bricks were meant to be laid in the first half of 2023. But construction at the ambitious plant stalled on account of geopolitical challenges, high inflation driving the cost of energy and raw materials up, declining demand for semiconductors, and more.
The American company went back to the negotiation table and said it needed another $3.5 billion.
Intel has now sealed an agreement to receive a larger subsidy for the highly-anticipated Magdeburg facility, Bloomberg reported today (June 19), citing people familiar with the deal. The monetary package includes not just traditional aid, but also price caps on energy.
German chancellor Olaf Scholz and Intel chief executive officer Pat Gelsinger are meeting in Berlin, Germany, to sign on the dotted line at 2.45pm local time today.
The company, which restructured itself at the end of last year to better compete with rivals Nvidia, AMD, and Samsung, has had a keen eye on Europe. Gelsinger unveiled an $88 billion European expansion plan for its foundry business in a bid to reduce dependence on US and Asian supply last year—fitting at the heels of the European Union (EU) announcing a multi-billion boost to the chips sector.
Quotable: Intel seeks competitiveness from the EU
"We are not asking for handouts, we are asking for competitiveness. Labour costs have gone up substantially, material costs have gone up substantially, so all of a sudden, the cost gap was bigger than we had originally estimated."—Intel CEO Pat Gelsinger, quoted in Reuters on June 16.
Intel's German investment and the EU's Chips Act, by the digits
€6.8 billion ($7.2 billion): How much government aid Intel initially agreed to build the facility in the city of Magdeburg with initially at the end of last year, before it asked for more
€30 billion: How much Intel intends to spend on the Magdeburg project, nearly double the original estimate of €17 billion from a year ago
1,000 hectare: The area near Magdeburg in Saxony-Anhalt that offers space for up to eight connected chip factories and partner companies
7,000: Construction jobs created over the course of the building project
3,000: Permanent high-tech jobs at Intel that'll be available once the plant opens
Tens of thousands: Additional jobs across suppliers and partners the Magdeburg site is expected to create in the long-run
€43 billion ($47.1 billion): How much the EU's Chips Act is mobilizing in private and public funding
20%: How much the bloc wants to increase its share of the global chips manufacturing production capacity to by 2030—double of what it currently contributes
A brief overview of Intel's plans for Europe
🇵🇱 Poland: A new semiconductor assembly and test facility near Wroclaw, Poland, which Intel announced a $4.6 billion investment for on Friday (June 16). The facility in Poland will employ 2,000 workers and create several thousand indirect supplier jobs and temporary construction jobs, the company said in a statement. It is expected to be active by 2027.
🇩🇪 Germany: The wafer fabrication megasite in Magdeburg, discussed above.
🇫🇷 France: A new chip research centre around Plateau de Saclay, creating 1,000 new high-tech jobs at Intel, with 450 of them available by the end of 2024. "France will become Intel's European headquarters for high performance computing (HPC) and artificial intelligence (AI) design capabilities," the company announced last March. Plus, Intel plans to establish its main European foundry design center in France.
🇮🇹 Italy: A state-of-the-art back-end manufacturing facility, which would create approximately 1,500 Intel jobs plus an additional 3,500 jobs across suppliers and partners, with operations due to start between 2025 and 2027.
🇮🇪 Ireland: Intel is continuing to invest in its Leixlip, Ireland, expansion project, spending an additional €12 billion and doubling the manufacturing space to bring Intel 4 process technology to Europe and expand foundry services. Once complete, this expansion will bring Intel's total investment in Ireland to more than €30 billion.
🇪🇸 Spain: The Barcelona Supercomputing Center and Intel have been collaborating on exascale architecture. Now, they are developing zettascale architecture for the next decade and they plan to establish joint labs in the city.
One more thing: Intel's cost-cutting includes job-cutting and salary-cutting
Despite Intel's investment, the tech giant has also made cuts to its workforce and their salaries.
For instance, last December, Intel offered staff in Ireland the opportunity to take three months' unpaid leave from their jobs. Weeks later, Intel laid off dozens of employees in Israel, and offered some of them retirement packages or unpaid leave. After the calendar year changed, 201 workers at its Santa Clara headquarters were dismissed. Another 340 jobs in the Golden State, in Sacramento, were also put on the chopping block after that.
Remaining employees saw their salaries trimmed by 5-15%. Chief Gelsinger took the biggest cut at 25%.
Related stories
🔄 Intel has spared a part of its chips business from the chopping block (for now)
🇬🇧 The UK has unveiled a surprisingly tiny $1.2bn semiconductor plan
🧾 Nvidia, the newest trillion-dollar company, pays rock-bottom federal taxes in the US