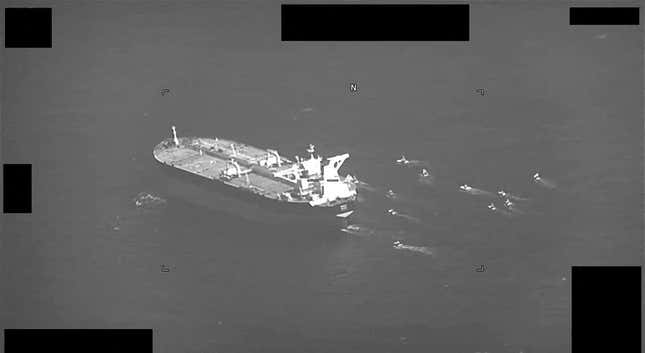 A swarm of Iranian fast-craft vessels surrounded the Niovi, a Panama-flagged oil tanker crossing the Strait of Hormuz, at dawn on Wednesday (May 3), steering it towards Iranian waters. It was the second ship Iran has seized in the past week, and the latest escalation in tensions between the US and Iran.

Why a tightening of credit conditions could lead to a weak economy
Iran's actions are likely in retaliation to the US Department of Justice seizing the Suez Rajan, a tanker bound for China with a cargo of Iranian crude, as the US seeks to toughen enforcement of its oil sanctions against Iran. The Iranian Navy reportedly gave chase, according to US authorities, but failed to recapture the tanker.
Following the Suez Rajan incident, last Thursday (April 27), Iran seized the Advantage Sweet, a US-bound tanker chartered by Chevron. The vessel is currently being held in the port of Bandar Abbas on Iran's south coast.
Heightened tensions in the Gulf
There have been a series of attacks on shipping in the Gulf waters at times of geopolitical tension, beginning in 2019, when Iran seized two British-flagged tankers after the UK impounded an Iranian vessel bound for Syria. In 2022, Iran captured two Greek-flagged vessels in the Strait of Hormuz after Greece allowed the US to drain the cargo of an Iranian tanker in Greek waters. The Suez Rajan is only one of a handful of times the US is known to have seized an Iranian oil shipment.
The Suez Rajan is currently underway, and as of Wednesday was off the coast of East Africa, according to data from MarineTraffic. While no destination is listed, it is believed to be headed to US shores.
"Heightened military activity and geopolitical tensions in these regions continue to pose serious threats to commercial vessels," an advisory issued on Tuesday by the Marshall Islands flag registry said. "Associated with these threats is the potential for miscalculation or misidentification, which could lead to aggressive actions."