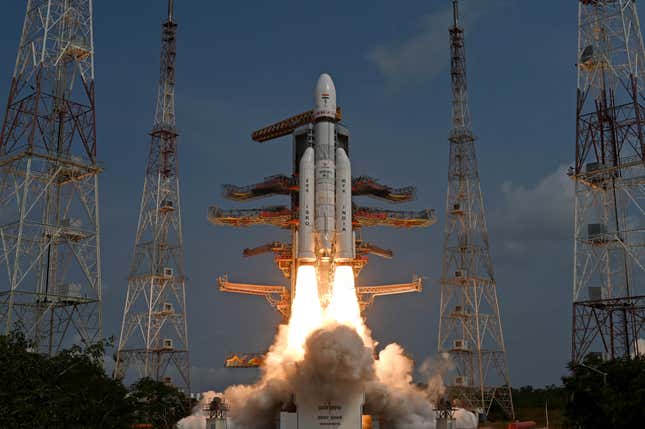 The Indian Space Research Organisation (ISRO) has successfully launched 36 satellites of UK-based satellite communications company OneWeb.
The launch, which happened yesterday (March 26), completes OneWeb's constellation of 618 satellites that will provide global high-speed connectivity. It needs 588 active satellites for operations. The additional satellites are planned for "resiliency and redundancy." The company is expected to begin operations by the year-end.
India's Bharti Enterprises has a 30% stake—the biggest—in the London-based OneWeb, which is also backed by the UK government.
"By the year-end, OneWeb will be ready to roll out global coverage, enhancing its existing connectivity solutions that are already live in regions north of 50-degrees latitude as it brings new areas online by partnering with leading providers," a company press release said on Sunday.
Who could afford OneWeb's services in India?
OneWeb executive chairman Sunil Bharti Mittal has the company will not compete with any telecom company in India or across the globe.
Its tariff will match the rates in western countries but can't be at par with the "extremely low" one prevailing in India. However, services will be affordable and at par with that of mobile rates if a community of 30-40 homes in a village uses it.
"...The services will cost more for individual use in India compared to existing mobile services plans," Mittal said during a press conference yesterday.
He dismissed concerns over satellite connectivity gaining telecom-like faith in India and also assured that the sector has enough room for many players.
What's next for OneWeb?
Even though all its license-based approvals are in place, OneWeb keenly awaits India's space-com policy.
Mittal said he expects that the Indian government will follow the global norm of not setting up an auction.
"I am particularly proud that OneWeb has crossed the threshold to be able to provide its global coverage in India...Under the visionary leadership of prime minister Narendra Modi, the government of India's target to significantly expand access to high-speed internet connectivity is vital...," he had.
In 2021, the Indian government launched a programme to promote collaboration between private and public players in space technology. This was in line with the vision to strengthen India's presence in the global commercial space market.