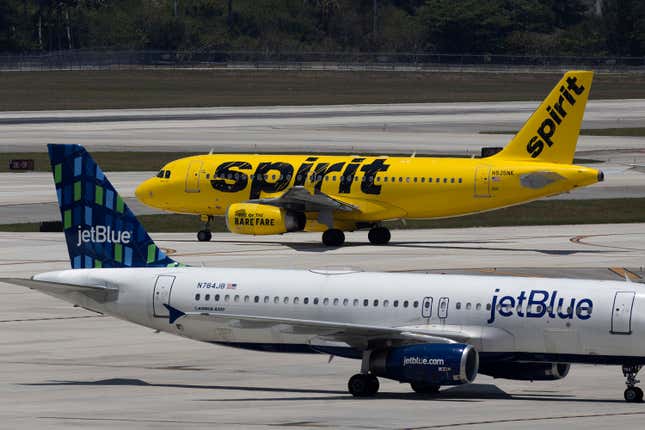 US regulators have sued to stop JetBlue's $3.8 billion acquisition of low-cost Spirit Airlines.

Should you keep investing in Big Tech?
The Department of Transportation (DOT) and the Department of Justice (DOJ) filed an antitrust lawsuit in a federal court in Boston on Tuesday (Mar. 7), with the intention of blocking the deal. State attorneys from New York, Massachusetts, and Washington DC joined the lawsuit.
This is the first time federal regulators have sued to block a merger between airlines since the industry was deregulated in 1978. (In 2001, a United-US Airways merger fell through after the DOJ threatened to go to court.) Federal lawyers plan to argue that the JetBlue-Spirit deal will hurt competition in an already concentrated industry.

"If the acquisition is approved, JetBlue plans to abandon Spirit's business model, remove seats from Spirit's planes, and charge Spirit's customers higher prices," DOJ lawyers said in the lawsuit. "JetBlue's plan would eliminate the unique competition that Spirit provides — and about half of all ultra-low-cost airline seats in the industry — and leave tens of millions of travelers to face higher fares and fewer options."
The US government wants to bust monopolies

The Biden administration has taken a decidedly aggressive approach with its antitrust policy, after the president signed an executive order directing the DOJ to target monopolies across dozens of industries, including air travel.

"JetBlue's combination with Spirit allows it to create a compelling national challenger to these dominant airlines," a spokesperson for JetBlue said in a prepared statement, defending the proposed deal by arguing that the merger would allow the airline to compete against larger competitors.
The Association of Flight Attendants, which represents 5,600 flight attendants at Spirit, endorsed the deal, saying that it would benefit workers and increase labor protection. Conversely, the Transport Workers Union, which represents 6,800 JetBlue flight attendants. urged the DOJ to prevent the merger.
Shares for Spirit Airlines were up 1.77% at 11:17am EST on the news, while JetBlue shares were down 0.3%.

Timeline of JetBlue's proposed acquisition of Spirit

Feb. 7, 2022: Frontier and Spirit, the two largest low-cost airlines in the US, announce plans to merge in a deal worth $6.6 billion.

Apr. 5, 2022: JetBlue makes an all-cash offer for Spirit, throwing a wrench into the proposed merger with Frontier.
July 27, 2022: Spirit terminates its merger agreement with Frontier after shareholders reject the deal.

July 28, 2022: JetBlue closes a deal to acquire Spirit for $3.8 billion, the first major US airline deal since 2016.
Oct. 19. 2022: Spirit shareholders vote to approve the JetBlue offer.

Feb. 10, 2023: Politico reports that the DOJ plans to sue JetBlue in order to block its merger with Spirit after finding that the proposed merger would reduce low-budget airline options for consumers.
Feb. 24, 2023: Executives from Spirit and JetBlue meet with DOJ officials in an attempt to convince regulators to approve their merger.
Quotable: Biden on Bidenomics

"Capitalism without competition isn't capitalism. It's exploitation."


— US president Joe Biden at a July 2021 press conference, introducing a new executive order that directs federal agencies to be more aggressive in cracking down on anti-competitive practices. The executive order explicitly mentioned air travel.
By the numbers: What JetBlue's Spirit takeover means for air travel
$3.8 billion: The proposed purchase price to acquire Spirit airlines, with JetBlue beating Frontier airlines in a bidding war last spring.
180: The size of Spirit's fleet. If the merger is successful, it would bring JetBlue's total fleet size to 458, making it the fifth-largest airline in the US.
$11 billion: The sum for which American Airlines purchased US Airways in 2013, creating the world's largest airline at the time.
3,520: The record-breaking number of antitrust reviews conducted by the Federal Trade Commission and the DOJ during the 2021 fiscal year, marking a 115% increase from 2020.
26%: The year-on-year percentage increase in the consumer price index for airline fares, one of the largest annual jumps since the Federal Reserve began tracking prices in 1989.
Related stories:
✈️ Why JetBlue is so desperate to buy Spirit
🎮 Microsoft's Activision deal put it back in the US's antitrust crosshairs