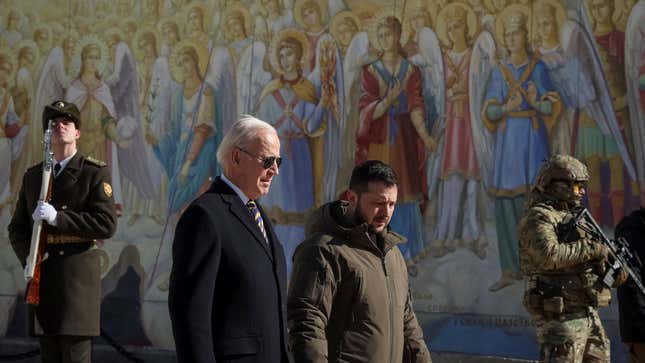 US president Joe Biden's public itinerary said he'd be heading to Poland today (Feb. 20). Instead, he's made an appearance in central Kyiv.
Eric Beiley Part II: Where rates are heading
"As the world prepares to mark the one-year anniversary of Russia's brutal invasion of Ukraine, I am in Kyiv today to meet with President Zelenskyy and reaffirm our unwavering and unflagging commitment to Ukraine's democracy, sovereignty, and territorial integrity," read an official statement from Biden.
In an Instagram post, Ukrainian president Volodymyr Zelenskyy called Biden's visit "an extremely important sign of support for all Ukrainians."

What is Biden doing in Ukraine?
According to the White House, Biden will announce:
🪖 another delivery of critical equipment, including artillery ammunition, anti-armor systems, and air surveillance radars to help protect the Ukrainian people from aerial bombardments...
🚫 ...and additional sanctions against elites and companies that are trying to evade or backfill Russia's war machine.
Why did Biden choose to visit Kyiv?
According to a scoop by Jim LaPorta for Rolling Stone magazine, who said he knew of the visit in advance and was asked to keep it under wraps, Biden was given the option of meeting Zelensky at the Polish-Ukrainian border or in the western city of Lviv. But he insisted on visiting the Ukraine's besieged capital, which emerged as a symbol of resistance during the battle of Kyiv in the early weeks of the war when Russia tried to take the city.
Fun fact: Jill Biden visited Kyiv first
Last May, first lady Jill Biden visited Kyiv on Mother's Day. She met with Ukraine's first lady Olena Zelenska, 10 weeks into Russia's invasion.
One big number: $27 billion in military aid
Last week, the Pentagon announced a new $2.5 billion security package for Ukraine. The package includes armored vehicles and tanks, as well as ammunition and rockets for the HIMARS system Ukraine has used to successfully strike Russian field command posts. Today's announcement adds a fresh $500 million.
In total, US has committed upwards of $27 billion in military aid to Ukraine since Russia's initial invasion.
Biden is going to Poland...next
The Polish president's office had Biden's visit penciled in for the Feb. 21—and rightly so, it turns out.
In Poland, Biden is slated to discuss with president Andrzej Duda ways to dial up support for Ukraine.
In June last year, Biden had already set up permanent headquarters for US forces in Poland in response to Russian threats. In an interview with CBS yesterday (Feb. 19), Polish prime minister Mateusz Morawiecki said that he and Biden would also discuss possibly increasing US troop presence in Poland and making it more permanent.
Watch out for Putin's speech
The day Biden makes his way to Poland, Russian president Vladimir Putin will deliver his annual State of the Nation address. A year prior, on Feb. 21, 2022, Putin recognized Ukraine's separatist regions of Luhansk and Donetsk as independent. Days later, Russian tanks rolled into Ukraine.
This time, he is expected to announce a new military offensive in Ukraine this spring, doubling down on Russia's claims of Zelenskyy being "Washington's puppet."
Quotable: The end of the Russia-Ukrain conflict is not in sight
"Although it is very tricky to collect reliable information on what Russians think about the war—including because of legitimate fears about the implications for saying anything critical—it does seem that many Russians accept the Kremlin's messaging about the country's activities in Ukraine. The end of the conflict is not yet in sight – and what form an end to the conflict will take is also far from clear." —Ben Noble, associate professor of Russian politics at University College London
Related stories
🇵🇱 Biden will renew support for Ukraine in his visit to Poland ahead of the first anniversary of Russia's invasion
🇺🇳 Former UN official Mark Malloch-Brown on Putin, Ukraine, and the case for multilateralism
🪆 Putin's invasion of Ukraine has already cost Russian companies $70 billion