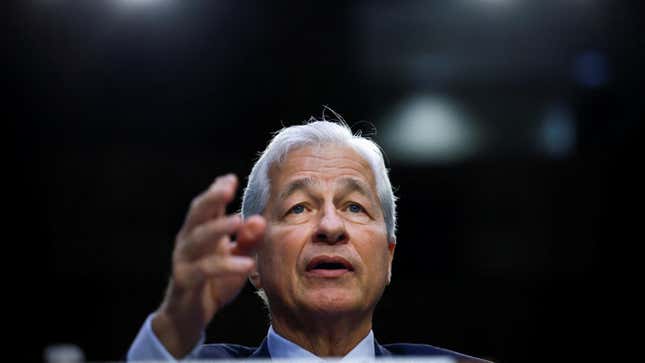 JPMorgan Chase CEO Jamie Dimon will be questioned under oath about the bank's alleged complicity in the sex trafficking ring run by Jeffrey Epstein.

The deposition is tied to lawsuits alleging JPMorgan (and Deutsche Bank, the other bank where Epstein was a client after being dumped by the US bank), knowingly benefited from his illicit activities—or, at the very least, cashed in by turning a blind eye to his crimes.
The US's largest bank faces two sets of plaintiffs from two separate suits filed in Manhattan federal court: One from women who claim that Epstein sexually abused them; and the other from the US Virgin Islands, the territory where the late financier owned a palatial villa on a private island and registered several businesses. Separately, JPMorgan is suing its former private banking chief, Jes Staley, for being hand-in-glove with Epstein while keeping the bank in the dark. Each of these parties will get a chance to question Dimon.
Dimon's depositions, which will most likely happen in New York City, will not take place until next month, an unnamed source told CNBC.
Epstein killed himself in a Manhattan jail cell in August 2019 while awaiting trial on sex trafficking charges. Women who accused Epstein of assaulting or abusing them, many of whom were minors at the time of the alleged crimes, won't see him stand trial in a criminal court. However, his $577 million estate can be sued in civil court.

Jamie Dimon's upcoming deposition, by the digits
Two days: How long Jamie Dimon has been asked to put aside for questioning, US District Judge Jed Rakoff said at a Tuesday conference in Manhattan federal court.
Up to seven hours: Dimon can be questioned for a combined total of five hours by lawyers for the US Virgin Islands and an Epstein sexual abuse accuser. Separately, he can be deposed for up to two hours by lawyers for Jes Staley, former chief of investment banking at JPMorgan. Judge Rakoff said he could allow them to go on for longer, CNBC reported.
15 years: Epstein was a JPMorgan client between 1998 and 2013.
18 years: Dimon's tenure as JPMorgan CEO, starting in 2005.
Quotable: Did Jamie Dimon know about Jeffrey Epstein's sex trafficking venture?
Attorney Mimi Liu for the Virgin Islands during the March 16 hearing:
"Jamie Dimon knew in 2008 that his billionaire client was a sex trafficker. If Staley is a rogue employee, why isn't Jamie Dimon? Staley knew, Dimon knew, JPMorgan Chase knew." —Attorney Mimi Liu for the Virgin Islands during the March 16 hearing
JPMorgan's statement in response to Dimon's deposition:
"The plaintiffs' counsel know our CEO has no relevant knowledge, but persist with this media stunt. A review of more than two decades of emails and other documents makes it clear that he had no involvement with Epstein or his accounts. He does not recall ever meeting, speaking or communicating with him."—JPMorgan's statement in response to Dimon's deposition.
A non-exhaustive timeline of Epstein's banking history
2006: The year a JPMorgan risk-management team flags Epstein "routinely" making cash withdrawals of $40,000 to $80,000 several times a month, totalling more than $750,000 a year. This was also the year by which JPMorgan was aware that "Epstein was accused of paying cash to have underage girls and young women brought to his home," according to an April 12, 2023 court filing from the lawyers for the Virgin Islands, citing a deposition by Mary Callahan Erdoes, the former head of the bank's asset and wealth management division.
2008: Epstein pleads guilty to a Florida state prostitution charge for soliciting for a underage girl. He stayed on as a JPMorgan client for five more years.
2013: JPMorgan terminates its relationship with Epstein, flagging that "felons are considered high risk and require additional approval."
2013 to 2018: Epstein is a Deutsche Bank client. In 2020, the bank pays a $150 million fine from a New York regulator for allowing Epstein to make payments to Russian models and withdraw suspicious amounts of cash. Three years after that, a judge will approve a $26.3 million settlement in a lawsuit that accused the bank of misleading investors about how thoroughly it vetted clients, including Epstein and Russian tycoons.
Person of interest: Jes Staley
JPMorgan has consistently denied having any knowledge of Epstein's illicit activities. But the bank claims so of its executives knew about them: JPMorgan sued its former private banking chief, Jes Staley, over his ties to disgraced financier Epstein. JPMorgan says the former executive should cover some or all damages, as well as pay punitive damages for his "intentional and outrageous conduct" in hiding the facts from the bank. As a result of "Staley's faithless service," the bank also wants Staley to give back all compensation—$80 million—he earned between 2006 and 2013.
Related stories
📜 JPMorgan is suing a former executive over his ties to Jeffrey Epstein
🤑 Is it ever OK to take donations from people like Jeffrey Epstein?
🤫 Jeffrey Epstein's money bought a coverup at the MIT Media Lab