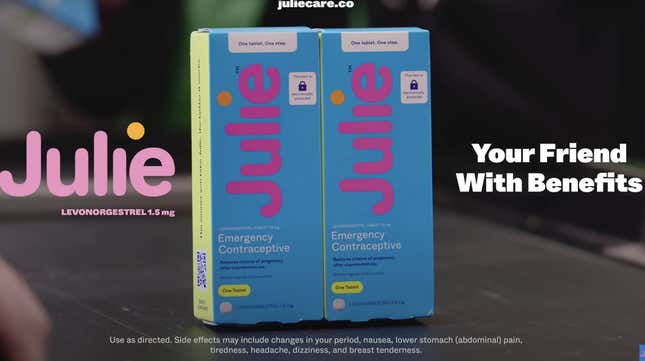 Julie, a recently launched morning-after pill brand, started selling a new two-count pack of its one-step tablet of emergency contraceptive (EC) across CVS stores on April 3.

Ben Emons Part 2: The Fed, Apple shares
The EC pills, which are legal in 50 states and can be purchased without prescription, have a decently long three-year shelf life.
The pack of two is a first-of-its-kind offering in the US market. Colleen Denny, a clinical associate professor in the department of obstetrics and gynecology at NYU Grossman School of Medicine, told CNN she has not heard of other emergency contraception brands doing something similar.
Quotable: Overturning Roe v. Wade made access to emergency contraception critical
"The Dobbs decision and overturning Roe v. Wade last year rocked everyone's world, our customers and our retail partners. It lit a fire under us to provide our product to more women and, more importantly, to educate women about emergency contraceptives."—Julie co-founder and president Amanda E/J Morrison
Quick summary: How does Julie work?
Julie's pills contain Levonorgestrel, the key ingredient in the popular Plan B emergency contraceptive that was approved by FDA in late 1990s. Unlike the abortion pill, the sales and shipment of which have become a point of contention in various locations, Levonorgestrel prevents pregnancy by making the uterus inhospitable to embryo implantation.
It's used to prevent unwanted pregnancies after unprotected sex or failure of another contraceptive method like a condom, and should ideally be taken within 72 hours.
A brief timeline of Julie's operations
June 2022: The US Supreme Court ruling overturns Roe V. Wade, ending a constitutional right to abortion in the country. In the aftermath, emergency contraception Plan B and its rival brands start flying off the shelves.
September 2022: Julie Schott and Brian Bordainick, who worked together to create pimple patch brand Starface, joined Morrison of Mented Cosmetics to launch morning after pill brand Julie. Julie starts selling at 4,500 Walmart stores nationwide.
April 2023: Julie is expanding into 5,600 CVS stores and 1,500 Target stores at a time when more than two dozen US states implement new abortion restrictions or all-out bans.
Is the Julie two-pack expensive?
At $70, the two-pack is cheaper than buying one $42 Julie pill at a time. However, it's still pricey compared to options available in the broader market.
According to a 2022 study by the American Society for Emergency Contraception, in a market where value brands such as Rugby and My Choice offer low-cost options around the $10 mark, Julie has "excessively high pricing."
Experts say accessibility isn't the only aspect of expanding healthcare services. Brands need to work on affordability, too.
Julie's founders justify the cost by pointing to their one-for-one donation program, wherein the company donates one box for every box purchased via more than 70 partners. The donations are geared towards those in rural areas, the LGBTQIA+ community, the homeless or unhoused, victims of domestic violence or sexual assault, and more.
Plus, the company has been spending on packaging and marketing aimed at reducing the stigma associated with emergency contraception, which adds to costs.
Its Instagram address FAQs like "can I get pregnant on my period?" and "what happens if I take Julie while I'm pregnant?" Its website has a more exhaustive list of such FAQs, spanning reproductive health, mental health, legality, confidentiality, and more. The company has also spent on TikTok videos and influencer marketing campaigns on the platform to educate Gen Z and fight misinformation.
Watch this: Julie's 'A Better Morning After' short film
Why Julie is called Julie

According to founder Julie Schott, the eponymous brand's name comes from a place of:
Accessibility and friendliness... "I remember asking my parents 'Why did you name me Julie?' And they said it was a really unpretentious and timeless name," she said. "That was interesting. Unpretentious was a really interesting word to me and when I thought about the retail landscape that felt really important, it felt accessible and friendly."
…and discretion. "You may be holding this in your hand and run into your neighbour, and it's not going to scream out what it does," she explained. "Even to have it in your home, maybe you live with your parents, maybe you're a young person, so being able to offer that is important to us."
The other co-founder told the Wall Street Journal that the name was intended to sound like a "big sister or younger aunt who's there for you."
Fun fact: Julie is available in bars, coffee shops and restaurants
As part of the donation program, some of Julie's community partners across the country have been connecting with local businesses, especially in states where abortion access is restricted, to keep the emergency contraception pills ready to be distributed.
For instance, in Louisville, Kentucky—where abortion is nearly completely illegal—Trouble Bar keeps a basket of Julie next to the basket of tampons in the bathroom. The Old Louisville Coffee Co-op in the city also stocks the pills to give away.
Like running the bright, colorful social media campaigns, stocking Julie in everyday places—away from staunch healthcare institutions and professionals—is another way to normalize its use. "We want you to be able to go get EC wherever, but feel good about doing it. There's no shame. If you are in a bar and you might have sex that night, don't forget your EC," Morrison, a Black woman from the South who says she represents one of many demographics whom health care ads and innovation don't really reach, told Cosmopolitan. "That's just as empowering a decision as ordering what drinks you want or choosing to go out in the first place."
Related stories
💊 California cuts ties with Walgreens after the pharmacy stopped selling abortion pills in 20 states
🧬 Before We Knew Better: How the illegal abortion in "Dirty Dancing" started honest dialogue about reproductive rights