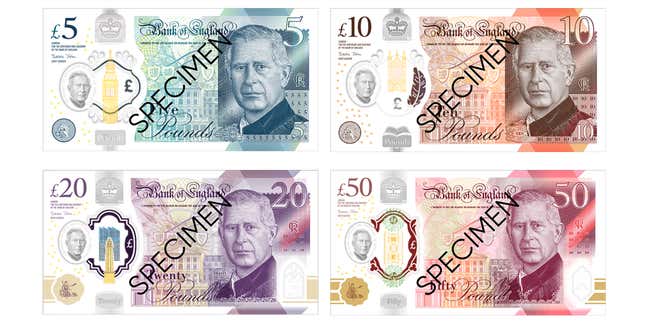 It's one of the many privileges of monarchs to appear on their country's currency. But few monarchs had their portrait gracing banknotes and coins as far and wide across the world as Queen Elizabeth II, who appeared (and still does) on the currency of 15 countries, including the British pound, and the Canadian, Australian, and New Zealand dollars.

After Elizabeth's death in September, King Charles III is to formally succeed her on the throne with the coronation on May 6. But his effigy has yet to appear on the currency of countries that recognize him as the head of state.
In some cases, it's just a matter of time. In others, it's a sign of changing times.
British pounds (banknotes and coins) and stamps
The Bank of England unveiled the design of the banknotes bearing the effigy of the new king in December 2022. The king will appear on all four banknotes (£5, £10, £20 and £50) in lieu of the queen, while the rest of the design will remain the same.

The new designs won't be in circulation until mid-2024, and in limited quantities. According to the bank's statement, "the new banknotes will only be printed to replace those that are worn and to meet any overall increase in demand for banknotes." In other words, the UK is not planning to throw away perfectly good money, and will follow the royal guidelines to minimize the financial and environmental impact of the currency change.
Meanwhile, the new king has been on 50 pence coins for a few months: post offices handed out 5 million of them in December 2022 as change. And he's on stamps—the Royal Mail stamps featuring the queen were supposed to only be valid until the end of January 2023, but they will continue to be until July 31, again to avoid waste.
Australian and Canadian bills and coins
Things are less straightforward when it comes to other countries that currently feature Elizabeth II on their currency.

Australia is done putting royals on bills, and it will not introduce a banknote with King Charles III on it. Canada might, but not for a while: the current banknotes with Queen Elizabeth II are supposed to stay in circulation for up to another two decades, and may or may not take inspiration from the creative suggestions of Canadian citizens.
Australia, however, has a coin with the new king. According to tradition, the likeness faces left as the monarch's profile direction alternates. Unlike the queen, the king does not wear a crown.
So far, Canada has only minted a commemorative medallion for the king, but will likely add a legal tender soon, as per tradition.
New Zealand said it will be years before there is a need to introduce coins with the king's effigy on them, and even longer for bills.