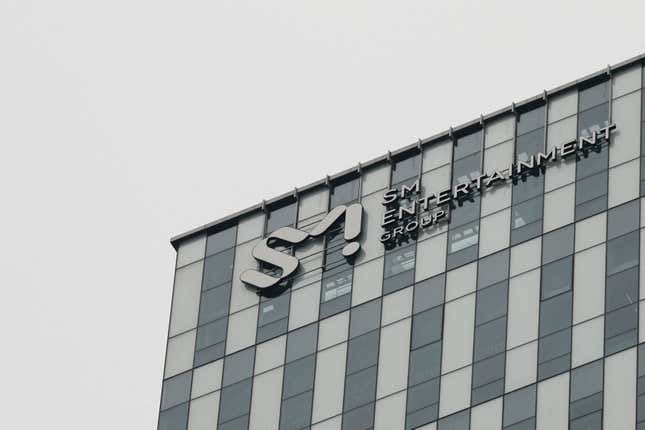 Another twist has come in the battle between K-pop's biggest music labels.

South Korea's financial regulators raided K-pop agency SM Entertainment over its suspected involvement in manipulating stock prices in February. At the time, labels Hybe and Kakao Entertainment were jockeying to take over the powerhouse music label.
Ben Emons Part 2: The Fed, Apple shares
On Tuesday (April 18), South Korea's Financial Supervisory Service (FSS) searched SM's headquarters in Seongsu District, Seoul and seized stock data amid an ongoing investigation, according to Korea JoongAng Daily.
Authorities launched a probe into SM in February following a petition by Hybe, the label behind global sensation BTS. Hybe flagged a large trade of SM shares that it alleges were sold to artificially raise the company's stock value and cause its tender offer to fail.
At the time, Hybe and Kakao were competing to secure a majority stake in SM Entertainment. Hybe's bid of 120,000 won (around $90) per share ultimately failed as it fell below SM's stock value on the last day of the offer period.
In March, it appeared the acquisition fight had come to an amicable conclusion when Hybe bowed out, saying the market had "overheated." Kakao stepped away with the prize, claiming a 40% stake in SM after purchasing some of Hybe's shares. Hybe still holds an 8.8% stake.
It's uncertain if Kakao will be able to hold onto its takeover victory. The FSS also raided its offices on April 6 as part of the ongoing probe.
"Any illegality, when proven, will be held accountable to the maximum extent possible within the legally and institutionally allowed range," said FSS governor Lee Bok-hyun at a meeting in March, as quoted by Pulse News Korea.
SM Entertainment's messy, internal power struggle
The external battle to take over SM Entertainment was set off by an internal power struggle at the company. A reported feud centered on Lee Soo Man, the founder of SM Entertainment and so-called "godfather" of K-pop, and former co-CEO Lee Sung Soo, his estranged nephew.
Rumbles of a clash at the company emerged in October, when it was announced that Lee Soo Man's contract as chief producer would be terminated a year earlier than expected.
In early February, then-co-CEOs Lee Sung Soo and Tak Young-jun announced a new direction for the company called "SM 3.0" via a video published to YouTube.
"Lee's contract with SM as chief producer has ended, but we truly appreciate his support as a shareholder," Sung Soo said in the video, clearly signaling his uncle would no longer be part of the company's future vision.
The battle between Lee Soo Man and Lee Sung Soo
Tensions ramped up on Feb. 9, when Kakao announced it was acquiring a 9.05% stake in SM, becoming its second largest shareholder—a decision that bypassed Lee Soo Man, at the time the company's largest shareholder. In retaliation, Lee Soo Man sued SM, citing the board's violation of business laws.
The next day, Hybe announced it was purchasing a 14.8% stake in SM from Lee Soo Man, a move SM CFO Jang Cheol-hyuk called a "hostile takeover." Then, Lee Sung Soo published a bombshell video on Feb. 16 accusing his uncle of evading taxes through a company based in Hong Kong. Lee Soo Man, who is named in the Pandora Papers for tax evasion, responded with his own video to his nephew's claims, stating, "He's a kind nephew who grew up in a family with his father a pastor. My heart hurts."
Amid the fray, even the Korea Entertainment Producers Association stepped in with its own statement on Feb. 20, reproaching SM's management for "destroying the Hallyu legacy" ("hallyu" meaning the surge in Korean culture's global popularity) and expressing its support for industry veteran Lee Soo Man.
What's in the cards for Kakao and SM Entertainment?
The proxy fight between uncle and nephew has cooled since earlier this year. Lee Sung Soo and his co-CEO stepped down on March 31, the day of SM's general board meeting, amid a broader turnover in upper management. Jang Cheol-hyuk, former CFO at SM, is now CEO.
"Today marks the end of an era for SM Entertainment, which was named after me," Lee Soo Man said in a statement on the day of the leadership shakeup. He still retains a 3% stake in SM. Meanwhile, Lee Sung Soo has returned as a C-suite executive at the company, All Kpop reports.
The investigation into Kakao and SM's alleged involvement in market manipulation is still ongoing. Hybe, though edged out in the acquisition battle, recently announced SM's artists will join its social media platform, Weverse.
Related stories
👀 Regulators are watching as BTS label Hybe tries to consolidate its control of K-pop
⛔ A fan boycott forced a Kpop label to reconsider its album release plans
🎤 The future of K-pop superstars BTS takes center stage in South Korea's conscription debate