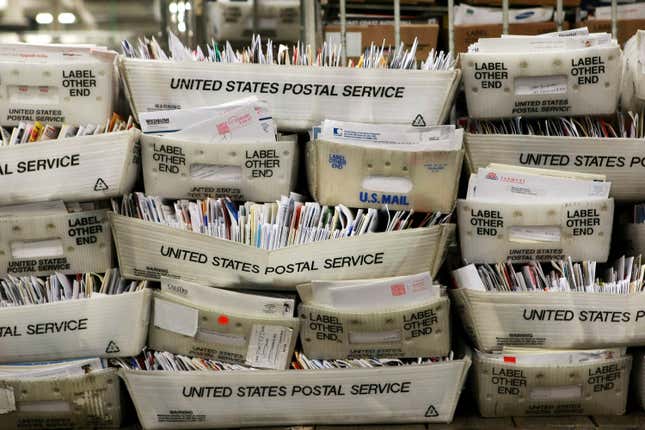 The United States Postal Service (USPS) is increasing the price of First-Class Mail stamps from 63 cents to 66 cents, effective this Sunday (July 9) nationwide. It's the second price hike this year, after the cost was increased from 60 cents in January.
Should you keep investing in Big Tech?
The 5.4% climb in stamp price was approved by the Postal Regulatory Commission, which has increased stamp prices numerous times in the last few years, in line with inflationary pressures. It also approved a price increase for sending a postcard from 48 cents to 51 cents.
First-Class Mail is the most popular and profitable part of the USPS, accounting for 31%—or $24.2 billion—of the USPS's total revenue in 2022. A stamp allows you to send a letter anywhere in the country for a flat rate and does not expire.

The popularity of First-Class Mail has declined in recent years, however, with volume declining 4.8% last year. In fact, annual USPS mail volume is down 42% since 2007.
This has led to the current series of price hikes, which are expected to generate $44 billion in additional revenue by 2031. President Biden signed a bill increasing the USPS's total budget in 2022, infusing $48 billion in financial relief spread over the next decade.
Are stamps getting more expensive? Not really
When you look at the price of the first nationwide stamp (just 2 cents in 1885), 69 cents may seem like a lot to send a letter. But it's not.
The price of the stamp has actually been relatively steady when compared to inflation over the years. For example, 20 years ago a stamp was 39 cents, or 65 cents adjusted for inflation, which is not far off from the current price.
This remains true at different points in the stamp's price history. It was considered a big deal when the stamp first hit 10 cents in September 1974. But, when you adjust that figure for inflation, it's also equivalent to 60 cents today. Similarly, in 1932 stamps increased from 2 cents to 3 cents, which is 67 cents when adjusted for inflation.
The post office's worldwide reach, by the digits
23.8 million: Number of packages processed by the USPS daily.
292,628: Number of letters processed every minute by the USPS. That's 421.4 million letters in a day.
$260.3 million: Average daily revenue of the USPS in 2022.
Related stories:
Delivery is more important than ever—so why is the US post office struggling?
America's smallest businesses rely on the post office for basic, fundamental tasks