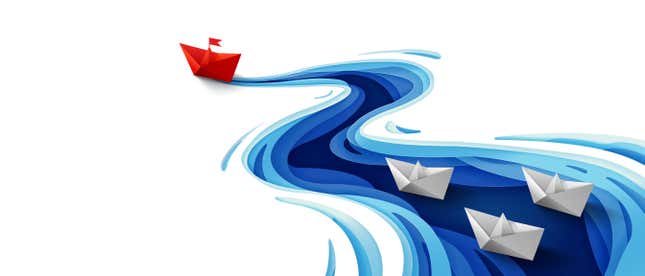 During the disruptions of the last few years, leaders have tried to crack the code of creating a satisfying employee experience and have likely overlooked the essential role middle managers play in shaping supportive cultures and delivering results. Managers influence every aspect of the employee experience, from defining purposeful work in everyday operations to helping employees achieve work-life balance to developing talent.

What to do when you encounter unhelpful pay ranges on job postings
And yet managers' holistic health is declining, according to MetLife's 21st Annual U.S. Employee Benefit Trends Study. A considerable proportion of middle management reports high rates of stress and burnout (30%), low mental health (30%), and an inability to meet the needs of both their direct reports and upper management (32%).
The huge impact of middle management
In our latest research, 69% of employees said having a more supportive manager allows them to be more confident in their role and more loyal to their organization. A 2023 study from The Workforce Institute shows that managers influence the mental health of individuals as much as spouses or partners and even more than doctors or therapists.
MetLife's research clarifies just how essential managers are in the eyes of employees. That is especially true relative to demonstrating employee care, which correlates to higher employee satisfaction, loyalty, engagement, and productivity. Consider that 70% of employees see a supportive manager as a "must-have" in feeling cared for by their employers, and 65% note it makes them feel more motivated, valued, engaged, and productive.
What managers are looking for
As influential as managers are, they have struggled with the same hardships workers faced during the pandemic and now in the hybrid working era. They have been asked to wear multiple hats and take on greater responsibilities as operations moved to remote and hybrid models. By helping their workers to manage stress, managers seem to have raised their own stress levels.
Managers have unique needs for holistic health and fundamentally different work experiences. They oversee the work of direct reports and make their own contributions. They seek work-life balance for themselves even as they help others find it. Managers promote supportive cultures by recognizing outstanding effort and performance, but they also expect to be recognized. And just as they foster their team's training and development, managers want resources for their learning and growth.
How C-suite leaders can support and empower managers
Executives can support managers by providing exemplary and inspirational leadership. As the "ultimate managers" and organizational tone-setters, C-suite leaders are responsible for promoting a positive employee experience for all workers, including middle management.
Senior leaders must demonstrate that they understand the powerful role managers play in the organization. Then, they can implement tangible initiatives that empower managers to improve the overall work environment—including their own work experience.
Acknowledge the C-suite-middle management connection: In their roles and responsibilities, C-suite leaders and mid-level managers have much in common. By acknowledging these similarities, C-suite leaders may foster a sense of camaraderie that can strengthen the culture. A great place to start is ensuring that middle managers embrace the organizational vision and understand how to make it real in the context of their day-to-day activities, as well as those of their teams.
Cultivate active listening as a management practice: Empathetic leadership can help support caring and supportive cultures by ensuring managers and other employees feel heard. Feedback from managers should be gathered regularly via pulse surveys and open forums for two-way communication.
Review capacity to reduce the risk of managerial stress and burnout: Because managers face the same mental health concerns as other employees, C-suite leaders should establish and track indicators (e.g., working hours) to ensure middle management stays in a good place mentally.
Provide training and resources so managers have the skills and tools they need: Dedicated learning programs for managers can emphasize new capabilities for managing diverse workforces in hybrid environments, with an emphasis on inclusivity, coaching, conflict management, and other key skills. With 39% saying they need training and guidance on supporting and empowering direct reports, toolkits can help managers navigate stressful situations and busy periods. Communication and engagement programs should inform all managers about all available training, resources, and support.
Define policies and establish incentives around the employee experience: Managers should be encouraged and empowered to contribute to an attractive employee experience. Both informal actions (e.g., providing lunch on Fridays, hosting social gatherings and team-building events) and formal recognition (e.g., rewards to be distributed at managers' discretion) can contribute to workers' well-being and feelings of being cared for. Managers' performance should be measured by tangible metrics directly related to these and other related talent and cultural outcomes.
Model the behaviors you want to see in managers: How senior executives live the values will be naturally reflected in how mid-level managers handle their responsibilities, from assigning work and recognizing employees to managing sensitive discussions around work locations and scheduling. Managers should be reminded that their behavior provides a model for their teams.
The bottom line: It is difficult to overestimate the importance of supportive managers in facilitating strong cultures and demonstrating care.
If senior leaders set the tone from the top, managers in the middle bring culture and purpose to life for all employees. In other words, the verbal and behavioral standards set by the C-suite determine what is accepted and valued within the culture. Managers will take their cues from C-suite leaders as they work to strengthen the cultures and deliver superior employee experiences that enable organizations to win with talent.
---
Brendan Lynch is SVP & chief care officer at MetLife where he leads their new Employee Care and Innovation Centre of Excellence. Before that, he was SVP of HR services for Johnson & Johnson.