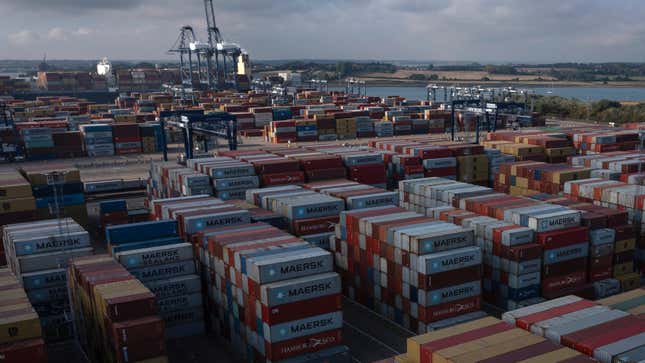 Maersk has almost fully exited Russia.
The Copenhagen-headquartered shipping and logistics firm yesterday (Feb. 20) announced that it has "entered into an agreement to divest its logistics sites in St. Petersburg and Novorossiysk to IG Finance Development Limited."
The decision to sell the two sites—one a container depot, the other a warehouse—was "a consequence of the company's decision made in March 2022 to discontinue activities in Russia," Maersk said. All regulatory approvals for the sale have been secured, and the divestment was effective as of Feb. 17.
IG Finance, a company registered in Cyprus, has signed an agreement with the Russian food importer Arosa to operate the sites in St. Petersburg and Novorossiysk.
By the digits: Maersk's last two Russian facilities
28,750 square metres: The size of the inland depot in Novorossiysk, with a capacity of 1,500 twenty-foot-equivalent containers. The depot specializes in handling commercial cargo such as grain from railway wagons and sea containers.
23,500 square metres: The size of the chilled and frozen warehouse in St. Petersburg.
Quotable: What happens to Maersk employees in Russia?
"Throughout the divestment process, we have as a company felt a strong responsibility towards the remaining 50 employees at the two sites, and we are happy that they will be offered employment as part of the new setup."

— Karsten Kildahl, chief commercial officer of Maersk
A brief timeline of Maersk's yearlong divestments in Russia

February 2022: Maersk says it will suspend all new ocean, air and intercontinental rail bookings to and from Russia and Belarus, with the exception of foodstuffs, and medical and humanitarian supplies (bar dual-use items). It also decides to stop buying Russian oil for its ships.
March 2022: Maerks tightens restrictions further to stop all new bookings to and from Russia and Belarus. After learning that the Black Sea area between Ukraine and Russia has been officially declared a "war zone," the company says all vessels calling at Novorossiysk will be subject to an increased insurance premium with immediate effect.

May 2022: After completing its last cargo operation, Maersk stops calling at any Russian and Belarusian ports altogether. The company has 20,000 empty containers left in Russia, which it hopes to recover.
August 2022: Maersk's terminals business, APM Terminals, sells a 30.75% stake in the Russian port operator Global Ports Investments to the Delo Group, Russia's largest container operator.
February 2023: After selling its last two logistics facilities, Maersk's business activities in Russia have nearly concluded. All that's left is for Maersk to sell four tug boats, a process that is ongoing, a spokesperson told Reuters.
A non-exhaustive list of companies still doing business in Russia
Ever since Russia invaded Ukraine in February 2022, multinational companies have been under pressure to quit their Russian operations. Last March, Volodymyr Zelenskyy, Ukraine's president, pleaded with companies still doing business with Russia to depart because its market is "flooded with our blood." And thousands of businesses did leave. But a full year later, some major players still remain.
📡 The BT Group, the British telecommunications company, has been continuing its decade-long relationship with Rostelecom, Russia's state-backed telecoms operator, to allow calls between the UK and Russia. BT has just 17 employees left in the country.
❗ Nestlé has halted the "vast majority" of its sales in Russia, including nonessential items such as chocolate. But it continues to maintain its assets and produce products such as baby formula. To avoid paying corporate taxes to the Russian government, Nestlé decided to donate all profits to humanitarian relief organizations. It continues to pay real-estate taxes, though.
🍺 Heineken, the Dutch beverage manufacturer, pulled its eponymous beer from Russia last year, but continues to sell other brands there. Dolf van den Brink, the company's CEO, said Heineken is aiming to sell its Russian operations—which still employ around 1,800 people—in the first half of this year, but suggested the process could take longer than initially thought.
👙 Agent Provocateur, the British lingerie brand, still has locally managed boutiques in Russia, and its Russian website has been accepting orders. The company told The Guardian that the sales are being done through "franchisees" set up by a previous owner, and that the company doesn't operate there. Typically, though, franchisees pay royalties to the brand whose products they're selling, which suggests Agent Provocateur is still profiting off sales in Russia.
🍕 DP Eurasia, which owns the franchise for Domino's Pizza in Russia, is considering selling its business. When the war broke out, the London-based company had said it would suspend royalty payments from the Russian business and would limit investment in the country.
🛒 Auchan, the French supermarket chain, has not only continued business as usual in Russia, but its shops allegedly served as a front to supply goods to the Russian army. Reports in France's Le Monde newspaper and other investigative websites said Auchan employees in Russia had collected store goods worth 2 million rubles ($27,000), including woollen socks and razors, which were sent to soldiers marked as humanitarian aid. Dmytro Kuleba, a Ukrainian minister, called Auchuan "a full-fledged weapon of Russian aggression." The Mulliez family, which owns the company, denies the allegations.
Related stories
⭐ The companies boycotting Russia are demonstrating six key values
🇷🇺 The international companies refusing to leave Russia
🇮🇳 Russian industries, hit by sanctions, are now shopping in India