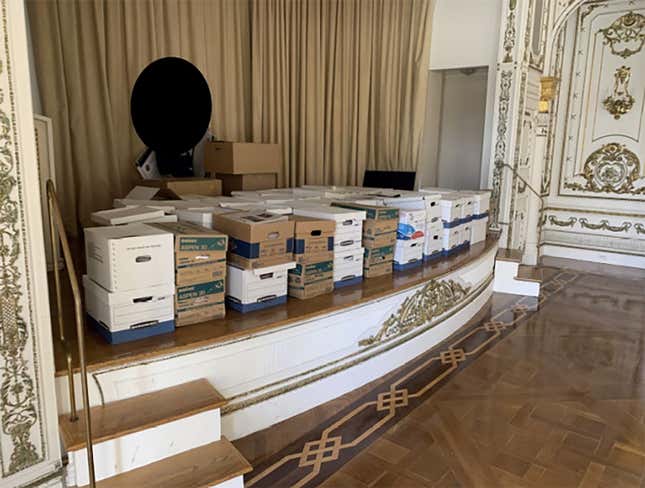 Federal prosecutors yesterday (July 27) named a third person in the classified documents case against former president Donald Trump. Carlos de Oliveira, the 56-year-old valet-turned-property manager at Trump's private club and residence Mar-a-Lago, was added to the obstruction conspiracy charge in the original indictment.

Should you keep investing in Big Tech?
The court documents reveal that De Oliviera, together with Trump aide Waltine "Walt" Nauta, attempted to delete the security footage federal investigators had subpoenaed to see whether or not Nauta, at Trump's behest, moved boxes in and out of a storage room at Mar-a-Lago. Last June, after communicating with both Trump and Nauta, De Oliviera spoke to Mar-a-Lago's director of information technology and went to the IT room, saying "the boss" wants the server deleted.
The first former president to be indicted in the US and the front-runner for the 2024 Republican presidential nomination, Trump has been charged with unlawfully holding top-secret documents, included briefings on foreign countries' policies and reports regarding the US's nuclear weaponry, in his Mar-a-Lago Florida resort.
Both Trump and Nauta have pled not guilty to their respective charges. De Oliviera is scheduled to be arraigned in Miami on Monday, the New York Times reported.
A brief timeline of Trump's Mar-a-Lago classified documents case
June 9: Special prosecutor Jack Smith indicts Trump on 37 counts, 31 of which were counts of willful retention of national defense information (a violation of the Espionage Act). The others charges include conspiracy to obstruct justice, withholding and corruptly concealing records, and making false statements and representations.
June 27: Trump alleges Smith, together with the Department of Justice and the Federal Bureau of Investigation, "illegally leaked and 'spun' a tape and transcript of me which is actually an exoneration" in a post on Truth Social, the social media platform he owns. He continues to call the crackdown a "witch hunt."
Separately, on the same day, CNN shares an exclusive audio recording from a 2021 meeting in Bedminster, New Jersey, where Trump discusses holding secret documents he did not declassify. In response, Trump denies there was no document "per se."
July 6: Trump's personal valet, Nauta, is indicted on six counts, including concealing a document in a federal investigation, conspiracy to obstruct justice, and lying to investigators during an interview with the FBI in May 2022.
July 21: Florida district judge Aileen Cannon sets the trial date in the classified documents case for May 20, 2024.
July 28: Smith adds charges against Carlos de Oliviera to the indictment. Smith also brings three new charges against Trump, bringing the total to 40.
A non-exhaustive list of other Trump investigations
🗳️ Election fraud. The same morning as De Oliviera's addition to the indictment, Trump's lawyers met in Washington with prosecutors to discuss another possible indictment relating to efforts to overturn the 2020 election, which led to the Capitol Hill insurgency. In addition, the district attorney in Fulton County, Georgia, are looking into charging Trump with 2020 election fraud.
🤑 Financial fraud. A civil lawsuit brought by New York state attorney general seeks $250 million from the Trump Organization, accusing him and his family business of "staggering" fraud.
🤐 Defamation. E Jean Carroll, who alleges Trump raped her in a New York City department store in the mid-1990s and then defamed her when she took her story public decades later, is fighting a civil defamation suit against the ex-president. The case is set to go to trial in January 2024.
🫣 Promoting a pyramid scheme. A federal class action lawsuit claims Trump perpetuated a years-long fraud by promoting the ACN pyramid scheme on reality TV show The Apprentice and at business conventions. This goes to trial at the end of next January.
💰 Criminal hush money. The state of New York accused Trump of falsifying business records in connection with hush money payments to porn star Stormy Daniels. The trial will begin next March.
Related stories
🧑‍⚖️ Former US President Donald Trump has been indicted by a grand jury
📄 What kinds of government documents was Trump holding at Mar-a-Lago?
‍⚖️ The House Jan. 6 committee's criminal referrals don't guarantee Trump will see his day in court