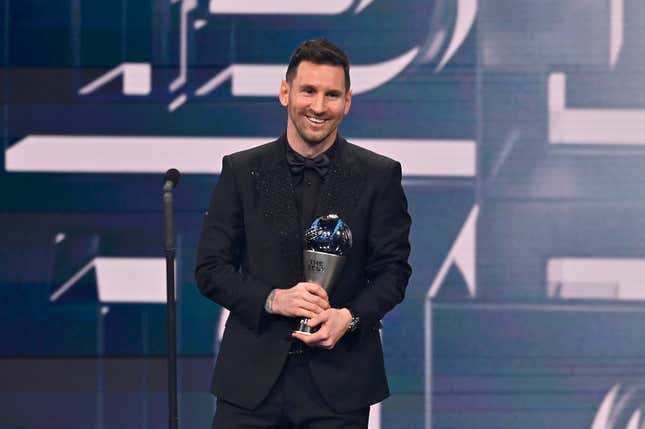 Lionel Messi, the most popular soccer player in the world, is coming to America. The 35-year-old Argentine striker has signed with US club Inter Miami, after declining a competing deal from his former club FC Barcelona and the Saudi team Al-Hilal, which reportedly offered him over $500 million annually. 

Why a tightening of credit conditions could lead to a weak economy
Messi confirmed his decision to the Barcelona-based news site Mundo Deportivo (link in Spanish), adding that there are still some final negotiations to iron out. Major League Soccer (MLS), the premier US professional soccer league, celebrated the news on Twitter. 
Florida has become a recent destination for high-profile US athletes like Jimmy Butler and Tom Brady due to a combination of warm weather, extensive nightlife, and no statewide income tax. But Messi's deal with Miami includes a lot more than that.
While the terms of Messi's contract were not made public, they reportedly include a roster spot free from typical MLS salary cap rules, an ownership stake in the club after the player retires, and revenue-sharing agreements with an Apple TV broadcasting deal.
Messi joins a team owned by a soccer legend
The recent World Cup winner joins a team that features a fellow soccer star, former Premiere League player David Beckham, among its owners. Beckham must have known what a player wants towards the end of his career—he himself made a move to MLS Club LA Galaxy on a five-year contract in 2007, when he negotiated the right to buy an MLS expansion team at a fee of $25 million upon his retirement. After Beckham left the LA side, he founded Inter Miami with local construction magnate Jorge Mas.
Now, with Messi's much-heralded arrival, some analysts predict that the club's value could skyrocket from approximately $585 million to over $1 billion.
Messi was candid about his decision, saying that he chose Miami for lifestyle reasons, avoiding Barcelona because of the Spanish club's financial trouble and reports that they would have to sell players to make room for him.
"After having achieved everything thanks to God—including finally winning the World Cup—I wanted to look for something else and a bit of peace of mind," Messi told Mundo Deportivo in a televised interview.
Messi will now depart Paris St. Germain, which famously paid Messi—along with his high-profile teammates Kylian Mbappe and Neymar da Silva Santos Júnio—the three largest salaries in soccer history. 
The French club offered Messi its "warmest thanks" for his tenure, but its fans were not as generous, booing their departing star during the club's celebrations for winning this year's French championship earlier this month.
When will Messi start playing in Miami?
While it is unclear when Messi will play his first game in Miami's black and pink kit, he will officially join the team on July 5, in the middle of the season, when the MLS secondary transfer windows closes. The first game scheduled after that is in the nation's capital, a match against DC United.
However, according to a report by the Athletic, the MLS is targeting a July 21 game against Cruz Azul, a Mexican club, as Messi's Miami debut. The matchup is among the first games in the Leagues Cup, a brand new collaboration between the MLS and Liga MX, Mexico's major soccer league. The cheapest tickets for that match on StubHub are currently $575. For comparison, home tickets for Game 4 of the NBA finals, also held in Miami, can be purchased for $436.
It is unclear exactly what Messi will do for Miami's performance with the club—currently dead last in the MLS Eastern conference—but it's fair to assume the Argentine star will boost soccer's popularity in the US.
Messi isn't the first soccer superstar to retire in the MLS
Messi is just the most recent aging superstar to leave Europe for the MLS, a league with far fewer viewers but nonetheless deep pockets.
In 1975, the New York Cosmos announced they had signed a 34-year-old Pele, then regarded as the greatest soccer player in the world, for $2.8 million over 3 years, the largest contract in soccer history. Pele played the final years of his career for the Cosmos, diminished in ability but still drawing record-breaking crowds.

Beckham's move to LA in 2007, aged 32, marked another milestone for US soccer, and it led to a surge of European soccer greats crossing the Atlantic in search of a big pay-day before retiring, including Wayne Rooney, Thierry Henry, and Steven Gerrard.

Related stories:
The World Cup final is refocusing the spotlight on Qatar's soccer investments in France
The company managing Messi's lifestyle brand plans to build on his World Cup success with a Nasdaq IPO
Qatar's $200 billion splurge will be hard to justify when the World Cup ends