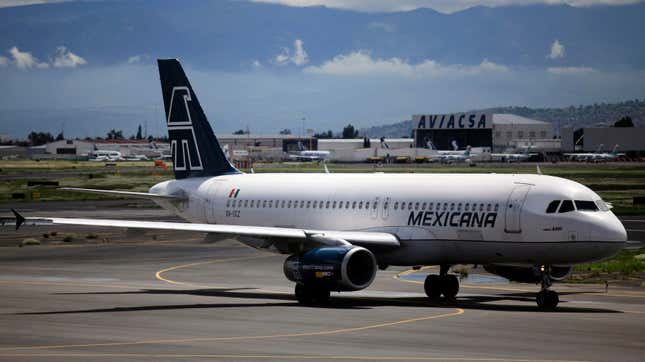 The Mexican government will be ready to launch its military-run airline by the end of this year, government officials said on Thursday, reviving Mexicana de Aviacion, an airline that went out of business 13 years ago.
Why a tightening of credit conditions could lead to a weak economy
Ticket sales for the revamped airline, which will only serve domestic flights at the outset, could start as soon as September, according to defense minister Luis Cresencio Sandoval.
Recruiting the military to oversee civilian aviation projects seem unusual, but in Mexico that's becoming the norm. Last April, the military-run Felipe Angeles International Airport (AIFA)—built by the army and named after an army general—started operations as an alternative the country's busiest Mexico City International Airport. Soon, that airport will also be run by the navy.
Mexican president Andrés Manuel López Obrador, known as Amlo, hopes to bring a dozen airports under state control by the end of 2024 in a bid to fight mismanagement and corruption.
Mexico's new military-run airline, by the digits
815 million-peso ($48 million): What the Mexican government paid for defunct airline Mexicana de Aviacion following an agreement with more than 8,500 laid-off employees. Former employees, who had not received salaries or benefits, will start getting paid next week, Reuters reported
4 billion pesos (about $233.6 million): Initial investment in the new airline
10: Boeing's 737-800 planes the airline has initially leased. Three deliveries are scheduled for late September, while the rest will arrive in late October.
3: Buildings included in the deal
1: Flight simulator
20: Number of destinations from AIFA airport that Mexicana is due to sell tickets to, including Cancun, Monterrey, Guadalajara, Tijuana, and more. The new airport has some cargo flights and commercial traffic, but its still going through teething problems
18-20%: How much lower Mexicana prices are expected to be versus other commercial airlines in the country
209: Jobs created by Mexicana so far. The number will increase to 745 once operations begin
1.66 billion pesos ($92 million): What Tajikistan paid to buy the presidential jet that López Obrador has been trying to sell. Speaking of the Boeing 787 Dreamliner used by his predecessor Enrique Peña Nieto, López Obrador said, "It's important that everyone knows how people thought before, how the authorities acted, like little pharaohs. Not anymore." The proceeds will be used to build two hospitals in impoverished regions of southern Mexico

246: Activities that used to be in the hands of civilians that are now in the hands of the military
Company of interest: Mexicana de Aviacion
In 2009, Mexicana de Aviacion incurred heavy losses on account of the financial crisis and a swine flu outbreak. The airline, which suspended flights due to insolvency in 2010, was eventually declared bankrupt in 2014. Slashing wages and finding investors wasn't enough to rescue the airline first launched in 1921.
One more thing: It's not just airlines and airports getting the army treatment
Since taking office in December 2021, president Andrés Manuel López Obrador has been giving the armed forces more time, money, and power across several traditionally civilian-led spheres of the economy.
He's deployed the armed forces to surveil private train lines, carry out tourism hospitality services, overlook infrastructure projects, and even clear sargassum—invasive algae—from beaches. One navy-manned tourist ferry line serves trips to and from the former penitentiary center, Isla Marias islands. The government sought to take control of the National Guard until the Supreme Court in April stopped the defense ministry from doing so.
These moves have been raising eyebrows. Experts worry that the young democracy, which hosted its first free elections in 2000, is slipping into an autocratic regime.
Quotable: Militarization does not bode well for Mexico's democracy
"He [ López Obrador] cajoles, he blackmails, and this form of very polarising politics, this will be his legacy, along with the militarisation of Mexico. Give me an example of any country in the world where so many civilian activities, such as running airports, public security—in other words, replacing the police—customs, the ports, are run by the military, including airspace, where that country remains a democracy. Giving so much power and so much leeway and so much financial gain to the military does not bode well for Mexican democracy in the future. He is endowing a force that has no accountability, that has no transparency, that is completely loyal to him and to the fourth transformation, as he calls his movement, and not to elected officials. If that doesn't ring the alarm, then we don't have a shared understanding of what basic democracy means."

—Political scientist Denise Dresser speaking to Financial Times on Mar. 9
A brief timeline of Mexico getting its state airline up-and-running
May 2021: The US Federal Aviation Agency downgrades Mexico's civil aviation agency to Category 2 status, citing safety lapses. Consequently, Mexican carriers are barred from adding new US routes.
October 2022: A leak of Mexican army documents show the army planned to launch a state carrier.
January 2023: The Mexican government signs a deal with several aviation unions to purchase the Mexicana brand for 811.1 million Mexican pesos ($42.41 million).
April 2023: The Mexican Congress approves the president's plans to start a military airline as part of an aerospace reform.
June 2023: US transportation secretary Pete Buttigieg travels to Mexico as the south American nation awaits US approval to regain a better air safety rating.
Related stories
🏛 The Mexican government continues nationalizing key industries despite US objections
🚗 Tesla is the latest American manufacturer to invest in Mexico

🌽 Mexico softens its ban on genetically modified corn after pressure from the US